Defrocked Priest Who Escaped Law for Years Dies in Martinique

By Yeganeh June Torbati
Baltimore Sun
January 7, 2011

http://www.baltimoresun.com/news/maryland/bs-md-laurence-brett-death-20110106,0,4887685.story?track=rss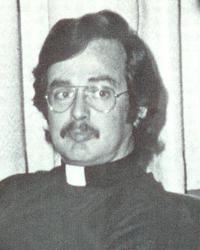 Laurence Brett from the 1975 Calvert Hall yearbook.



The saga of Laurence Brett, a defrocked priest and teacher who eluded law enforcement for years and frustrated the attempts of his accusers to bring him to justice for alleged sex crimes, appears to have come to an end with reports of his death on a Caribbean island.

A prominent figure at Calvert Hall College High School revered by students for his charisma and brilliance, the man known as Father Brett readily earned the trust of those who came to him for guidance. But dozens of his former students have come forward in the past 30 years with accusations that Brett sexually abused them during the 1960s and 1970s, in his posts as teacher and chaplain at the Towson-area Catholic school and other schools and parishes around the country.

Upon hearing news of his death Christmas Day in Martinique at age 73, those who say they survived Brett's abuse had conflicted reactions of satisfaction, shock and disappointment.

"A monster is dead," said Bob Russell, an insurance broker in Owings Mills who said he encountered abuse at Brett's hands as a student at Calvert Hall in 1973. "Children in his circle are no longer going to be put in harm's way."

But for others, the news that Brett died far from the hands of justice, never forced to publicly answer for his alleged crimes, left a gaping hole.

"I'll never have my day in court with Laurence Brett. I'll never get to look him in the eye," said Tom Dembeck, who attended Calvert Hall between 1971 and 1974 and said he was abused by Brett in 1973.

"Just part of me wants to know what kind of an explanation could he or would he offer," said Dembeck, a landscape contractor in Parkton who said he now attends weekly counseling sessions.

Brett's death was first reported by a French newspaper and confirmed by French government officials, according to an article Wednesday in the Hartford (Conn.) Courant. The newspaper reported that Brett fell down a flight of stairs in his apartment, hitting his head.

In a statement in response to news of Brett's death, the Archdiocese of Baltimore said it has offered counseling to any victims who have come forward and urged anyone with knowledge of sexual abuse to report it to appropriate authorities.

"Today, the prayers of the archdiocese are with the victims of Laurence Brett and with all victims of sexual abuse," the statement said. "The church reiterates its fervent belief that there is no place in the priesthood for anyone who would harm a child and reaffirms its commitment to protecting children and promoting healing for victims of sexual abuse."

Hired as Calvert Hall's chaplain and religion teacher in 1970, Brett became known among students and faculty at the school for his sharp mind and hip coolness, former students and colleagues said.

"He would hold court, literally, in his office," said Charles T. LoPresto, a Calvert Hall graduate who returned there in 1969 as a young teacher and quickly became friends with Brett. "These boys would just clamor to be part of that inner circle with him."

In his courses, Brett exposed students to a variety of religious doctrines, said Dembeck, who had Brett as a religion teacher for two years.

"He taught us about all the major world religions," he said. "He taught us a bunch of stuff that was way outside the box of Catholicism that I grew up with."

But in 1973, a timid, shy student approached LoPresto and told him he had been abused by Brett. LoPresto asked the student if he knew of other victims; within a couple of weeks, three others confided in him. LoPresto went to the Calvert Hall administration and, quietly, Brett was fired. Students and faculty were told that Brett left the school to take care of a sick relative, LoPresto said.

"I'm glad he's gone, and I hate to say that," LoPresto said after being told of Brett's death. "He robbed the souls of so many young men, and that's just tragic."

LoPresto worked at Calvert Hall until 1980, and both of his sons attended the school, where LoPresto now serves on an advisory board. After Brett left the school, LoPresto said, he never heard from him or saw him again. Since 1986, LoPresto has been a professor at Loyola University Maryland, where he teaches psychology.

Brett had arrived in Baltimore with a history of allegations of sexual misconduct, dating from his time at Sacred Heart University in Connecticut in the 1960s.

After learning of additional allegations against Brett in 1992, Edward Egan, the former bishop of Bridgeport, Conn., suspended him and asked him to leave the priesthood. Instead, Brett left his Baltimore home, eventually dropping out of sight and beyond the reach of law enforcement authorities in the United States.

since 1972 — to prosecutors. Those complaints became the basis for two arrest warrants issued for Brett in 1999. He was charged with custodial child abuse and second-degree sexual offense, but the charges were eventually withdrawn.

In 2002, reporters from the Courant found Brett on the Caribbean island of St. Maarten, largely secluded and with little company other than his dog, Joy. In the weeks leading up to his death, according to the Courant, Brett had been living in Martinique under an alias, and he died at the island's main hospital.

Frank Dingle, director of the Maryland branch of the Survivors Network of Those Abused by Priests, an advocacy group, said his group has counted about 30 individuals locally who say they were abused by Brett. Most of them, he said, were students at Calvert Hall and met Brett there.

David Clohessy, national director of the survivors network, said he feels "sadness and frustration" that officials who helped Brett evade responsibility have not yet been brought to justice. He urged the Archdiocese of Baltimore to reach out to Martinique officials to determine if Brett abused children there.

As of 2005, school leaders at Calvert Hall said that at least 14 alumni had come forward with allegations against Brett. Officials from the school did not immediately respond to a request for comment Thursday.

jtorbati@baltsun.com

twitter.com/jtorbati

For help

•The Maryland branch of Survivors Network of Those Abused by Priests urges victims of sexual abuse to reach out to the organization for counseling services. To do so, contact Frank Dingle at 410-744-2398.

•The Archdiocese of Baltimore urges anyone who suspects child sexual abuse involving Laurence Brett or any clergy or other church personnel to contact civil authorities and the Archdiocesan Office of Child and Youth Protection hot line at 1-866-417-7469.