Archdiocese Recording Explains Bankruptcy during Area Masses

By Lindsay Fiori
Journal Times
January 9, 2011

http://www.journaltimes.com/news/local/article_1cc94894-1c76-11e0-a436-001cc4c03286.html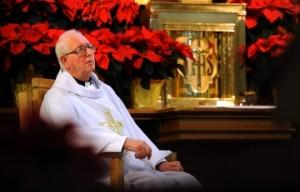 The Rev. Henry Maibush, a visiting Catholic priest from St. Rita's parish, listens to a prerecorded message from Milwaukee Archbishop Jerome Listecki played during Mass on Sunday at St. Joseph's Catholic Church, 1533 Erie St. Scott Anderson scott.anderson@journaltimes.com



RACINE — Parishioners who attended Catholic Masses on Sunday heard a regretful yet hopeful message about the Milwaukee Archdiocese's bankruptcy filing, which was announced last week.

On a prerecorded audio CD sent to churches and played Saturday and Sunday during Masses, Archbishop Jerome Listecki explained the bankruptcy resulted from costs relating to sexual abuse lawsuits. Listecki apologized profusely to victims of sexual abuse by clergy and then called the bankruptcy a chance for the archdiocese to start fresh.

"While a bankruptcy is a drastic step, it is a process to develop both resolution and closure," said Listecki, archbishop for about one year. "Like baptism, where we experience a rebirth in the Lord, our Church and the Archdiocese can and will experience the same rebirth."

The Milwaukee Archdiocese is the eighth in the U.S. to seek bankruptcy protection since the clergy abuse scandal broke in 2002. Listecki said in the last 20 years the Milwaukee Archdiocese has paid more than $29 million trying to resolve sexual abuse charges that have now led to bankruptcy.

"I want to be very clear that this (bankruptcy) reorganization is happening because priest perpetrators sexually abused minors, going against everything the church and the priesthood represents," Listecki said in the audio played Sunday. "The actions of the perpetrators were deplorable and I am ashamed by those actions. I will never stop praying that the healing power of Jesus Christ in some way can bring peace and reconciliation into the lives of victims."

Listecki said the bankruptcy filing, a process likely to take 12 to 18 months, should allow the archdiocese to fairly compensate abuse victims while also letting the archdiocese continue essential functions; the archdiocese will be able to continue conducting its normal activities while a bankruptcy court approves all non-routine decisions and expenses.

After hearing Listecki's message, Racine parishioners at St. Joseph's Catholic Church, 1533 Erie St., felt disheartened but expressed

understanding.

"I was surprised but not surprised because of the problems they are having because of sexual abuse," said Ginger Wanserski, a 59-year-old health information technician of Caledonia. "I figured how (else) would they handle the financial part of it?"

Fellow St. Joseph's parishioner Frank Miles, 50, said he, too, was unsurprised by the bankruptcy. Instead he was

saddened.

"It's disappointing. What else can it be?" said Miles, of Racine, a teacher at St. Catherine's High School, 1200 Park Ave.

As an area Catholic and a Catholic school teacher, Miles said he worries the archdiocese bankruptcy could hurt funding for local parishes and schools.

But Listecki said in his audio message that the bankruptcy does not mean the archdiocese is going out of business and will not affect local parishes.

"This filing applies only to the archdiocese. It does not involve parishes, schools or other church entities like Catholic hospitals or Catholic charities that are considered separate corporations under state law," Listecki said.

He was confident local Catholic organizations would be fine and that the archdiocese would be, too.

"We place our trust in God," he said, "and we move forward knowing he is with us always."

The Associated Press contributed to this report.