Diocese Raises Offer to Victims

By Sean O'Sullivan
News Journal
January 11, 2011

http://www.delawareonline.com/article/20110111/NEWS/101110360/Diocese-raises-offer-to-victims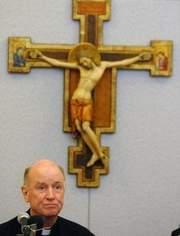 W. Francis Malooly is the ninth bishop of the Diocese of Wilmington.



WILMINGTON — Officials with the Roman Catholic Diocese of Wilmington released an amended bankruptcy plan late Monday that they say allows for an average settlement of $750,000 to $3 million for survivors of priest sexual abuse.

Under the new plan, a total of $74 million will be available to be divided among the approximately 150 priest-abuse victims with claims pending against either the diocese or one of its parishes, compared with about $28 million that was offered in a bankruptcy plan filed in September.

Under the September plan, the average settlement was estimated at $285,000 to $489,000 by diocese attorney Anthony Flynn.

The diocese is able to drastically increase the money available to resolve claims by essentially dissolving a foundation established to benefit the Wilmington Diocese more than 80 years ago by John J. Raskob, "the wealthiest Catholic in the nation." Raskob, whose estate was donated to start Archmere Academy, built the Empire State Building.

There is a catch to the new "settlement" plan, however. It has to be approved by a majority of abuse survivors -- and those survivors have to waive their claims against the parishes. If not, the diocese will essentially revert to a variation of its September plan, which it calls the "diocese-only" plan.

This would mean no contributions from the foundation and no contributions from the parishes, making the pool of money available for survivors to divide as little as $15 million, depending on how some legal issues play out.

Wilmington attorney Thomas S. Neuberger, who is representing the majority of those with claims against the diocese said he continues to remain "highly skeptical," pointing out that $750,000 to $3 million is not an "average."

"These revisions are cheap and misleading," Neuberger said, adding the diocese still seems to be "playing with numbers."

Neuberger, however, said it will take time to completely review and analyze the lengthy document.

In a statement, Wilmington Bishop W. Francis Malooly said the plans offer survivors of sexual abuse "an important choice," and he hopes the "settlement" plan will be adopted and the diocese will emerge from bankruptcy sometime after April. "Further litigation obviously could delay this schedule, but I sincerely hope that all parties will agree it is time to end the more than $800,000 per month in legal and professional fees being incurred by the diocese in the bankruptcy process, all of which reduced the amount available for creditors," Malooly wrote.

"We hope this is the beginning of the end," said diocese attorney Anthony Flynn, referring both to the priest abuse lawsuits which were filed after the Delaware Legislature passed the Child Victims Act in 2007 and to the diocese bankruptcy, which was filed in October 2009 in response to the lawsuits.

The act suspended the two-year civil statute of limitations to allow plaintiffs, who were molested as children, to file civil actions seeking damages.

David Clohessy, national director of SNAP, the Survivors Network of those Abused by Priests, took issue with the proposal.

"Only now, in the wake of a $3 million jury verdict and the chance of more devastating trials, does Malooly finally take a few belated and begrudging steps forward. Still, he postures, calling these small moves voluntary, when, in fact, he's virtually been forced to start taking action. It's a shame that it takes dozens of lawsuits before he'll make vague promises to write apologies to and stop using words like 'alleged' to refer to child sex abuse victims."

The high-end settlement number in the new plan ($3 million) matches the amount that a jury decided St. Elizabeth Parish owed victim John Vai in early December. That trial took place in Kent County Superior Court.

In that case, Vai alleged he was molested numerous times as a teenager by now-defrocked priest Francis DeLuca, who acknowledged engaging in "simulated sex" with Vai in the late 1960s in a sworn deposition.

Flynn said the decision to amend the bankruptcy plan was made in part because of the result in the Vai case. Flynn said this new plan represents an "all in" effort by the diocese to reach a global settlement.

The 50-page plan, not counting 19 pages of definitions, was submitted to U.S. Bankruptcy Court in Delaware on Monday around 10 p.m. "The diocese firmly believes that the 'settlement plan' offers the best chance for resolving the many issues presented in this Chapter 11 case in a timely fashion and providing the maximum compensation for survivors," the diocese said in a statement.

Professor Juliet Moringiello at Widener University, who specializes in bankruptcy issues, said she had never seen a plan like this one that has a "plan a" or "plan b" set up. "But I don't look at a lot of big chapter 11 cases like this," she said.

Moringiello said because of the "A" or "B" setup, it was a very complex document and difficult to review in a short period of time, but overall she said, "this looks to me like a good faith effort to solve this problem."

She said she could not speak to the contention by the diocese that it would result in settlements of $750,000 to $3 million. "You can't determine that by looking at the plan," she said.

Flynn said the range was created by making reasonable assumptions and estimations about possible settlements.

While a number of sources outside the diocese are contributing to the "pot" available to survivors, the largest contribution -- $53 million -- is coming from the Catholic Diocese Foundation, which is separate from the diocese but is headed by the Wilmington Bishop.

The foundation was established through a donation in 1928 from Raskob, who was a key figure in the growth of both the DuPont and General Motors Companies.

"The plan would end the foundation's historic role as the primary underwriter of the building of schools and churches, and the provider of financial support for a myriad of other good works," said Bishop Malooly in a statement.

In addition, 10 parishes out of the 28 in the diocese with lawsuits pending against them, will contribute $2.2 million to the pot.

And reserve funds of $4.5 million from three shuttered group homes for children will also be added to the pool to be divided among survivors along with an estimated $2.3 million from the estimated value of selling off two of those closed facilities. The third facility has already been sold.

Independent religious orders facing abuse lawsuits -- like the Oblates of St. Francis De Sales which operate Salesianum School -- are not a part of this plan and currently are not contributing to it. However, Flynn said they could be allowed to join if they agree to make an appropriate contribution to the pot.

In a statement, the diocese said the plan "will place a serious burden on the current ministries of the diocese," but Flynn added that like the previous plan, the day-to-day operations of the church will remain largely unchanged. Mass will continue to be held every week and Catholic schools will continue to operate, he said.

No churches or schools would be closed or sold to meet the plan's obligations, though the house for the Wilmington Bishop will be sold.

However, if the foundation is liquidated it will no longer be around to provide funding for various church organizations and according to earlier bankruptcy court proceedings, St. Paul Elementary School in Wilmington relies on $400,000 every year from the foundation to operate.

Flynn described the new plan as a generous deal for survivors, though he conceded that the plaintiffs could reject the "settlement" plan and go after the assets of the foundation and other sources and possibly get slightly larger settlements. Flynn said to go that route, it would take years longer and cost millions more in litigation fees.

Moringiello said that was a reasonable analysis by Flynn.

Flynn said $8 million has already been spent to pay attorneys fees, both to represent the diocese in ongoing bankruptcy proceedings and to pay for representation for the creditors - which include priest abuse survivors with pending legal claims -- as is required in bankruptcy court.

Flynn said this new plan addresses one of the key objections to the September bankruptcy plan -- namely that it did not provide enough in terms of compensation for victims.

Another feature of the new bankruptcy plan -- should it receive the needed approvals -- is that it also addresses concerns expressed by lay employees of the diocese about the pension fund.

Pensioners filed suit last week charging that the overall pension plan has been underfunded by the diocese and that $4.4 million in a diocese pooled investment account should actually be included in money set aside to meet pension obligations.

Flynn said the new plan would both set aside that $4.4 million and increase the annual contribution to the pension account so it would be fully funded.

Donald Detweiler, a Wilmington lawyer who has been representing the lay employees, had not seen the plan Monday night and would not comment.

If the plan is approved by the needed majority of survivor plaintiffs - then each of the nearly 150 claimants will either have to submit to a ruling by an arbitrator or go to a mini-trial in U.S. District Court in Wilmington to determine how much they receive.

As with the previous plan, there is also a third option, a $75,000 "convenience" payment, which a plaintiff could accept to cash-out early and avoid any further court proceedings.

Flynn, however, said he expects few plaintiffs to take that option.

As with the earlier plan, this amended plan also includes a variety of nonmonetary provisions aimed at satisfying priest sex abuse survivors including the release of records related to abuser priests and an offer by Bishop Francis Malooly to meet with any survivor who requests it as well as a letter of apology from the Bishop to survivors and their families.

Contact Sean O'Sullivan at 324-2777 or sosullivan@delawareonline.com.