Former Priest Turns on Sex Abuse Accuser

The Cathnews
January 12, 2011

http://www.cathnewsindia.com/2011/01/12/former-priest-turns-on-sex-abuse-accuser/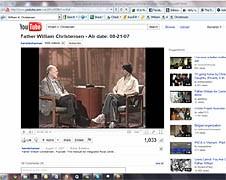 A screenshot of a documentary interview of William Christensen released on August, 2007



A prominent human rights activist today began a legal defense of her allegations of sexual abuse lodged against a former US priest living in Bangladesh.

Former Marianist William A. Christensen, who was last year stripped of his priesthood and expelled by his congregation, is suing Rosaline Costa, coordinator of Church-based Hotline Human Rights Bangladesh (HHRB), who accuses him of sexual abuses of young boys in Bangladesh over a period of many years.

He claims Costa has defamed him and is claiming damages of 100 million taka (US$1.4 million).

The parties appeared today in court in Netrokona district, about 159 kilometers northeast from Dhaka.

Christensen arrived in Bangladesh more than 20 years ago after being accused of sexual abuse, along with Brother John J. Woulfe, in the American state of Missouri.

"William abused me sexually from 1996 to 1999 and as a result I became physically and mentally ill," Umar Faruq Jinnah, 25, a Muslim from northwestern Bogra district said in a statement in response to an inquiry into the ex-priest's behavior.

"He had good relationship with my family and gave me lot of money, good food and valuable goods to silence me."

The former priest founded the Institute of Integrated Rural Development (IIRD), an NGO working for rural poor, in 1987 and holds the position of advisor and fundraiser.

Costa claims that Christensen used IIRD development works as a front to sexually abuse a number of boys aged from 12 to 18 years.

"He molested a number of non-Christian boys over the years and we came to know about 30 cases. He silenced them with money and also intimidated some of the abused," Costa told ucanews.com recently.

"In 2007 I questioned him in private about sexual allegations but he became very aggressive, reacted negatively and denied everything."

Costa approached the Marianists through the US superior Stephen Glodek, based in St. Louis, Missouri, requesting Christensen be recalled from Bangladesh, at least temporarily. Glodek initially refused to do so.

"The Marianist general council in Rome and the superior in US were negative on the first approach, because the letter of accusation didn't have enough evidence," Costa said. Then, on 28 April 2008, Glodek emailed Costa requesting names and addresses of the alleged abuse victims.

"I'm writing to inform you that we are beginning here to look into the allegations of sexual abuse and financial mismanagement that you describe in your letter," he wrote.

"We'll immediately contact them and begin the investigative process according to our USA guidelines in these matters."

The matter was taken to apostolic nuncio in Bangladesh, Archbishop Joseph Marino, and Dhaka Archbishop Paulinus Costa, who is the president of Catholic Bishops' Conference of Bangladesh (CBCB).

The two prelates called Christensen personally, but he denied the allegations and accused Costa and IIRD staff of maliciously blackening his name. Despite repeated follow-up telephone calls, Christensen refused to answer further questions by the archbishops.

The Vatican instructed the nuncio and Dhaka archbishop to conduct independent investigations resulting in Christensen being found guilty of a number of sexual abuses while working with IIRD.

"William used to keep one or two [boys] as aides with him and eventually abused them during day and night," one witness, Asfaq Hossain, said.

"He's a hypocrite and I demand his punishment."

On November 22, 2010 the apostolic nunciature in Bangladesh informed Christensen in writing that Vatican's Congregation for the Doctrine of the Faith and the US province of the Marianists had expelled him from the priesthood and the congregation with the provision of an appeal against verdict within 10 days of the letter.

Bangladesh's six Catholic dioceses then issued a letter to their parishes not to allow him to perform any priestly ministry.

Holy Cross Bishop Moses Costa of Dinajpur expressed deep concerns over the alleged sexual abuse of minors by the priest. Bishop Gervas Rozario of Rajshahi in a letter to apostolic nuncio stated, "I wonder why and how the superiors of this religious man allowed him to stay alone and to go on doing any such thing embarking on the strength of his money."

Inquiries by ucanews.com reveal that Christensen arrived in Bangladesh with verbal permission from Church authorities and began without any formal written permission.

Christensen denied all allegations when contacted by ucanews.com and refused to discuss the matter.