Nun Charges Paisios Abused Her Daughter

By Theodore Kalmoukos
The Pokrov
January 13, 2011

http://pokrov.org/display.asp?ds=Article&id=1556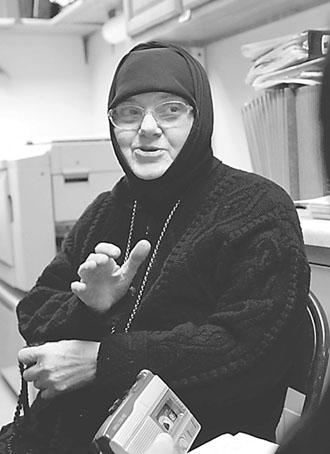 Sister Chrysovalantou has raised a new accusation of misconduct against Metropolitan Paisios involving her own daughter.



BOSTON - Nun Chrysovalantou Myrou, in an interview with The National Herald, has charged that Metropolitan Paisios of Tyana, caught up in a swirling scandal involving allegations of sexual conduct in an Astoria, N.Y. monastery he ran, sexually abused her daughter. With tears in her eyes and her voice trembling, she said, "I never thought that Paisios would come to this point to hurt my child," and added that, "I talked to her now that all these things became public and she did not deny anything. She did not say 'Mama all these are lies.'" TNH called Metropolitan Paisios in his home in Athens to provide him the opportunity to comment on the interview, but he hung up when he heard who was calling.

Patriarch Bartholomew has also refused a request from the TNH to grant an interview on the Paisios issue, which concerns the Greek American Community and belongs directly under his jurisdiction. Bartholomew declined the request for an interview through his Chief Secretary by saying it "will not be honored."

For almost 10 years Nun Chrysovalantou has found refuge in the Cathedral of St. Marcella of GOH (Genuine Orthodox Christians) in Astoria under Metropolitan Pavlos (Stratigeas.) She said that Metropolitan Paisios expelled her from the St. Irene Chrysovalantou Monastery he ran "Because," as she said, "I was telling him that it was not right for girls to go into his room." She and her then 9-year-old daughter, whose name is being kept confidential, lived in the Monastery. When Sister Chrysovalantou became a nun she was 45 years old and had separated from her husband because of the Old Calendar issue. She said, "The early days it was all good. I trusted my child in the hands of Paisios. He had told me that he would be her protector and lead her close to Christ."

At some point during the interview Sister Chrysovalantou took a deep breath and said: "It never went to my mind that all those things that were said about other children, that also my daughter was among them. She had not said anything to me. Now, of course, that all these became known, my daughter was in also. She broke up with her fiance and she completely changed behavior. After school she was going straight to the monastery. One day I was cooking, she came to the monastery from school and she disappeared for some time. I became concerned and I went over the third floor knocking the doors because I knew she was in, but nobody opened the door. A priest named Fr. Kallinikos saw her coming down from the third floor. When I saw her I asked her where have you been, what did you do? She said I was upstairs with the Metropolitan. When I told her that I was knocking on the door, she told me that we did not hear."

LATE NIGHT VISITS

Nun Chrysovalantou also said that, "When the girl grew up and became 16 years old she became engaged with a young man in 1996. He was a Greek boy who lived opposite the church. After the engagement party, which was held in a function room in Astoria, he (Paisios) took her and her fiance to the Monastery. It was 12 o'clock Midnight, and I wondered and said to myself why not wait until the next day to speak to them about anything he wanted to tell them? When they returned at 2 o'clock in the morning I asked them what did you do for so long and they told me as we danced and became sweaty he (Paisios) told us to bathe." The engagement did not last long. "My daughter had changed too. They split with her fiance and she use to come home 2 o'clock after midnight," said her mother.

She added that, "He (Paisios) took my daughter to Jerusalem and Greece, and I did not like it and I told him. He asked me don't you trust me? I reply to him unfortunately I do not. Then he said, "You are crazy." When asked, "Are you convinced that Paisios abused your daughter, she replied: "Unfortunately I am," and she added, "She spoke to the Exarchy (Patriarchal Commission that came to New York to investigate), they came here, her husband spoke too, I understand that she said everything." Sister Chrysovalantou also said that, "I saw a girl, I will not mention names, who came every day and went over to him, and that bothered me. I always use to say to him (Paisios) that it is not allowed for a girl to come over to you room. I told him that this bothers me, it scandalizes me. He told me that 'I've known her since she was little.'"

The Nun Chrysovalantou added that, "Some boys climbed to the third floor, but I do not remember who they were," and she added that, "Paisios had brought some other small Russian children, John and Anastasia, but they left, perhaps their mother suspected something. They were small, 9 and 11 years old and he dressed them as monk and nun." When asked, "Did Paisios ever bother you personally?" she said, "No, because I did not give him any reason for something like that."

Speaking about former nun Christonymphi Fitzpatrick who left the monastery on November 6, 2010 and reported to police in Astoria and gave them hundreds of thousands of dollars in cash, she said she found in the monastery, Sister Chrysovalantou said that, "Christonymphi lived on the third floor, and I was surprised and I used to say, 'Why do all the rest of us live on the second floor?'" Sister Chrysovalantou also said that, "I was observing the behavior of Christonymphi and she was very attached to him. I told Paisios that is not right for a girl like Christonympi to be so closely connected with you, to come to your room. He told me, "Well, she is young and we must support her." Sister Chrysovalantou added that Paisios sometimes told her, "You're crazy, you have been demonized, you do not know what you are saying."

Sister Chrysovalantou also said that, "We had gone to Jerusalem and sister Christonymphi and I stayed in the same room at the hotel. She went to his (Paisios) room. When she came back to the room, I asked her, 'Where have you been?' and she told me, 'In the Bishop's room.'" Sister Chrysovalantou also said that, "In the beginning, Christonymphi's brother Nektarios had come to the Monastery and he was dressing as a monk, but he left." She added that "up to seven to eight children boys and girls went to the monastery," and she said, "I said that to the Exarchy and its members became upset."

WHAT THE BISHOP SAID

Her accusations came not long after Bishop Vikentios, who was also at the monastery and has known Paisios for 40 years, made similar charges of sexual misconduct against him. Sister Chrysovalantou said, "Bishop Vikentios was my father confessor. I was telling him my observations and that I was scandalized about Paisios and Vikentios was telling me I will talk to him, and he did. One day I was down in the kitchen, Paisios called me and told me collect your belongings and leave the Monastery immediately." She also said that, "Many times both of them, Paisios and Vikentios, quarreled, but I did not know why. From what I hear now it was because Vikentios was telling Paisios that the things said about him were disturbing." Speaking about Father Iakovos Fitzpatrick, father of nun Christonymphi, she said that, "He was not sly person." When asked how he allowed his daughter to go to the Monastery at church from a young age, she said, "I do not know, Paisios made her a nun at the age of 14 years old."

She also said that Paisios "made my child to hate me. One morning she left and went to her father in Greece when she was 19 years old. She was going to college." When asked, "What do you feel about Paisios?" she replied, "Sadness, not hatred, and I pray that the Lord gives him repentance." She also stressed that "the Patriarchate should defrock him" and she added: "I do not know about Paisios." To the question "Do you now have any doubt that your child was molested?" Sister Chrysovalantou replied, "Unfortunately I do not." To the question "Are you confident in your soul that Paisios did those things he is been accused of" she replied, "Unfortunately."

Asked if her daughter would give testimony to the police, she said: "I asked her if she will go and testify to the Police and she told me that if the Police asks me, I will go." She said that her daughter "will tell the Police everything she told the Patriarchal Exarcy."

She spoke very highly about her son-in-law saying, "He rescued my child from hell, I am grateful to him."

Sister Chrysovalantou came to America from Pyrgos, in Ilia, Greece in 1977. Her husband was in the United States. He went to Greece, and they met, married and came back to America.

She said, "We lived in New Jersey for nine years. I turned the radio on a Saturday's program of Santorineou and I heard the broadcast of the Holy Irene Monastery. I did not know about the Old Calendar. I was thrilled by the speeches and sermons, and one day I called to solve my queries regarding the difference between the Old and New Calendar. They explained to me, they sent me books to read about the holy canons of the Church. I was convinced that the Old Calendar is correct and I followed them."

She revealed that, "The reason for divorcing my husband was the Old Calendar. We were fighting with my husband, who does not like to follow the Old Calendar, and eventually we divorced." She said her husband tried to save their marriage, but she was adamant in her beliefs. "My husband took me to Greece to pull me away but I had contact with them, Paisios and Vincent. Paisios told me since you do not agree with your husband, divorce him and we will help you to come back to the U.S. I did not take into account anything. My brothers and my mother spoke to me and told me to think logically. They said to me do not destroy your marriage just for the sake of the Old Calendar, but unfortunately I did not listen to anyone." She was quick thought to add that, "I did not regret that I became a nun." She said when she and her daughter came to the monastery in Astoria, that "in the beginning I was given a lot of responsibilities, to cook, to shop, to clean, I was running everywhere and somehow I had neglected my child, but I trusted that she was in good hands."