Sexual Controversies Embroil St. Pete Catholic Diocese

WTSP
January 13, 2011

http://www.wtsp.com/news/local/story.aspx?storyid=168309&catid=250

[Letter on behalf of Thomas Prendergast]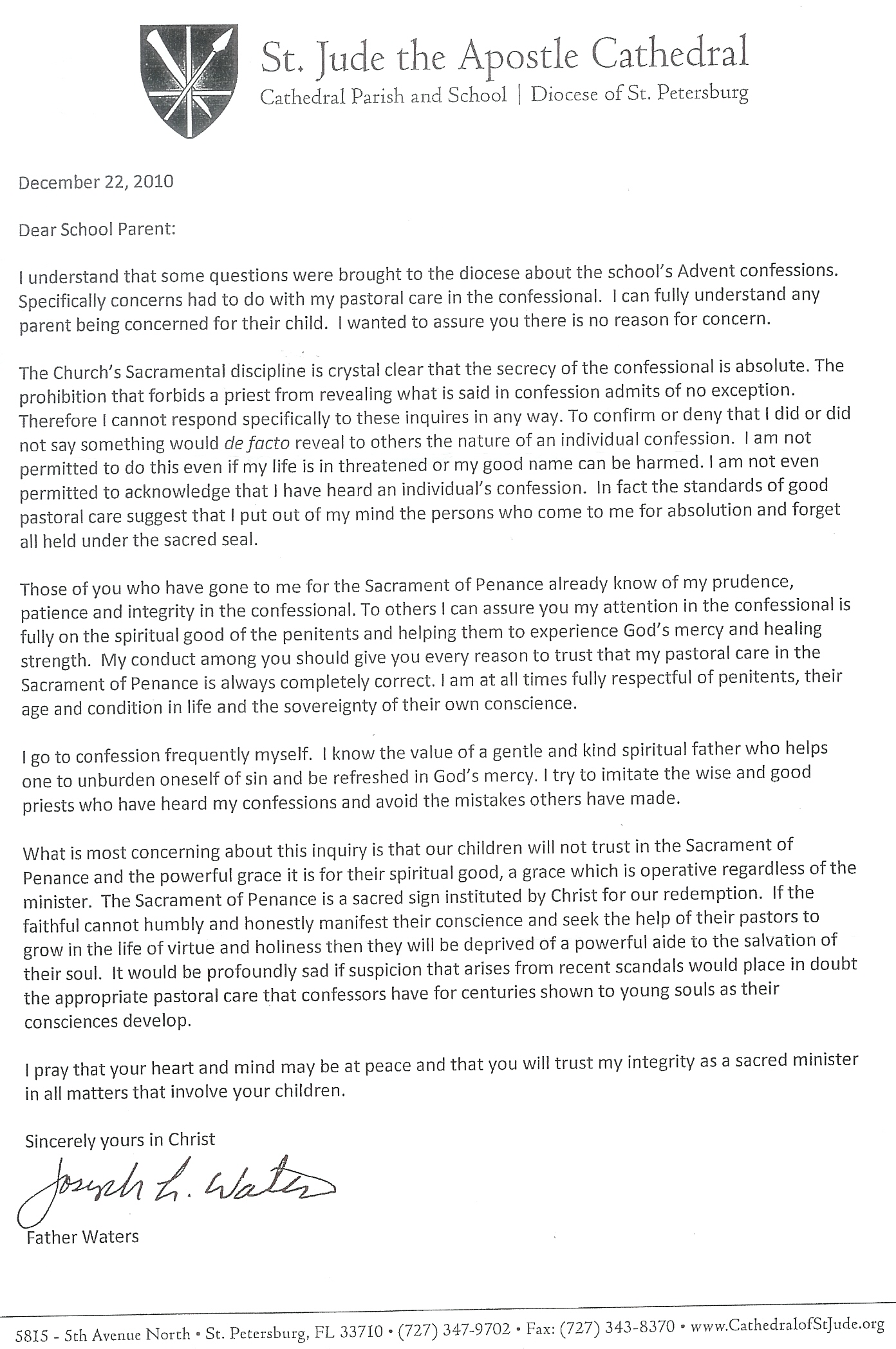 [Dec2010 Letter to parents from St. Jude]



[Jan2011 Letter to parents from the Diocese of St. Pete]

[Notary letter]

St. Petersburg, Florida - In front of the Diocese of St. Petersburg headquarters, Martha Jean Lorenzo displays photos of young people from across the nation that she says were sexually abused by clergy. Lorenzo counts herself among the victims and she's a member of SNAP (The Survivors Network of those Abused by Priests), a national support group.

SNAP works to publicize cases of sexual abuse and today Lorenzo outlined new allegations against a former Tampa priest Msgr. Norman Balthazar. Lorenzo says Catholic church leaders should have told people about a $75,000 settlement reached with a local man, who says Balthazar abused him when he was 17. "There was sexual abuse, absolutely-molestation," says Lorenzo, who has spoken with the man.

Diocese spokesman Frank Murphy confirms the settlement, but says it in no way implies wrongdoing by Balthazar. He says the church did not inform parishioners about the settlement, because the allegations did not involve a child.

Balthazar is now retired and lives in Massachusetts. 10 News tried to contact him by phone and left a message, but our call was not returned.

However, Balthazar has been the subject of controversy before. In 1991, the priest was arrested during a Tampa Police sex sting. A judge later threw the case out. At the time, Balthazar told the media he was drunk and could not remember his actions. "I had too much to drink and was not in control of my senses," he said at a 1991 news conference.

And the diocese is also dealing with another hot issue right now; this one involving students at the Cathedral School of St. Jude.

Some parents of students there have big concerns about conversations Father Joseph Waters had with their kids in the confessional. One parent who didn't want to be identified told 10 News that the priest asked the young people if they touched themselves sexually or looked at computer porn.

In a letter to parents, Father Waters writes, "I cannot say what happened in the confessional other than it was wholly appropriate...I have nothing for which to feel guilty or embarrassed." Waters goes on to say that the issues he asked about are "real spiritual challenges" for young people.

And in a letter to parents the Vicar General, the Very Rev. Robert Morris writes that the diocese continues to have the "utmost confidence" in Father Waters.

However, many people raised in the Catholic church tell 10 News that a priest asking those types of questions is unusual, if those subjects haven't been first brought up by the person confessing.

And some parents are not satisfied with those responses from Waters and the diocese and activists like Lorenzo say they should continue to raise questions. Lorenzo says of the confession controversy, "It's business as usual; they don't have a good answer."