Former Altar Boy Arrested after "Duke of Edinburgh's Friend" Found Bludgeoned to Death

Daily Mail
January 14, 2011

http://www.dailymail.co.uk/news/article-1346891/Former-altar-boy-arrested-Duke-Edinburghs-friend-bludgeoned-death.html

A former altar boy who killed and dismembered a paedophile vicar has been arrested on suspicion of murdering a man believed to have been a friend of the Duke of Edinburgh.

Peter Bick, 57, who shared a love of carriage racing with Prince Philip , was bludgeoned to death in the early hours of Tuesday morning.

He told neighbours he had on occasions driven for the Duke, although there are no records to support his claim.

However, the supermarket worker is thought to have known the man accused of his killing, Christopher Hunnisett, possibly through sailing.


Investigation: Peter Bick, 57, was bludgeoned to death. Christopher Hunnisett (right) has been arrested on suspicion of murder


Hunnisett, 27, spent eight years in prison for the murder of Ronald Glazebrook, 81, before the conviction was quashed at a retrial last September.

That followed an earlier trial, in 2002, where he was found guilty of the murder. New evidence introduced at the retrial found he had been the victim of sexual abuse by Glazebrook, whose remains were found scattered around Sussex.

Hunnisett was released from prison four months ago but on Tuesday night he handed himself in at Hastings Police Station in East Sussex, and is still being questioned.

He was arrested on suspicion of murder after the subsequent discovery of the body of a 57-year-old man in the bedroom of a flat in Bexhill.

Detectives have been searching the beach near Bexhill's De La Warr Pavilion for discarded clothes and a phone which may provide valuable evidence to the investigation.

Detective Chief Inspector Nick Sloan, who is leading the Major Crime Branch investigation, said: 'Our thoughts are with Peter's family and police family liaison officers are supporting them at this extremely difficult time.

Christopher Hunnisett killed Rev Ronald Glazebrook, pictured, but was released four months ago after a retrial


'It is now clear to us that Peter died following several blows to the head in what was clearly a violent attack in his own home.

'We believe this may have happened during the early hours of Tuesday, 11 January, and we are looking for a weapon which may have caused these injuries.'

He said officers were looking for a black Nokia mobile phone, a sim card, memory cards, a black woolly hat with grey badge and black ski gloves with woolly palms on the beach.

He added: 'Trained search team officers are on the beach today searching for these items. If anyone has found any items matching these descriptions I would urge them to contact the police.

'I would also like to appeal to anyone who had contact with Peter in the days or hours before his death.

'Peter had worked at Asda in St Leonards since September and was liked by his colleagues, who described him as a friendly man who always had a smile on his face.

'He was last seen finishing work at 4pm on Monday and was due to be on a rest day on Tuesday.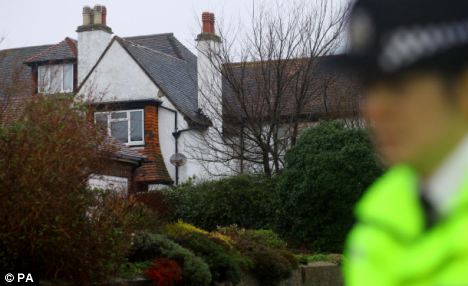 Hunt: A police officer stands in front of a block of flats in Bexhill, East Sussex, where Peter Bick's body was found



'We believe that Peter was killed in the early hours of Tuesday morning.

'A man, who we believe is known to Peter, handed himself into police on Tuesday night.

'He has been arrested on suspicion of murder and we are not looking for anyone else at this stage.'

Detectives were granted an extra 36 hours at Eastbourne Magistrates' Court on Thursday morning to question Hunnisett.

Mr Bick was a bachelor who lived alone in the top floor studio apartment of a converted four-storey white-painted detached Victorian house.

Caretaker Juley Ross, 55, who lives on the ground floor, said: 'Peter was a lovely, intelligent man.

'I only knew him for the eight months or so he lived here but he was always polite and kept his flat tidy.

'It is just awful to think that he may have been murdered.'

During Hunnisett's retrial, it emerged Glazebrook was a paedophile with a 50-year history of child abuse.

After leaving Lewes Crown Court a free man, Hunnisett said: 'I could not believe the verdict. I think I'm going to be smiling for the rest of my life.'

He met girlfriend Lucy Anderson soon after his release and the pair were already engaged and planning their wedding when he asked her to go to the police station with him on Tuesday.

She said: 'He came to see me and just said he needed to go to the police station.

'I didn't ask Chris why he wanted to go to the police station, I was in too much shock.'