Priest Accused of Sexual Abuse Served in Fairhaven Church

By Jay Lindsay
Herald News
January 19, 2011

http://www.heraldnews.com/news/x512668523/Priest-accused-of-sexual-abuse-served-in-Fairhaven-church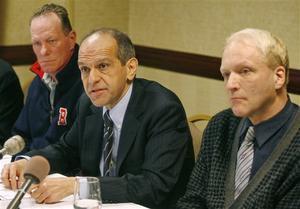 Mitchell Garabedian, lawyer for numerous Boston-area clergy sex abuse victims, speaks at a news conference in Boston on Wednesday, where he released a new list of Roman Catholic priests, laymen and members of religious orders accused of abusing parishioners. William Oberle, left, and Robert Perron, right, said they were abused by priests.



BOSTON — A prominent lawyer for Boston-area clergy sex abuse victims on Wednesday released a new list of accused abusers, saying it was time to "end the secrecy."

The list includes previously undisclosed names of 19 Catholic priests, brothers and one deacon who attorney Mitchell Garabedian said were among those accused in the scores of cases his firm settled with the church for "tens of millions" of dollars.

None of the newly disclosed people on the list have been tried or convicted of a crime, and at least 16 of the 19 are dead.

One of the accused — Father Rene Gaudin of the Congregation of the Sacred Hearts of Jesus and Mary in Fairhaven — served in the Fall River Diocese. At least 16 of the 19 men, including Gaudin, are dead.

Garabedian said he released the names to protect the public, help victims heal and end what he says is a culture of secrecy in the church that enabled abusers to get away with their crimes for years.

Garabedian said he grew tired of waiting for Boston Cardinal Sean O'Malley to release a similar list.

"We've been waiting for O'Malley to come forward," he said. "I thought it was his obligation to come forward, and we gave him time to come forward. ... It's time to end the secrecy."

The list included 117 names of those accused in cases settled by Garabedian's firm in roughly the last 15 years.

The new names included 11 priests of the Boston archdiocese and one deacon. The other seven names were of brothers and priests from various religious orders.

Kelly Lynch, a spokeswoman for the Boston Archdiocese, said the 12 men associated with the archdiocese were dead when they were first accused of sexually abusing a child.

"Clearly, no child was put at risk because these names were not in the public domain," she said.

She said the archdiocese was still working to disclose more information was complex because there were "serious due process concerns" about releasing names of accused priests "whose guilt or innocence has not been established."

Of the three men whose identities are newly disclosed and who are still alive, two are brothers with religious orders, Nolan Farrell and Dennis Raeihle.

Farrell's location could not immediately be determined. The group BishopAccountability.org, which tracks clergy sex abuse cases nationally and put Garabedian's list online, said Raeihle was affiliated with the Franciscan Friars of the Atonement in Garrison, N.Y.

A call to the order was not immediately returned.

The third man was the Rev. Donald Joyce of the Oblates of Mary Immaculate in San Antonio, Texas. A spokesman for the order declined to comment.

BishopAccountability.org said it now has 240 names of priests or other religious workers who have substantive abuse accusations against them and who worked in Boston at some point. But Terence McKiernan of the group said there are likely far more. He said dioceses that have fully disclosed their numbers of abusive priests have a far higher percentage of priests with substantive abuse allegations than what's been revealed in Boston.

Garabedian urged other attorneys who've handled clergy sex abuse cases to release similar lists. Attorney Carmen Durso, who's handled numerous cases in the Boston area, said it was a good idea. But he said he didn't think he had any new names to disclose, and that releasing such names is something the archdiocese should do without prodding.

Durso said when an accuser's name goes public, his victims are more likely to step forward and get help.

The U.S. clergy sex abuse crisis erupted in Boston in 2002 after records revealed church officials kept molestation complaints secret. O'Malley was brought in to clean up the matter after Cardinal Bernard Law resigned.

Lynch, the archdiocese spokeswoman, said there is "no organization in the Commonwealth that has done more (than the archdiocese) in recent times to educate and empower children, parents and staff on the terrible and pervasive problem of sexual abuse in our society."

She said the archdiocese has settled 800 cases since O'Malley took over in 2003, completed 60,000 background checks on priests and other church workers who have contact with children and trained 300,000 children and 175,000 adults to spot and report abusers.

A spokesman for the Diocese of Fall River was not immediately available for comment.