Ex-Player Says Riverside Hoop Program Founder Lorch Paid Him Millions to Stay Quiet about S

By Michael O'Keeffe
New York Daily News
January 30, 2011

http://www.nydailynews.com/sports/high_school/2011/01/29/2011-01-29_explayer_says_riverside_hoop_program_founder_lorch_paid_him_millions_to_stay_qui.html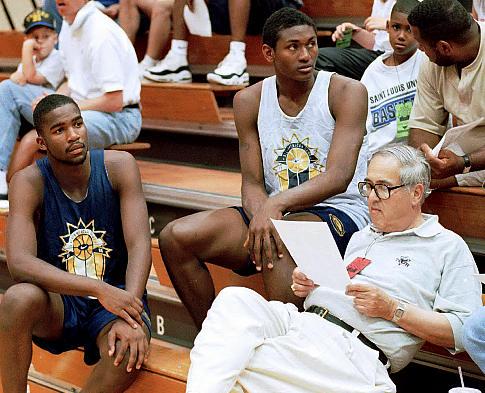 Ernest Lorch (sitting next to future NBA star Ron Artest at basketball camp in Indianapolis in 1996) helped found the Riverside Church basketball program.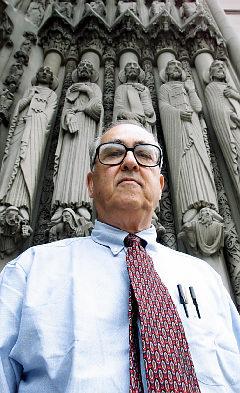 Lorch was indicted on sexual abuse charges by a Massachusetts grand jury in October.



Sean McCray took Ernest Lorch's money for more than 10 years, thousands of dollars every month to launder uniforms and run errands for the founder of the prestigious Riverside Church basketball program - and to remain silent about how Lorch had sexually abused him 30 years ago.

McCray, a former Riverside player, says Lorch paid him at least $2 million between the late 1990s and 2008 to stay quiet about the abuse that began when McCray was 12 years old and continued off and on for nearly four years. Most of the abuse took place at the Gothic church, in hidden rooms and secret spaces. "He would take me into places I could never have imagined were there," McCray says.

McCray says that for more than a decade, Lorch would give him a wad of cash on the fourth of every month, first at the Morningside Heights church, later at a diner near Lorch's upper East Side home. McCray, now 42, says Lorch offered him $1,000 a month after McCray and his cousin, Robert Holmes, confronted him about the abuse sometime in 1997 or 1998, and threatened to go to the media with their claims. Instead, McCray says, Lorch offered to pay for their silence.

By the time his arrangement with Lorch abruptly ended in 2008, McCray was receiving $6,000 a month from the wealthy and now retired investment lawyer.

Riverside coaches and players took notice of McCray's monthly trips to the church, so he began washing uniforms and driving Riverside teams to games to deflect attention. But the real reason he showed up at Riverside every month for years, he says, was to get his money.

"I was protecting him," McCray says of Lorch. "He was buying my silence."

Sometimes McCray, who agreed to speak on the record for this story but refused to be photographed, would have to do more than keep his mouth shut to justify the monthly payments. McCray says Lorch told him to lie to the Manhattan District Attorney's office in 2002, when it was investigating allegations that Lorch abused Holmes. Two of Lorch's former attorneys, Martin Schmuckler and Paul Lieber, also pressured him not to testify on behalf of Holmes in a federal lawsuit his cousin filed in 2003, McCray says.

McCray says Lorch, 78, directed him to offer $10,000 to his former teammate, Louis Garcia, to recant allegations that Lorch has also sexually abused him. The offer came days before the Daily News published a story in June 2002 based on Garcia's claims; Garcia turned down the money and said earlier this month that he continues to stand by the allegations in the June 20, 2002, article.