Pro-life "Rock Star" Priest Admits to Sexual Indiscretion during Exorcism

Daily Mail
February 3, 2011

http://www.dailymail.co.uk/news/article-1353084/Father-Thomas-Euteneuer-admits-sexual-indiscretion-exorcism.html?ito=feeds-newsxml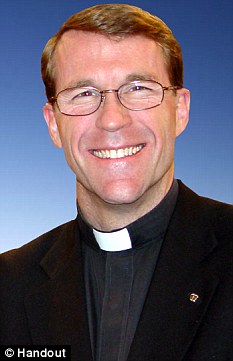 'Violating the boundaries of chastity': Father Thomas Euteneuer has confessed to a sexual indiscretion during an exorcism



A priest has admitted to a sexual indiscretion with a woman under his spiritual care during an exorcism.

Father Thomas Euteneuer made the confession after a wave of online debate about his sudden departure from his post of president of an anti-abortion group.

He abruptly departed the Human Life International in August of last year, and had maintained a silence over his reasons for stepping down ever since.

The mystery provoked a wave of speculation on the internet about why the priest, described by some as a 'rock star' of the pro-life movement, might have stepped down.

The internet storm peaked after a January 27 medical emergency involving a woman at Human Life International's Virginia headquarters, according to an article posted on the Huffington Post.

Paramedics described the woman, who had previously been associated with Father Euteneuer, as undergoing a 'medical seizure'.

Witnesses claimed she was suffering from 'demonic possession'.

The Catholic blogosphere went into overdrive over the incident, culminating five days later in a flurry of allegations against Father Euteneuer.

The speculation finally forced the priest to break his five months of silence over his resignation from HLI.

He admitted to a sexual indiscretion while performing an exorcism.

'The circumstances that led to my departure from HLI were related exclusively to my own decisions and conduct within the ministry of exorcism that I carried out independently from my responsibilities at HLI,' he stated in a blog post on the website LifeSiteNews on February 1.

He then admitted that 'one particularly complex situation clouded my judgment and led me to imprudent decisions with harmful consequences, the worst of which was violating the boundaries of chastity with an adult female who was under my spiritual care.'

He said he took 'full responsibility' for his 'weakness and sinful conduct'.

The admission only fanned the flames of the online debate.

HLI defended its silence over the scandal by quoting catechism 2489: 'No one is bound to reveal the truth to someone who does not have the right to know it'.

But Catholic blogger Tom O'Toole attacked the priest for not taking the incident seriously.

'The fact that Father apparently is not in a 24/7 care centre is troubling because it means women are still vulnerable to his advances,' he wrote.

Father Euteneuer gained national notoriety in 2007 after he attacked Fox News commentator Sean Hannity as a 'failed Catholic' in an infamous televised encounter.