Victims Testify against Former Priest

By Conor Berry
The Post-Star
February 4, 2011

http://poststar.com/news/local/article_0997cf60-3022-11e0-a476-001cc4c002e0.html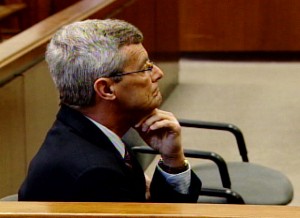 Courtesy of NewsChannel 13 Former priest Rev. Gary Mercure sits in Berkshire Superior Court during the first day of testimony in his criminal trial in Pittsfield, Mass. on Thursday, Feb. 3, 2011.



Editor's note: Over the course of coverage of the Mercure trial, some stories may contain graphic sexual content.

PITTSFIELD, Mass. - The priest told the boy to close his eyes and pray before he sexually assaulted the child, an alleged victim testified Thursday.

"I know it became more difficult for him to do that to me as I got older because I wouldn't keep my eyes closed," said an alleged victim of Gary Mercure, a former New York priest accused of raping two altar boys in the Berkshires in the 1980s.

The alleged victim, now in his 30s, made that declaration Thursday in the first day of testimony in Mercure's criminal trial. Testimony is scheduled to resume at 9 a.m. Friday in Berkshire Superior Court.

The Roman Catholic Diocese of Albany permanently removed the 62-year-old priest from ministry in 2008, which means Mercure can no longer wear a priest's collar or celebrate Mass. But only the Vatican has authority to formally remove him from the priesthood.

"Go blank. Don't think of anything," said the alleged victim, claiming that's what Mercure would instruct him to do prior to the abuse.

Mercure raped the boys in separate incidents in the Berkshires in 1986 and 1989, according to prosecutors. The priest, who's free on personal recognizance, denied all charges at his November 2008 arraignment in Superior Court.

Both alleged victims took the stand Thursday and accused Mercure of sexually assaulting them multiple times in New York, and on single occasions during trips to the Berkshires.

The testimony was graphic and disturbing at times, and attorneys forewarned jurors about what to expect.

Despite claims of long-term abuse by Mercure in New York state, the substance of this trial pertains only to alleged crimes committed in Massachusetts, a point hammered home by defense attorney Michael O. Jennings during opening remarks to the jury.

"It's not about who he may have abused in New York. That's not what this case is about," Jennings said, reminding jurors that Mercure must legally be presumed innocent.

Prosecutors, meanwhile, painted a portrait of a full-fledged sexual predator.

Mercure, prosecutors claimed, used his role as a spiritual leader to wield influence over the boys, both of whom served as altar boys in New York state at the priest's former Queensbury parish.

During questioning by Berkshire First Assistant District Attorney Paul J. Caccaviello, the alleged victims claimed Mercure took them on day trips to the Berkshires for hiking and skiing. But the seemingly innocent outings were punctuated by sexual abuse and intimidation by Mercure, according to testimony, prompting the altar boys to remain silent out of fear and shame.

Because The Eagle and The Post-Star do not identify sexual assault victims, the alleged victims are referred to here as Boy A and Boy B.

"He would have me close my eyes and touch me until I couldn't feel his touch," said Boy A, who claims Mercure raped him in 1986 in a parking lot bordering Great Barrington and Monterey.

The abuse occurred while the boy, now 35, and Mercure were in the priest's car, which was parked near a hiking trail entrance, according to testimony.

Boy B, now 34, said Mercure took him on a 1989 ski trip to the former Brodie Ski Area in New Ashford. After the boy skied for several hours, Mercure raped him in the back seat of his car, according to

Boy B.

"He told me not to say anything because it was my fault and nobody would believe me," Boy B said, adding that he didn't tell his parents because he was "confused and scared."

Boy B's father left the courtroom before his son took the stand.

Both alleged victims claimed Mercure repeatedly sexually assaulted them while they served as altar boys at Our Lady of Annunciation, the priest's Queensbury parish. The abuse took place over several years, according to testimony.

Boy A was around 11 in 1986, while Boy B was roughly 13 at the time of the 1989 incident.

In 2008, Boy A told authorities in Warren County about the alleged abuse, but was told the crimes were too old to prosecute in New York state.

Warren County District Attorney Kate Hogan provided assistance to Berkshire County authorities, who then launched an investigation that led to Mercure's indictment by a Berkshire grand jury.

Despite the vintage of the allegations, the time period in which Massachusetts could bring charges against Mercure didn't begin ticking until Berkshire authorities became aware of the alleged crimes in 2008.

In an agreement with The Berkshire Eagle of Pittsfield, Mass., The Post-Star is publishing the Eagle's daily reports on the Mercure trial.