4 Priests Charged in Sex Abuse Investigation

By David O'Reilly
Philadelphia Inquirer
February 10, 2011

http://www.philly.com/philly/news/breaking/115720689.html?cmpid=15585797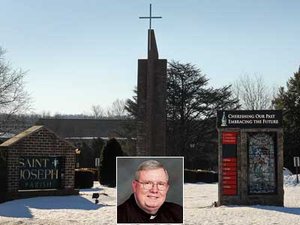 Msgr. William Lynn, inset, faces criminal charges of failing to protect children from sexual abuse by two priests. He is pastor at St. Joseph's Catholic Church in Downingtown. (Tom Gralish/Staff)



Monsignor William Lynn, former head of the Archdiocese of Philadelphia's Office for Clergy, has been charged for allegedly failing to protect children from sexual abuse by priests, District Attorney Seth Williams announced today.

Two felony counts of endangering the welfare were lodged against Lynn follow a grand jury investigation, Williams said at a news conference.

Williams also announced the Revs. Charles Engelhardt, 64, and Edward Avery, 68, and Bernard Shero, 47, a former 6th grade teacher at St. Jerome's School in Northeast Philadelphia, had been charged with raping and sexually assaulting the same boy in the parish between 1998, when he was 10 years old, and 2000.

Another priest, the Rev James Brennan, 47, is charged with raping and sexually assaulting a 14-year-old boy in 1996.

All five men were arrested today, official said.

Williams said Lynn, who was the Archdiocese's Secretary of the Clergy from 1992 to 2004, "supervised two of the abusers . . . knew they were dangerous and chose to expose them to new victims."

Since 2004 Lynn has served as pastor of St. Joseph's Church in Downingtown, a parish of nearly 4,000 families.

As head of the clergy office, Lynn oversaw all priest personnel issues, which included advising Cardinal Anthony Bevilacqua and his successor, Cardinal Justin Rigali, on the assignment of priests; interviewing persons who reported sexual abuse by a priests; and overseeing the treatment of clergy known to have abused children.

In a message to church deacons, Rigali said he could not comment directly on the grand jury report because he had not yet received it.

But, he added: "I know the release of this report will be painful and my deep concern is for all of those who have been abused. I urge all the faithful of the Archdiocese to pray for, to extend every concern for and remain open to understanding the experience of the victims. It is in that spirit that we reflect upon the grand jury's actions and the recommendations they make."

At Lynnn's church in Downingtown, workers in the parish office declined comment, abruptly referring reporters to Donna Farrell, the archdiocesan spokeswoman.

When an Inquirer reporter began to speak with a female parishioner outside the building, one of the workers ran out, grabbed her, and pulled her inside.

Several other parishioners expressed shock at news of the charges but declined to give their names. A man arriving for choir practice said he did not have enough information to comment. A woman who pulled up at the adjacent church school - which her daughter attends - said she did not want her remarks to reflect adversely on the school.

"We love this school," she said. "I'm absolutely stunned; we totally trusted him."

Today's charges come nearly 5 1/2 years after a Philadelphia grand jury excoriated the Archdiocese of Philadelphia for an "immoral cover-up" of its sexually abusive clergy, and for creating what it said was a climate that exposed hundreds of children to assault.

Although the 2005 report directed much of its ire at Bevilacqua, the Roman Catholic archbishop from 1988 to 2003, it mentioned Lynn 652 times - more than any other member of the archdiocesan hierarchy, including Bevilacqua.

"Secretary for Clergy Lynn . . . treated victims as potential plaintiffs. Not only did they not receive apologies acknowledging their abuse, but many were bullied, intimidated, lied to, even investigated themselves," the report said.

It also accused Lynn of repeatedly failing to investigate abuse charges, reassigning abusive priests, and concealing their crimes from civil authorities and the Catholic laity.

"It became apparent to the Grand Jurors that Msgr. Lynn was handling the cases precisely as his boss [Bevilacqua] wished," it said.

The assistant district attorneys who wrote the scathing, 468-page report in 2005 said their office had sought ways to bring criminal charges against several archdiocesan leaders but were frustrated by Pennsylvania's "inadequate" state laws, such as the statute of limitations.