Updated: Catholic Church Official in Residence at Altadena Church Resigns Position over Abusive Priest

By Dan Abendschein
Altadena Patch
February 14, 2011

http://altadena.patch.com/articles/catholic-church-official-in-residence-at-altadena-church-resigns-position-over-abusive-priest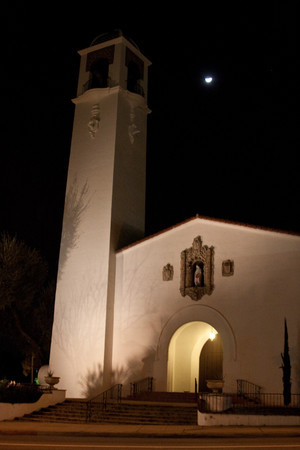 The new moon shines next to the Catholic Church on Lake. Credit Patricia Chilton



A priest in residence at St. Elizabeth's Catholic Church resigned his position with the Archdiocese of Los Angeles last week after church officials realized he had cleared a priest with an abusive past to work at a San Dimas church.

Monsignor Michael Meyers was the archdiocese's vicar for clergy, a position that required him to check a priest's credentials to make certain he didn't have any legal troubles that should prevent him from being "given faculties" to serve at a church, according to Tod Tamberg, a spokesman for the archdiocese.

In 2009, Meyers granted faculties to a priest named Rev. Martin O'Loghlen, who had admitted in a press report to having had sex with an underage girl in the 1960s, Tomberg said.

A simple search would have revealed O'Loghlen's past, Tomberg said.

"[Meyers] did not go and check to see if O'Loghlen had ever had any other service in the archdiocese," Tomberg said. "A five minute search would have revealed his past.... if he had done that he would have realized he could not grant him faculties."

Meyers credentials as a priest have not been revoked, and he still is permitted to perform services at area churches, Tomberg said.

Altadena Patch left a message seeking comment for Meyers at St Elizabeth's, but the monsignor directed the inquiry to the Archdiocese of Los Angeles. A church official said that Meyers would continue to be in residence at the church for the time being- he is a visiting priest, not the head pastor at St Elizabeth's.

Tomberg said that Meyers had received a letter from a church official deeming O'Loghlen as being fit for service when he credentialed him in 2009. Tomberg described the letter as "not credible."

According to a New York Times story on O'Loghlen, the priest admitted in the mid-1990s to having a relationship with a 16-year-old girl when he was serving as a priest in La Puente in the 1960s.

The victim, a Bishop Amat student at the time, later sued O'Loghlen and settled the case for $100,000 in 1999, according to the Times story.

O'Loghlen went on to serve on a sexual abuse advisory board at the church, and most recently before coming back to L.A County served as a priest in the Phillipines, according to the Times.

Update: County authorities likely never opened an investigation into the case because it was reported decades after it happened. According to the California penal code, felony statutory rape cases have a limitation of three years after the offense for filing unless there is still DNA evidence, in which case it is 10 years.

Update: Willow Hale, a parishioner at St. Elizabeth's, said she was sad to hear of Meyers' resignation and felt like he was taking too much of the blame for O'Loghlen going unexposed.

"I felt like he got thrown under the bus for sure," Hale said. She said that based on what she has read of O'Loghlen that others in the church besides Meyers should have known of his past.

She said Meyers is extremely popular at St. Elizabeth's and said she described him as one of the best priests she has ever known.

"He's really outstanding, very smart, very schooled, very compassionate," Hale said.

She added that Meyers spends a lot of time with parishioners after service and is very selfless about giving his time to help people with their problems.

She said he has been in residence at St Elizabeth's for about three years and will be there until July. She said she believes everyone at the church is very supportive of Meyers and his resignation will not impact his duties at St Elizabeth's.