Salinas Police Investigate Priest Accused of Sexual Abuse

By Sunita Vijayan And Luis Carlos Lopez
The Californian
February 17, 2011

http://www.thecalifornian.com/article/20110217/NEWS09/102170311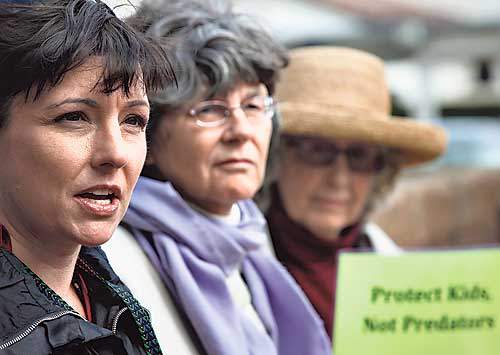 Joelle Casteix, western regional director of Survivors Network of those Abused by Priests (SNAP) and herself a victim of sexual abuse within the Catholic church, on the left, speaks about the child sex abuse and cover-up civil lawsuit that accuses longtime Salinas' priest Fr. Edward Fitz-Henry of child sex crimes during a press conference Wednesday in front of the Diocese of Monterey headquarters. / Conner Jay



A longtime Catholic priest on the Central Coast faces both a lawsuit and criminal probe into allegations he sexually assaulted a teenager several years ago in Salinas.

Police officer Lalo Villegas, spokesman for the Salinas Police Department, said officers are investigating whether the Rev. Edward Fitz-Henry sexually abused a teen at Madonna Del Sasso in late 2005 and early 2006.

The Diocese of Monterey, Villegas said, is cooperating fully. No arrest has been made in the case, which remains under investigation, he said.

Fitz-Henry, now in his 50s and born in Ireland, has served the diocese for 25 years between Madonna del Sasso and the San Juan Bautista Mission.

On Tuesday, the priest's accuser, now 21, filed suit in Monterey County Superior Court, seeking damages and alleging he suffered sexual abuse when he was 14.

Carolyn Ingalls Keeley, an attorney with the Salinas-based Thomas Worthington Law Centre, is representing Fitz-Henry in light of the criminal probe.

"He's completely devastated by these allegations,'' Keeley said. "He completely denies any inappropriate contact of this young man ... . He's just shocked by these [allegations].''

In addition to Fitz-Henry, the defendants include the Roman Catholic bishop of Monterey and Madonna Del Sasso Church.

Tom Riordan, spokesman for the diocese, said church officials approached Salinas police about the allegations Jan. 7 — within an hour of receiving a letter from the alleged victim and his lawyer.

That same day, Riordan said, Fitz-Henry was suspended with pay from his duties at the San Juan Bautista Mission — standard procedure when such allegations arise.

"We take our commitment to be transparent and open [seriously],'' he said. "We reported it to the police and asked him [Fitz-Henry] to move out of the rectory.''

Past investigated

In addition to notifying law enforcement, the diocese hired a private investigator to help the Diocesan Independent Review Board determine whether the allegations were "credible,'' a press release from the diocese said.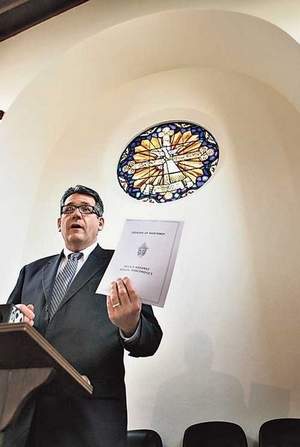 Spokesman of the diocese Tom Riordan holds up a copy of the "Diocese of Monterey's Policy Against Sexual Misconduct" during a press conference about the child sex abuse and cover-up civil lawsuit that accuses their long-time Monterey priest Fr. Edward Fitz-Henry of child sex crimes Wednesday in Monterey. / Conner Jay



The private investigator also revealed that Fitz-Henry was accused of similar misconduct 20 years ago.

"We went to all the parishes where he had been in service and told them about the allegations,'' he said. "We encourage anyone to come forward who was abused.''

Tuesday's lawsuit against Fitz-Henry outlines in graphic detail the allegations of sexual abuse, including inappropriate touching and other acts.

The lawsuit says the plaintiff, identified in court documents as "John Doe,'' has suffered many problems since his encounter with the priest, from struggles in maintaining intimate relationships to confusion over his sexuality to experiencing suicidal thoughts.

It wasn't until April 2010, the complaint says, that he realized his problems stemmed from sexual abuse.

"He should have never been in a position to have access to my client,'' said the plaintiff's attorney, Vince Finaldi of Newport Beach-based law firm Manly & Stewart.

Keeley, the defense lawyer in the criminal investigation, said the San Juan Bautista-based DeVries Law Group is representing Fitz-Henry in the lawsuit. Daniel Joe DeVries, Fitz-Henry's civil attorney, could not be immediately reached for comment.

Police waited for accuser

The Salinas Police Department began its investigation Feb. 1 after being approached by the accuser and his attorney, Villegas said.

"It was reported to the diocese, but there were no specifics or details to what exactly occurred,'' Villegas said, explaining the delay. "The victim was an adult and needed to come forward [himself] to report it to us.''

Unless allegations concern a minor at the time a report is made, he said, the department doesn't seek out a potential victim.

On Wednesday, the case continued to attract attention as the Survivors Network of those Abused by Priests, or SNAP, held a press conference in Monterey.

Joelle Casteix, western regional director of the national support group, called Doe "a very, very brave man'' who should be commended for coming forward.

Casteix said the group is also demanding that the diocese release all documents regarding priests accused of abuse.