New Allegations of Priest Sex Abuse Emerge against Former Diocese of Trenton Pastor

By Carmen Cusido
The Times
February 21, 2011

http://www.nj.com/mercer/index.ssf/2011/02/new_allegations_of_priest_sex.html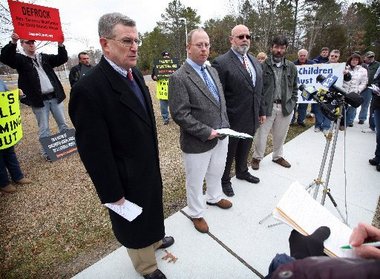 New allegations of sexual abuse were made today by two men against former Diocese of Trenton priest Terrence McAlinden were made during a press conference in front of St. Theresa's Church in Little Egg Harbor. From left, the Rev. Robert M. Hoatson, co-founder and president of Road to Recovery, and alleged victims of the abuse Patrick Newcombe, Bob Markulic and Chris Naples answer questions during the press conference. Naples had previously spoken publicly in 2008 about being abused.



New allegations of sex abuse by former Diocese of Trenton priest Terence McAlinden were made public today by two men, including one who said church officials told him not to go to authorities at the time.

McAlinden was removed in 2007 as a priest at St. Theresa Roman Catholic Church in Little Egg Harbor after previous sexual abuse allegations.

The latest disclosures by two men today who say they were abused by McAlinden were made during an afternoon press conference at St. Theresa's organized by the Survivors Network of Those Abused by Priests, or SNAP, and the Road to Recovery.

Patrick Newcombe, 43, of North Carolina, said he was abused by McAlinden between 1980 and 1985 when Newcombe lived in Point Pleasant. McAlinden was a priest was working with teenagers through the Catholic Youth Organization in Monmouth County at the time, he said.

Newcombe said he reported the sexual abuse to the Diocese of Trenton and was awarded a settlement in 1992 that required he not discuss his claims.

"They urged me not to go to the district attorney's office, that they would handle it internally. I trusted the church to do the right thing, my trust was misplaced," Newcombe said today during a phone interview before the press conference.

Newcombe said Diocese of Trenton officials knew of allegations against McAlinden for about 20 years, but had taken no action until 2007.

"Since receiving a complaint in 2007 that Father Terrence O. McAlinden had sexually abused a minor in the late 1980s, the Diocese of Trenton has vigorously and responsibly enforced its policies governing such cases -- removing Father McAlinden from ministry; lending our full support and cooperation to law enforcement agencies investigating the allegations; offering counseling to the victim, and appealing to any other victims to come forward," Diocese of Trenton spokeswoman Rayanne Bennett said in a statement.

"We confirm that the Diocese of Trenton had no other abuse allegation on record involving Father McAlinden prior to 2007," Bennett said. "New allegations made against Father McAlinden will be referred to the civil authorities and the diocesan review board, and could also be considered as an additional charge in the canonical proceedings.

Today marked the second time that St. Theresa's church in Little Egg Harbor served as a backdrop for a SNAP press conference about McAlinden. In 2008, Chris Naples, of Bass River, said he had been molested by McAlinden for a decade beginning in 1985 when he was a teen.

Naples, who joined the two new alleged victims at today's press conference, said he was abused aboard McAlinden's boat and various other locations.

"We reiterate our pledge to cooperate with any investigation by law enforcement. We further extend our offer of assistance to these victims in their efforts to seek counseling, " Bennett said in the statement issued by the diocese." And we re-issue our appeal for anyone who has been abused by Father McAlinden to come forward and receive help."