Two More Men Allege Catholic Priest Abused Them in Ocean County and Elsewhere

Point Pleasant Patch
February 21, 2011

http://pointpleasant.patch.com/articles/two-more-men-allege-catholic-priest-abused-them-in-ocean-county-and-elsewhere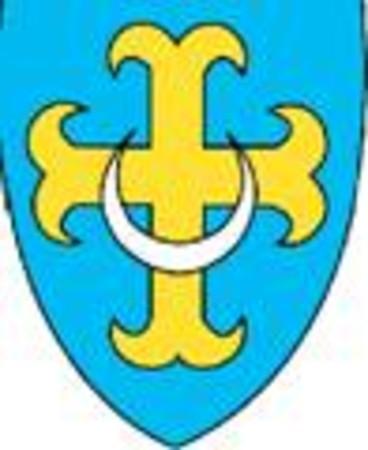 Credit Courtesy of the Catholic Diocese of Trenton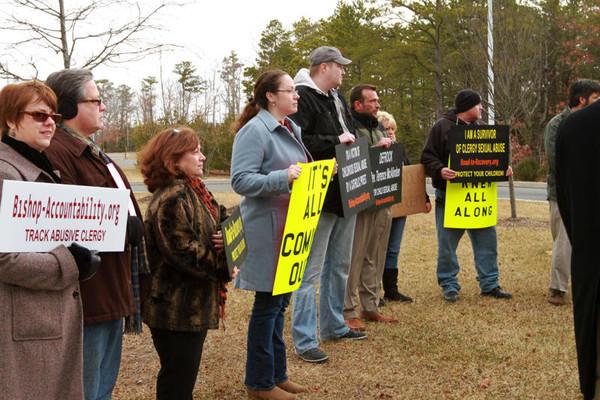 Family and friends of men accusing a priest of sexual abuse.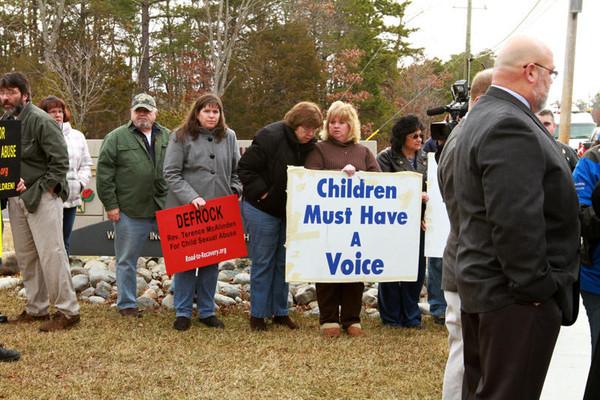 Family and friends of men who accused a priest of sex abuse.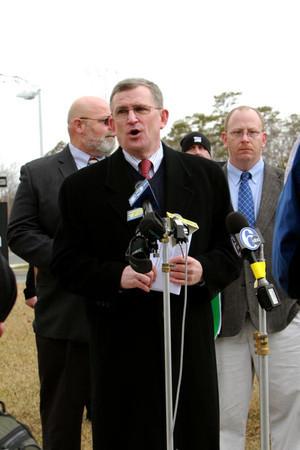 The Rev. Robert Hoatson, co-founder and president of Road to Recovery, an advocacy organization for victims of sex abuse by priests.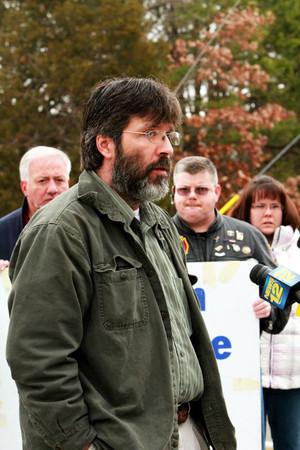 Chris Naples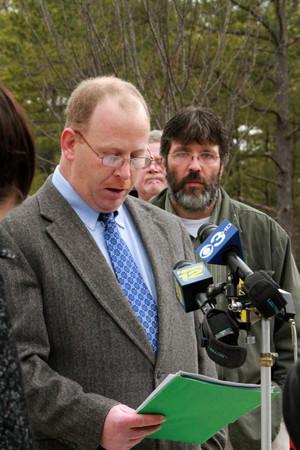 Patrick Newcombe reading his statement alleging abuse.



Two more men publicly accused Father Terence McAlinden, formerly of St. Theresa's Roman Catholic Church in Little Egg Harbor Township, of sexually abusing them when they were boys.

The accusations, from Patrick Newcombe, 43, and Robert Markulic, 56, were made on Monday afternoon, about three years after Chris Naples, 39, accused McAlinden of sexually abusing him.

All three men and the Rev. Robert Hoatson, a priest who runs the Road to Recovery program, which advocates for priest sex abuse victims, held a press conference outside St. Theresa's on Radio Road.

Newcombe, a former Point Pleasant Borough resident who now lives in North Carolina, and Markulic, a former Sayreville resident who now lives in White Township, Warren County, emphasized they are coming forward now with their stories of abuse from about 25 and 40 years ago, respectively, to support Naples, formerly of Brick, now living in Bass River.

"I am pleading with other victims to come forward," Newcombe said. "He (McAlinden) could still be raping today."

The Diocese of Trenton said on Monday that McAlinden is prohibited from being on church grounds, but acknowledged that "technically" he is still listed as pastor and is still a priest.

A statement from the Diocese said officials continue to investigate McAlinden and that he may be subject to removal from the priesthood.

The three "survivors," as they refer to themselves, were surrounded by about 20 family members and friends, many of whom held signs that said things like, "Defrock McAlinden," "It's All Coming Out," "Children Must Have a Voice," "I Am A Survivor of Clergy Sexual Abuse" and "Protect Your Children."

The Diocese said in a statement released on Monday afternoon that they were made aware of the accusations first made in 2007 from one victim, an obvious reference to Naples.

However, the statement says the diocese has no reports of any earlier abuse.

Newcombe has repeatedly insisted that in 1989 he reported to the Diocese that McAlindin sexually abused him.

He said after the press conference that a few months ago he also reported the abuse, and what he calls the Diocese's failure to report the abuse to law enforcment, to Sgt. Colleen Lynch of the Ocean County Prosecutor's office.

Deputy Chief Michael Mohel of the prosecutor's office said on Monday that he cannot comment on the matter.

In an e-mail, Rayanne Bennett, chief communications officer for the Diocese of Trenton, said, "On your question regarding past allegations: There is nothing in any of the records, including correspondence from Mr. Newcombe and his representatives, that makes any reference to Father McAlinden."

Hoatson said the Diocese had said it removed McAlinden from his position as pastor at St. Theresa's.

"But he is still listed as pastor," Hoatson said.

St. Theresa's website lists McAlinden's name in a list of former and current pastors as "Rev. Terence McAlinden, July 1, 1988- " with no end date.

When asked about that, Bennett wrote in an e-mail: "Father McAlinden's post as 'pastor' hangs on the determination of his canonical status, which is subject for a canonical trial in the near term.

"While he technically holds that title, he does not function as the pastor, and is not permitted on the church grounds," Bennett wrote. "Father Mick Lambeth runs the parish as the administrator."

The statement said: "Since receiving a complaint in 2007 that Father Terence O. McAlinden had sexually abused a minor in the late 1980s, the Diocese of Trenton has vigorously and responsibly enforced its policies governing such cases — removing Father McAlinden from ministry; lending our full support and cooperation to law enforcement agencies investigating the allegations; offering counseling to the victim, and appealing to any other victims to come forward.

"In addition to these measures," the statement continues, "the case against Father McAlinden has been reviewed by the Diocese and instruction has been elicited from the Holy See for possible canonical action, which could include an ecclesiastical trial and permanent removal from the clerical state, (also known as laicization), in which Father McAlinden would cease to be a priest.

"We confirm that the Diocese of Trenton had no other abuse allegation on record involving Father McAlinden prior to 2007," the statement says.

"New allegations made against Father McAlinden will be referred to the civil authorities and the diocesan review board, and could also be considered as an additional charge in the canonical proceedings," the statement says.

"We reiterate our pledge to cooperate with any investigation by law enforcement," the statement says. "

"We further extend our offer of assistance to these victims in their efforts to seek counseling," the statement says. "And we re-issue our appeal for anyone who has been abused by Father McAlinden to come forward and receive help.

"The Diocese of Trenton is in full compliance with the Church's 2002 Charter for the Protection of Children and Young People, which establishes the most stringent standards for abuse prevention and child protection in existence anywhere," the statement says.

"The Diocese remains absolutely committed to doing everything within its power to ensure that children and young persons are safe, that perpetrators of crimes against these innocents are brought to justice and removed from ministry, and that anyone who has suffered abuse as a minor at the hands of a representative of the Church is supported on his or her road to recovery," the statement concludes.

Newcombe said, "I thought the church dealt with McAlinden, but they never reported my abuse to the district attorney. They need to be held accountable."

Newcombe said he was sexually abused by McAlinden for five years, from 1980 to 1985, and he told his parents in 1989.

"The abuse had catastrophic consequences in my life," Newcombe said.

"I didn't go to police because the church pleaded with me not to," Newcombe said. "Then when Chris came forward with his allegations, the Diocese said that was the first report they had gotten about McAlinden and that there was only one victim. That's not true.

"Participating in the cover-up is one of the biggest mistakes of my lifetime," Newcombe said.

Newcombe said in an interview on Sunday that he had filed a notice of claim to the Diocese that he intended to file a lawsuit regarding the abuse allegations against McAlinden.

"A month later the church settled, but the settlement we signed doesn't mention any names," he said.

He said the settlement included the church paying him, but would not say how much.

Newcombe continued that last week he met with numerous Diocesan officials, including one who allegedly remembers the 1989 accusations.

"Monsignor Walter Nolan told me on Thursday that he remembers me talking to him in 1989 about McAlinden abusing me," Newcombe said.

When asked about that claim, Bennett said the details about any such conversation are not clear.

Newcombe said McAlinden sexually molested him at two youth camps, in Keyport and in Lawrence Township, where McAlindin was youth director, on McAlindin's boat and in his parents' home in Toms River.

Markulic acknowledged on Monday that he has not yet reported his one incident of abuse to the Diocese, but that he plans to.

Markulic said the incident occurred at the rectory of Our Lady of Victories, Sayreville, where McAlindin was assigned.

"I wish I had come forward a lot sooner," Markulic said. "Maybe Patrick and Chris would have been spared.

"To other victims, I say, 'Come forward, be brave, you are not alone,' " Markulic said.

"It happened in the late 60s when no one even know there was such a thing as priest abuse," said Markulic after the press conference. "My father had had a stroke at the time and I didn't want to burden my family with this. I didn't think anyone would believe a 14-year-old kid accusing a priest who had just received a Citizen of the Year award."

"I'm coming forward to support Chris," Markulic said.

Naples walked over to Markulic and wrapped his arms around him, saying "Thanks."

Newcombe also said he is coming forward to support Naples. Newcombe said that because he lives in North Carolina, he does not read local news and only became aware of Naples' allegations about six weeks ago.

Naples said he had reported his abuse allegations to the Ocean County Prosecutor's office in 2008, after the Diocese placed McAlinden on administrative leave in July 2007.

Naples said he also filed a lawsuit against McAlinden in Delaware.

Nash said after the press conference that he filed suit in Delaware because that is one of the locations where McAlinden molested him and because Delaware opened a two-year window for sex abuse victims to file suit.

In New Jersey, Naples said, the statute of limitations had expired and he could not file suit there.

Hoatson said McAlinden is employed with Century 21, Brigantine Boulevard., Brigantine. Century 21 could not be immediately reached for comment.