Three Pastor Sexually Assaulted Them As Boys, Including at Our Lady of Victories in Sayreville

By Stephanie Loder
My Central Jersey
February 22, 2011

http://www.mycentraljersey.com/article/20110221/NJNEWS10/102210379/1254/NJSPORTS/Three-pastor-sexually-assaulted-them-boys-including-Our-Lady-Victories-Sayreville?odyssey=nav%7Chead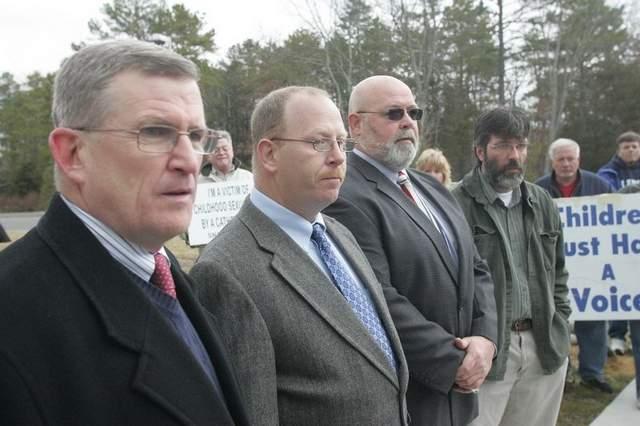 In Little Egg Harbor on Monday, the Rev. Robert M. Hoatson (left) appears with (from left) Patrick Newcombe, Bob Markulic and Chris Naples, who say they were abused as boys by a priest.



LITTLE EGG HARBOR — Three men held a news conference Monday on the front lawn of St. Theresa Roman Catholic Church to accuse a former pastor of sexually assaulting them numerous times during their childhoods.

More than 20 people, some with signs, gathered at the church about 1 p.m. to listen to Chris Naples, Patrick Newcombe and Bob Markulic, who took turns talking about years of alleged abuse at the hands of the Rev. Terence O. McAlinden.

"I'm not going to stop at any length to see that you are defrocked and, if any laws permit, prosecuted. I spent many, many years in hell over this," the 43-year-old Newcombe said about the abuse that he said McAlinden started in 1980 and ended in 1985.

Naples, 39, of Bass River, said little at the conference organized with Road to Recovery, which advocates for victims abused by priests, and Survivors Network of Those Abused by Priests. Naples filed a lawsuit in 2007 against McAlinden.

Now 70, McAlinden was removed from his position in the Diocese of Trenton in 2007 following Naples' accusations. He was relieved of his priestly faculties, meaning he cannot publicly celebrate Mass, wear clerical garb or present himself as a priest, diocese officials report.

"The Diocese of Trenton has vigorously and responsibly enforced its policies governing such cases — removing Father McAlinden from ministry; lending our full support and cooperation to law enforcement agencies investigating the allegations; offering counseling to the victim, and appealing to any other victims to come forward," Diocese spokeswoman Rayanne Bennett said in a prepared release.

McAlinden continues to collect a salary and benefits from the Diocese of Trenton, the diocese said. McAlinden resides in Little Egg Harbor and is employed as a real estate agent in Brigantine in Atlantic County. He did not return a call left at the real estate office Monday.

Diocese officials said they have reported the allegations made Monday by the three men to the Ocean County Prosecutor's Office. Newcombe also said he has reported the attack to the Prosecutor's Office.

"There is no statute of limitations. An investigation is always possible," said Laura Pierro, a county prosecutor.

She said the law in New Jersey was changed May 1, 1996, lifting the statute of limitations on first degree aggravated sexual assault or second degree sexual assault. Prior to May 1, 1996, a statute of limitations gave a victim until age 23 to report an assault, Pierro said.

Naples's suit alleges he was abused by McAlinden, also known as "Father Mac," for 10 years beginning in 1985. Naples, who grew up in Brick, filed his lawsuit in Delaware, where he said he had been taken by McAlinden while he was a juvenile.

Like the news conference Monday, Naples had announced his allegations against McAlinden at a news conference in 2008 in front of St. Theresa. He again talked of his plight on Monday.

"On Sept. 15, 2008, I came forth publicly," Naples said, referring to his 2008 news conference in which he announced he was a victim of abuse by McAlinden. "I'm here today to support the two victims that are coming forward, and we are demanding that McAlinden be defrocked immediately and that the church is held responsible."

But unlike Naples, Newcombe, of North Carolina and formerly of Point Pleasant, said at the news conference that he never reported the alleged attack to the authorities. Instead, Newcombe said he signed a confidentiality agreement with the diocese in 1989. Newcombe also said the diocese told him they would report the accusations.

Newcombe said he met McAlinden at the Christian Youth Organization conference center on Lawrenceville Road when the priest was the CYO director for the diocese.

Bob Markulic, 56, of White Township in Warren County claimed that he was sexually assaulted by McAlinden in the late 1960s at age 14 at the rectory at Our Lady of Victory Church in Sayreville, where he was an altar server. The church is in the Diocese of Metuchen.

"The next morning after the abuse, I was given absolution by my abuser and told to keep it between ourselves. Others would not understand," Markulic said Monday. "What I couldn't understand was why I was being given absolution — and what about the priest who had committed the abuse on me. I thought. "wasn't he the one who needed absolution?' "

The Diocese of Metuchen has no record of employing McAlinden as a priest.

Prior to the 1980s, Our Lady of Victories in Sayreville was part of the Diocese of Trenton, according to Joanne Ward, the diocesan spokeswoman.

"When the Diocese of Metuchen was created (in 1981), we only received the files of those priests that would be in the Diocese of Metuchen, and he was not one of those priests. McAlinden was never a priest of the Diocese of Metuchen," Ward said.

Murkulic said McAlinden assaulted him at the rectory in Sayreville after asking him to stay overnight.

Newcombe and Markulic said they got together with Naples after reading about Naples' sexual abuse claims against McAlinden on the Internet.