Two Additional Men Say They Were Sexually Abused by Former Priest

Press of Atlantic City
February 22, 2011

http://www.pressofatlanticcity.com/news/press/new_jersey/two-additional-men-say-they-were-sexually-abused-by-former/article_02e6a546-3e01-11e0-9392-001cc4c002e0.html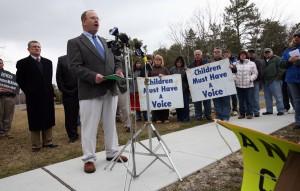 A protest in reaction to the accusation of sexual abuse against Father Terrence McAlinden was held in front of St. Theresa's Church in Little Egg Harbor. Patrick Newcombe, 43, talks about his abuser. Monday, February 21, 2011.



LITTLE EGG HARBOR TOWNSHIP - With St. Theresa's Roman Catholic Church as the backdrop for a Monday afternoon press conference, two more men revealed for the first time in public that as children they were sexually abused by priest Terrence McAlinden.

The press conference was organized by Rev. Robert Hoatson, co-founder and president of Road to Recovery, Inc., a group that advocates and provides support to victims of clergy abuse.

The crowd of supporters and other victims of clergy abuse held signs saying they were survivors, "Defrock McALinden" and "Children Must Have a Voice".

Hoatson said he is leaving the priesthood because of the allegations of sexual abuse against children by clergy members.

Since founding Road to Recovery, he said, he was suspended and put on administrative leave by the Diocese of Trenton.

He has become committed to informing the public about the stories of victims all over the country, he said.

"This is a story that spans five decades. I'm going to open with a passage from Luke 12, verse 2: There is nothing concealed that will not be revealed. I wonder if the Trenton Diocese takes that passage to heart," Hoatson said.

In 2007, McAlinden was the pastor at St. Theresa's when he was removed from the ministry by the Diocese of Trenton after Chris Naples, 39, of Bass River Township, reported that he was molested by McAlinden for several years.

McAlinden now works as a real estate agent in Brigantine for Century 21 O'Donnell on Brigantine Boulevard. He could not be reached for comment Monday. A recording on his cell phone said he was out of the country until March 3.

Patrick Newcombe, 43, of North Carolina and Naples said they remember meeting each other on one occasion while one was leaving after spending time McAlinden and the other was just arriving.

"That's how sick it was," Newcombe said of McAlinden, whom all three men Monday referred to as "Father Mac".

Naples, who also attended the press conference, said the diocese told him that his was the only allegation ever reported against McAlinden. Naples said he could not say much about the details of his allegations because of pending litigation in a lawsuit he filed against McAlinden.

But Newcombe said he reported allegations of sexual abuse by McAlinden to the director of priest personnel for the Diocese of Trenton. Newcombe said he was raped by McAlinden.

"They begged me not to go to the police. They said they would handle it internally. Obviously they didn't," Newcombe said.

Newcombe said he signed a confidential settlement agreement in 1992 with the diocese that included a monetary settlement and confidentiality clause that prohibits him from discussing the abuse to anyone at any time or for any reason. He said he is no longer bound by the terms of the settlement agreement because these types of agreements are now illegal.

"Participating in this cover-up, a cover-up that the Diocese of Trenton developed, has been one of the biggest and most regrettable mistakes of my lifetime," he said.

Newcombe said he came forward again-some 22 years after first reporting his claims to the Diocese of Trenton- because he learned of Naples' allegations through news reports.

"I could not sleep at night without coming forward. I thought back in 1989 that the church dealt with Terence McAlinden, but came to find out if they had dealt with him, at least one other child's abuse would have stopped sooner," he said.

As he spoke to news media gathered on the side of Radio Road in front of St. Theresa's, Newcombe rocked back and forth on his heels, clutching a typed statement that detailed the alleged abuse. Newcombe paused several times as he held back tears as he spoke.

"Terence McAlinden abused me numerous times starting around 1980 and ending around 1985," he said.

Newcombe said the first time he was abused by McAlinden, it was at a conference center on Lawrenceville Road in Lawrence Township, where McAlinden was the youth director for the Diocese of Trenton. Newcombe told the crowd of supporters and media that he was attending a weekend retreat for teens.

"The abuse took place in several different locations including the Jeremiah House in Keyport and his parent's home in Toms River. Some of the abuse took place aboard his boat, as well," he said.

"Terence McAlinden is a child rapist that should be stripped of his priesthood, defrocked and prosecuted to the fullest extent of the law. Unfortunately, prosecution in New Jersey would be difficult due to laws that protect child molesters and the organizations they represent," said Newcombe.

Bob Markulic, 56, said he was a 14-year-old altar boy when the abuse by McAlinden started in the late 1960s. Markulic said he was sexually abused at the Our Lady of Victory rectory in Sayreville, Middlesex County.

Newcombe said he urges all Catholics to know their priest and know him well.

"Check his background and watch your children. At any sign of abuse, go directly to the police. The Diocese of Trenton has proven that they are not to be trusted to report such allegations to the proper authorities," he said.

Newcombe, Naples and Markulic said they will not stop until McAlinden is defrocked and possibly prosecuted if statute of limitations laws are changed.

"I spent many, many years in hell over this. And while I was there, I made you special reservations," Newcombe said of McAlinden.