Retired Priest Who Served in Bangor Reinstated after Suspension

By Judy Harrison
Bangor Daily News
March 9, 2011

http://new.bangordailynews.com/2011/03/09/news/bangor/retired-priest-who-served-in-bangor-reinstated-after-suspension/?ref=latest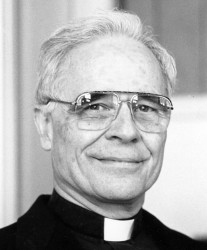 Lebel in 1986



The retired priest who oversaw the $2 million renovation of St. John Catholic Church in Bangor between 1986 and 1991 has been reinstated to public ministry, the Roman Catholic Diocese of Portland has announced.The Rev. Maurice T. Lebel, 78, was removed temporarily from ministry in June 2007after a complaint of sexual abuse of a minor in Massachusetts during the early 1980s was made. At the time of the alleged complaint, Lebel was a Jesuit — a member of the Society of Jesus — ministering in Massachusetts.

"The allegation was thoroughly investigated, a canonical trial was held, and a three-judge panel of canon lawyers from outside the Diocese of Portland has determined the allegation was unproven," Bishop Richard J. Malone said in a letter dated Feb. 26 that was made available to parishioners in churches where Lebel served. "Therefore, I have lifted all restrictions previously placed on Father Lebel. This has been a long and arduous process and I thank you for your prayers."

A church tribunal of canon lawyers presumes the accused is neither innocent nor guilty, according to Sue Bernard, spokeswoman for the diocese. The evidence in the tribunal determines the outcome, which is either proven or not proven.

In Lebel's case, the accusation was not proven, Bernard said in a press release.

Lebel, who retired in 2003, has no regular assignment, according to the diocese. He may again assist other priests in the administration of the sacraments, the bishop said.

Information about where Lebel is living has not been released by the diocese.

He served as pastor of St. John's from 1986 to 1993, when he oversaw an extensive interior and exterior renovation of the historic York Street church. His next assignments were at St. Mary's in Presque Isle and St. Joseph's in Mars Hill, Sacred Heart in Auburn and St. Catherine's of Siena in Norway.

Lebel was born in Brunswick, entered the Society of Jesus in 1959 and as a scholastic was a teaching assistant at Cheverus High School in Portland in 1964.

Ordained a priest of the Jesuits in 1967, his assignments included teaching at Cranwell Preparatory School in Lenox, Mass., 1968-1971; rector of the Jesuit Community, Bishop Connolly High School, Fall River, Mass., 1973-1976; Social and Special Apostolate in the Diocese of Fall River, Mass., 1976-1977; Catholic Counseling Service of the Diocese of Fall River, 1977-1986.