"Smiling Padre': His Path to Court

By John P. Martin
Philadelphia Inquirer
March 13, 2011

http://www.philly.com/philly/news/117872269.html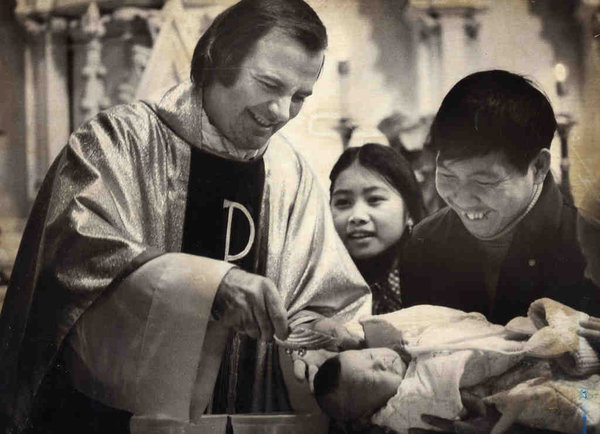 The Rev. Edward Avery baptizing a Laotian child in 1980. Now 68, Avery was defrocked when Cardinal Justin Rigali decided allegations against him of sexual abuse were credible.


In 1995, a few hundred people packed a Northeast Philadelphia banquet hall to mark a milestone for the Rev. Edward Avery: a quarter-century in the priesthood.

By then, Avery had cultivated a near-celebrity profile as an outspoken advocate for Asian immigrants and as an exuberant part-time disc jockey.

The Smiling Padre, he was called.

At his celebration, Avery took to the piano and belted out an Irish tune. "He was beaming," a former parishioner recalled.

Few knew the underside of Avery's record. Two years earlier, he had been plucked from his parish and secretly sent to an inpatient program for sexually abusive priests.

Upon his release, doctors urged officials of the Archdiocese of Philadelphia to keep Avery away from adolescents and "vulnerable minority populations."

Avery became a hospital chaplain, but church leaders let him live at St. Jerome's, a Northeast parish with a school.

Twice in 1999 - four years after his anniversary dinner - Avery forced a fifth-grade altar boy there to perform oral sex on him in the sacristy after Mass, prosecutors say.

Now 68 and defrocked, Avery is one of four current or former priests due in court Monday for the first time since their arrests last month on abuse or related charges. The hearing comes less than a week after the archdiocese suspended 21 priests pending a review of old allegations against them, and follows a grand jury report that blasted the archdiocese's efforts to expel abusers and aid victims.

Avery in 2003, the year he was removed from ministry.

If true, the allegations against Avery starkly illustrate how church officials may have ignored warning signs and concealed a possible child predator from parishioners, then scrambled to remove him amid the national furor over abusive priests.

In that way, Avery's case could also be a blueprint for the case prosecutors hope to prove against a codefendant, Msgr. William Lynn. As the archdiocese's secretary for clergy, Lynn recommended and coordinated priest assignments throughout the archdiocese.

Prosecutors contend Lynn is guilty of felony endangerment for giving suspected and admitted abusers easy access to minors. That includes letting Avery live, celebrate Mass, and hear children's confessions at St. Jerome's.

One of Lynn's lawyers was reluctant last week to discuss details of the charges but said the monsignor was confident a trial would vindicate him.

"You have somebody who has been charged with a crime he didn't commit," said the lawyer, Jeff Lindy. "What option does he have but to go to trial?"

Avery did not answer requests for an interview left at his Haverford apartment. His attorney, Michael Wallace, also did not respond to calls. An archdiocesan spokeswoman said it would have no comment about Avery or the grand jury's depiction of him.

Avery made his only public remarks about his removal in 2003 when he told The Inquirer that his life and career had been unfairly ruined because of a misunderstanding one night decades earlier.

"I am totally devastated," he said.

'I'm approachable'

The grand jury report suggests the allegation that led to Avery's removal was more serious than he has said.

It happened in 1992, when Avery was pastor at St. Therese of the Child Jesus in the Northeast and enjoyed a reputation as a popular and energetic priest.

For a decade, he had been a vocal advocate for the burgeoning Hmong immigrant community in Philadelphia. He helped a family of Hmong orphans settle in a house close to his rectory. He became legal guardian of the two youngest siblings, records show, and called all of them his adopted children.

Avery also flourished as a record-spinning cleric who entertained at bars, parties, and school dances.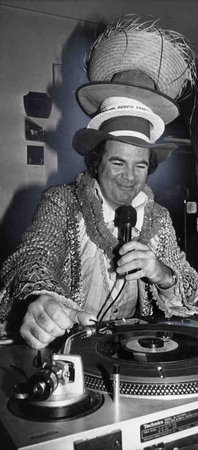 Avery had a side job as a disc jockey for hire.

"It's been very beneficial to my priesthood," he told the Philadelphia Daily News about his DJ business in 1984. "I've been able to give a lot of counseling and that type of thing because of it. Parents see me and send their kids to me. They see I'm approachable."

In a letter in September 1992, a 29-year-old medical student accused Avery of having molested him when he was an altar boy at St. Philip Neri in Pennsburg in the late 1970s.

"I thought you were funny and you let me help you at dances and other functions. You made me feel valued, included, and special," the former altar boy allegedly wrote. "I am only now undergoing the long recovery process from wounds I suffered at your hands."

Avery's accuser also sent a copy to archdiocesan officials. Weeks later, Lynn and his assistant, the Rev. Joseph R. Cistone, interviewed the man. He described for them three times that he said Avery had fondled him over five or six years. The first, he alleged, was when Avery invited a few altar boys to his family beach house in North Wildwood and gave them alcohol.

The second time, according to the grand jury report, Avery took the then-15-year-old to Smokey Joe's bar at the University of Pennsylvania, got him drunk, then fondled him in a bed at the rectory. The last time was an allegedly identical attack on a ski trip when the accuser was 18, the report says.

The medical student, who was married with a child of his own at the time of his accusation, told Lynn that he didn't want money but an assurance that Avery was not a threat, according to the grand jury.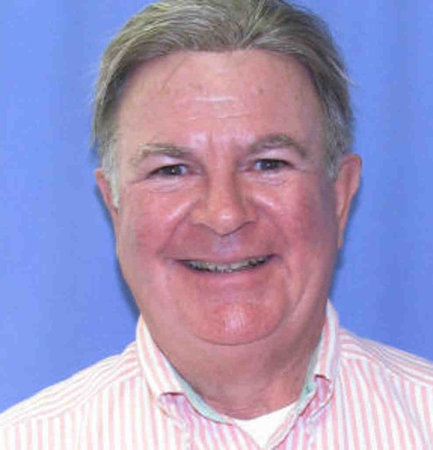 In his public comments in 2003, Avery denied any wrongdoing. He said that he had taken the boy to a party one night in the late 1970s and that the teen had secretly gotten drunk and passed out. Avery said he had taken the young man to the rectory to sleep it off but had never touched him.

But the grand jury report says Avery didn't deny the contact when confronted by Lynn and Cistone. He allegedly told them that he had been drunk that night and that the victim's account "could be" accurate. He also later told a Philadelphia detective that he had fondled the boy during the ski trip, according to the grand jury report.

Archdiocesan officials sent Avery to the Anodos Center at St. John Vianney in Downingtown, a treatment center for clergy sex offenders.

After four days of evaluation, doctors found Avery's account of his interaction with the young man "vague and inconsistent" and recommended inpatient treatment, the grand jury report says.

Ten months later, Cardinal Anthony Bevilacqua acted on the request.

Nothing but 'compliments'

Avery remained in Downingtown for six months in 1993. At one point, his accuser was invited to confront him at the hospital. Lynn's handwritten notes indicated Avery had been "angry" and "in denial" but "got into shame" when he faced his accuser, the grand jury report says.

At the same time, the cardinal's ranking assistant, Msgr. Edward P. Cullen, allegedly directed Lynn to inform St. Therese parishioners that Avery had left for health reasons.

The grand jury cited a 1993 letter that it said Lynn had written to one of Avery's parishioners, asserting that "there have never been anything but compliments heard in this office about Father Avery."

Avery was discharged from the treatment center that fall with recommendations for "a ministry excluding adolescents and with a population other than vulnerable minorities." Doctors also said he should attend Alcoholics Anonymous and limit his contact with the Hmong to an administrative or pastoral capacity, according to the grand jury report.

Bevilacqua assigned Avery to work at Nazareth Hospital and live at St. Jerome's. In a letter to the pastor there, Lynn said Avery should help out "as much as he was able" but made no mention of his treatment or the allegation, the grand jury report says.

Doctors also prescribed an aftercare team to monitor Avery and regularly chart his progress. That team, composed of Lynn and two other priests, allegedly did not meet for more than a year after Avery's discharge. One of the priests "denied even knowing he was on such a team," the grand jury found.

Archdiocese officials also allegedly never investigated Avery's involvement with the immigrants or tried to curtail his disc-jockey business.

In February 1995, the grand jury report says, a chaplain at St. John Vianney complained to Lynn that Avery was favoring his music job over his priestly duties, booking "party engagements for 25 of the next 31 Saturdays."

The next year, according to the grand jury, Avery's accuser asked Lynn for an update.

"What I want to know is, is he rehabilitated or in a situation where he can't harm others?" he wrote. "Will the diocese vouch for the safety of its children?"

Lynn assured the man the archdiocese "had taken proper steps in the matter" but didn't elaborate, the grand jury said.

Removed, a decade later

The pending criminal charge says Avery twice molested an altar boy after Mass at St. Jerome's in 1999. It says he targeted the boy after learning that another parish priest had raped him. Like Avery's first accuser, that alleged victim remained silent for a decade.

By 2002, the first accuser learned that Avery was still working as a disc jockey and drinking around minors. He complained to Lynn that his accusation hadn't been taken seriously, the grand jury report says.

The next year, Avery testified before the first Philadelphia grand jury examining clergy sex abuse. Weeks later, Bevilacqua formally opened an investigation into the 1992 allegation.

In December 2003, Bevilacqua's successor, Cardinal Justin Rigali, declared the accusation credible and removed Avery from ministry. In a letter petitioning the Vatican to defrock Avery, Rigali said he was "morally certain" the allegations were true.

According to the grand jury report, the church offered Avery $87,000 if he agreed to leave the priesthood. It's not clear whether he took the money or whether he collects a pension or other benefits.

Avery still lives in the 85-year-old, sand-colored apartment building, the Berkley Arms, that his family has owned for a half-century. State records indicate he registered a business called Avery Solar at that address, but it's unclear what the business is or whether it still exists.

Avery's mother, Rachel, died in 2005, and named him sole heir to her estate, valued at $1.1 million, public records show. Most of that reflects the value of the Berkley Road apartment building, just steps from the Haverford train station and the tony boutiques of Haverford Square.

He sold his North Wildwood home in 1999. Two years ago, Avery bought a two-bedroom beachside condo in Ormond Beach, Fla., public records show.

The community at St. Jerome's is still coping with the news of Avery's arrest.

"I don't know if there's so much anger as heartbreak," said Michael Lauder, a Philadelphia police detective and longtime parishioner. "He really was a well-liked priest."

Contact staff writer John P. Martin at 215-854-4774 or jmartin@phillynews.com