Salinas Priest Pleads No Contest in Molestation Case

By Sunita Vijayan
The Californian
March 16, 2011

http://www.thecalifornian.com/article/20110316/NEWS09/110316012/UPDATE-Priest-remains-suspended-case-heading-Rome?odyssey=nav%7Chead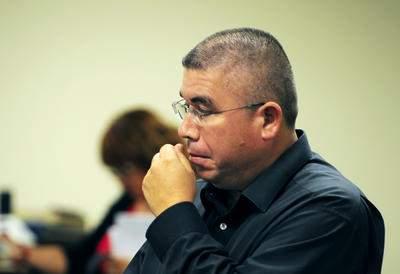 Rev. Antonio Cortes listens to Salinas police Sgt. Don Cline testify during the priest's hearing in June 2010 in Salinas.



The Diocese of Monterey announced today that a Salinas priest's case is heading to Rome following his no contest plea to charges that he molested a teenage boy.

"With this turn of events, the Diocese will now continue the church-law process and [the Rev. Antonio Cortes'] case will go to Rome," according to a statement released by Thomas Riordan, dioceses spokesman. "At this point, [Cortes] remains suspended and has no faculties to function as a priest."

Cortes, whose parish was St. Mary of the Nativity Church, pleaded no contest to 14 counts: felony counts of sodomy and child pornography possession, and misdemeanor counts of furnishing alcohol to a minor, child molestation, child endangerment and immoral acts in the presence of a minor.

"This is a sad day for the Diocese of Monterey and, indeed, for the Church, Universal," said Bishop Richard Garcia in the statement. "We are working hard to rebuild our parishioners' trust and when a breach of that trust occurs, it hurts our priests, our parishioners and those directly involved in this terrible situation."

At his hearing today, Monterey County Superior Court Judge Terrance Duncan indicated that Cortes will be getting felony probation and faces up to a year in county jail. Cortes will also be required to register as a sex offender for life.

Rolando Mazariegos, a county deputy district attorney, stated in court that there had been no agreement made with the defense and maintained that it was the prosecution's position that Cortes receives a prison sentence.

"The judge has reviewed the case and that's what he's going to do," said Mazariegos after the hearing. "We disagree, but the judge has full discretion to sentencing him to felony probation."

Cortes is expected to get sentenced on May 4.

Cortes, 43, was ordered to stand trial in October 2009 on felony charges of sodomy with a minor and misdemeanor counts of possession of child pornography.

He was placed on paid administrative leave after his arrest on April 16, 2009. His arrest came two days after a boy made the molestation claims to Salinas police.

Court records show that Cortes first met the boy when the teen was 13-years-old. At the time, records show, Cortes was working as the parish priest of the Holy Trinity Church in Greenfield. The teen told police that he and his family left for Calexico, Mexico soon after but returned to live in Salinas in April 2007, court records show. Cortes had since moved on to become parish priest of St. Mary's, where the boy did community service hours upon his return to the county.