Monastery Priest Accused of Sex Assault

By Staci Wilson
Daily Review
March 16, 2011

http://thedailyreview.com/news/monastery-priest-accused-of-sex-assault-1.1120988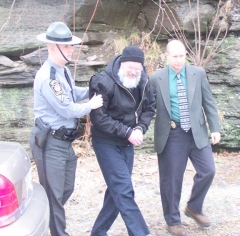 Times Shamrock Photo Phillip Ferrara (center), a priest at Our Lady of Solitude in Little Meadows, is led Friday into Montrose District Court for his arraignment on sex charges.



APALOCHON TWP. - A priest from a Susquehanna County monastery is accused of sexually assaulting a teen boy whose family was staying at the cloistered retreat in Little Meadows.

Phillip Albert Ferrara, 48, of 550 Lake of the Meadows Road, Little Meadows, formerly of LeRaysville, faces three counts of indecent assault of a person under the age of 16 and three corruption of minor charges stemming from incidents that occurred between Nov. 3, 2010, and Jan. 2.`All are misdemeanor counts. Tpr. Mark Keyes filed the charges against the priest.

Ferrara turned himself in at the Gibson State Police barracks Friday at about 9:30 a.m.

He is referred to as Superior Hieromonk Angelus on the monastery's website but no additional background is given as to his religious training.

The juvenile was on retreat with his family at the Our Lady of Solitude monastery, 550 Lake of Meadows Dr., in Apolacon Twp., at the time of the alleged incidents.


According to the affidavit, Ferrara was introduced to the victim's family as the administrator at the Eastern Catholic cloistered monastery.

Police interviewed Ferrara on March 9 with his attorney Charlie Wage present. According to police, the priest admitted having inappropriate contact with the minor on three separate occasions but indicated to police it was for a medical problem.

Ferrara told police he thought the juvenile was mature enough to tell about his condition and the teen offered to help him.

Ferrara told police the teen's family had come to the retreat due to home issues.

According to the affidavit, Ferrara claimed to police he was trying to help the family with its issues and that is why he accepted them to come stay at the monastery.

Ferrara was arraigned at the District Court in Montrose by Magisterial Judge Jeffrey Hollister and released on $10,000 unsecured bail.

A preliminary hearing is scheduled for April 4.