Alleged Victim: Priests Used Me As a Child Sex Slave

By Brendan J. Lyons
Albany Times Union
March 25, 2011

http://www.timesunion.com/local/article/Alleged-victim-Priests-used-me-as-a-child-sex-1297904.php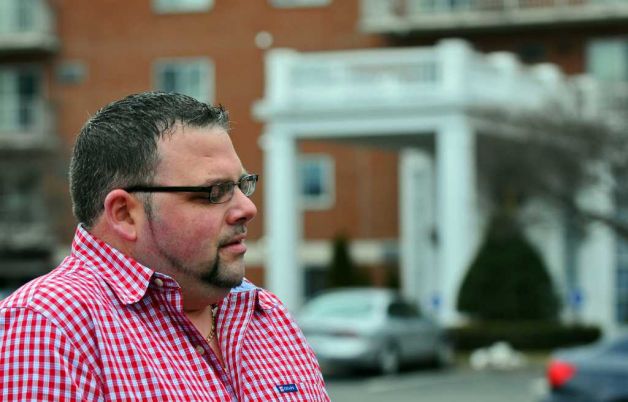 Mike DeSantis said that he was sexually abused as a child by priests, some of which happened at the Towers of Colonie, where he stood and talked about the incidents, on Tuesday March 22, 2011 in Colonie, NY. ( Philip Kamrass/ Times Union )



"Treat him like you treat me. Give him God's love," he recalled the priest saying.

The bedroom door would close as a second priest would allegedly rape the little boy. When it was over, the victim said, the Rev. Alan Jupin would walk him to a bathroom where a third priest, seated, would make him perform oral sex.

"I was used as pretty much like a child sex slave," he said. "My wife has wept by my side, seen me cry myself to sleep. ... I would have flashbacks of the nights I was there during thunderstorms. I was 34 years old and laying in my bed in a fetal position in the thunderstorms."

Michael DeSantis, 34, who grew up in Colonie, said the molestation started when he was about 9. Though several years of his childhood are a complete blank, he has vague memories of riding his skateboard to Jupin's apartment at Colonie Towers on Sand Creek Road.

Jupin, 73, then a popular priest at Our Lady of Mercy, was known to host alcohol-fueled parties at his apartment for young men and boys, according to two people who attended them. One of those former altar boys, who asked not to be identified, said he never sensed inappropriate behavior on Jupin's part, other than that he would help underage boys get drunk. The boys were nicknamed "the Jupinites."

Looking back, DeSantis said, he believes Jupin had "groomed" him over a period of years. It started with touching and kisses before the abuse grew more serious. He remembers at least a few occasions at Jupin's apartment where two other priests were present and allegedly took part in the abuse.

In the 7th grade, DeSantis' weight ballooned as he said the sexual abuse intensified. He was fondled at Our Lady of Mercy, but sexually abused at Jupin's apartment, he said. His mother grew worried about his health and enrolled him in diet counseling. When he sees photos of himself playing basketball or taking part in other activities during the period of the alleged abuse -- 1986 to 1991 -- DeSantis said he can barely recall any details.

The faded memories of DeSantis' alleged abuse started surfacing last year. DeSantis, whose story has never been publicly revealed until now, is a former altar boy whose parents are devoted Roman Catholics. His father, Victor, a retired college administrator, was a priest for 10 years until 1970 when he left the priesthood to get married. He was ordained in Rome, Italy, and has known Albany Bishop Howard Hubbard for 40 years and considers him a friend.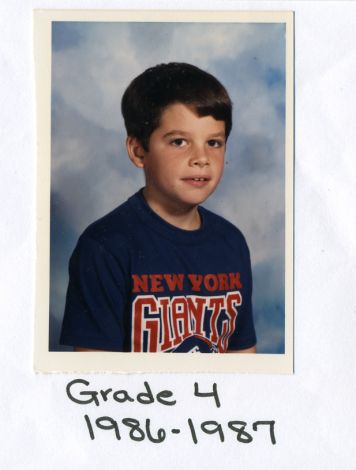 Childhood photo of Michael DeSantis 1986-1987 during 4th grade.



Victor DeSantis' wife, Mary, worked as a pastoral outreach associate at Our Lady of Mercy and has been heavily involved with the diocese. She knows Jupin and the other priests accused of raping her son. The couple have three children, including two daughters.

Mary DeSantis said that in the late 1980s, when her son says the abuse began, she couldn't pinpoint what was wrong.

"I began to see changes in Mike that caused me concern," she said. "Fading was my joyful little boy and emerging was an anxious, preoccupied, quiet, though still a people-pleasing boy. As he continued to grow so did my concerns. As a mother you just know when there is something weighing down your child ..."

Looking back, Mary DeSantis said, she recalls characteristics of Jupin that gave her pause.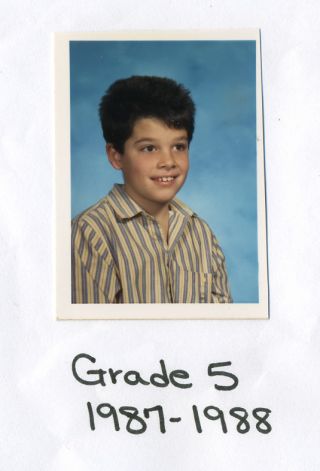 Childhood photo of Michael DeSantis 1987-1988 during 5th grade.



"I could honestly say that I was never really comfortable in Jupin's presence," she said. "There was something visceral for me ... a gut feeling that there was a public side to Jupin and there was a private side to Jupin."

Jupin could not be reached for comment.

Last fall, after wrestling with his decision for months, DeSantis brought his allegations against four priests to the Albany Roman Catholic Diocese. He said his first memories of the alleged sexual abuse came nine months ago as he struggled in therapy to understand why his marriage and life seemed to be falling apart. He recounts his young son watching confusingly last year as he stood in his yard hammering a tree with a baseball bat. He suffered insomnia and deep depression.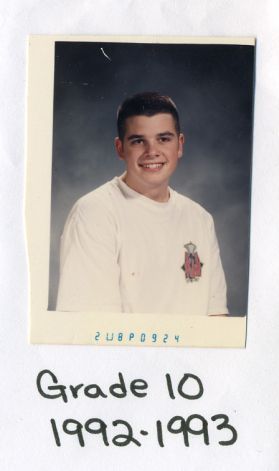 Childhood photo of Michael DeSantis 1992-1993 during 10th grade



DeSantis' wife, Maggie, said she was initially skeptical when her husband disclosed the alleged abuse. Then he began to really unravel.

"For the first month he had to sleep with the light on," she said. "Every night he would dread going to sleep. Every night we knew we were going to be up all night. ... I was scared to death. He was shaking and crying. Every night of the week I would have to hold him; it was like he was a child again."

With regular therapy visits, DeSantis said he started coming to grips last summer with what he said happened. He told his parents about the alleged abuse and they were supportive but careful not to give him names of any priests he could not recall. His mother called one day and asked him to visit an Albany church where she had seen a collage of photographs depicting one of the priests she suspected of abusing her son.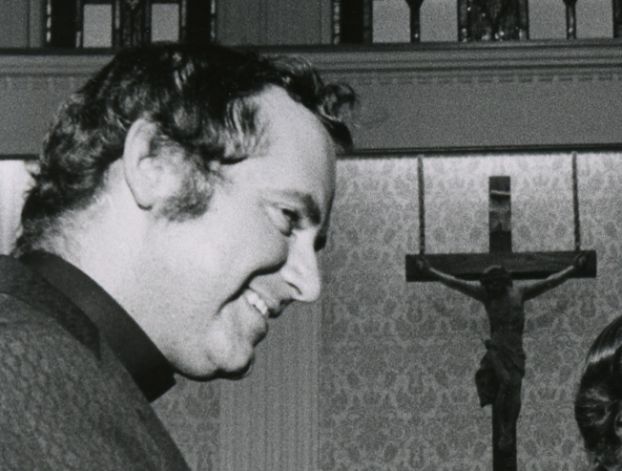 Rev. Alan Jupin , Nov. 19, 1973. (Times Union archive)



Mary DeSantis did not tell her son which priest to look for. He drove to the church and said he immediately recognized one of the priests, Louis Douglas, as having raped him about 20 years ago.

On Saturday, five months after DeSantis filed a complaint with the diocese, Bishop Hubbard announced he had suspended three of the priests: Jupin, Louis Douglas, 82, and Donald Ophals, 77. DeSantis alleges those are three priests who molested him at Jupin's former residence.

It's at least the second time since 2003 the three priests have been accused of sexual molestation. A fourth priest that DeSantis said molested him, John Bertolucci, was removed from ministry in 2003 by Hubbard when unrelated sexual abuse allegations against him were sustained by the church. None of the priests has been charged with crimes related to the allegations, which in some instances stretch back to at least the 1970s.

Jupin and Ophals, who are close friends, and Douglas, now in a nursing home in Delaware and suffering dementia, were cleared by the diocese in 2004 and returned to the ministry.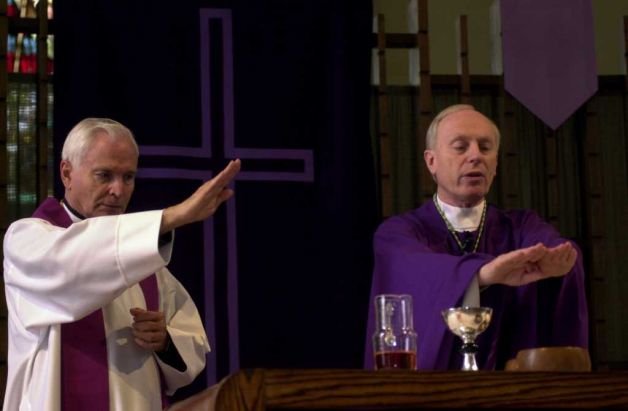 In March 2004, the Rev. Donald Ophals says mass with Bishop Howard Hubbard as he returned to his post at St. Francis Church in Troy and to his parish members. Ophals had been charged with conspiracy to commit stalking in another county. The charges were reviewed and considered to be unfounded. (Times Union / Luanne M. Ferris)



The 2003 allegations were not investigated by a law enforcement agency. Schenectady County District Attorney Robert Carney said his office was not asked to investigate the abuse claims, only a stalking charge against Jupin by one of the alleged victims. "It was unfounded," Carney said.

Meanwhile, in a proceeding that is not public, a review panel for the diocese concluded in 2004 that the earlier allegations were unsubstantiated. Action against any priests is a decision left to Hubbard as bishop. The review panel never meets with alleged victims and instead relies on information provided by a private investigator.

Timothy Sawicki, 51, who filed the 2003 complaint against Jupin, Ophals and Douglas, said he was devastated when he learned, from reading a newspaper, that the priests had been cleared and reinstated to ministry. He said that Jupin had been the most sexually abusive of the three.

"I looked up to these people as shepherds and I naively assumed they would do the right thing," he said. "I got put in the torpedo tube and shot out and re-victimized all over again."

DeSantis said he has never spoken to Sawicki and is not involved with a group of alleged victims who associate with John Aretakis, a former attorney who has criticized the church's handling of abuse cases.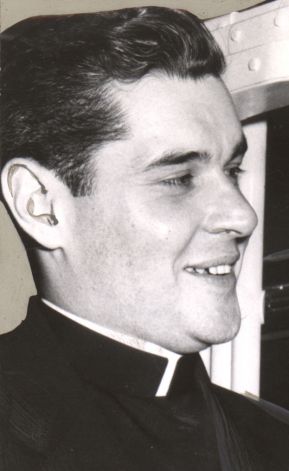 The Rev. Louis E. Douglas in 1958. (Times Union)



He said the experience of being interviewed by Joseph Flynn, an investigator for the diocese, was an abrasive encounter. He said Flynn refused to allow him to tape record their meeting and threatened to do his investigation without DeSantis' input otherwise. He also said Flynn peppered him with questions about why he "went back" to Jupin's apartment and where his parents were when the alleged abuse was taking place.

"He asked me what I wanted from this, like the end result, and I said justice," DeSantis said. "I probably got partial justice last week when they got placed on administrative leave. My second part would be to be able to have all the men sitting at a table and I can go one-by-one down the line and tell them what they did and how they destroyed my life, my faith and my trust."

Then, DeSantis said, Flynn asked him another question. "He said are you looking for a payoff. I said: 'Joe, how do you put a price on someone's childhood that will never come back.' "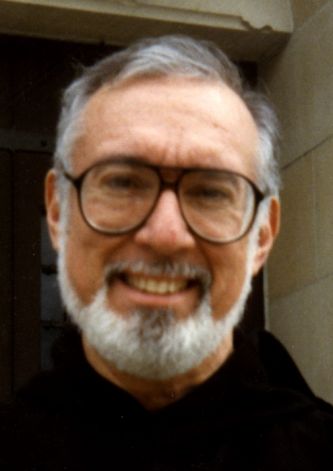 Father John Bertolucci in 1990. (Times Union



DeSantis met with the investigator three times. The diocese began its investigation a few weeks ago after the Albany County district attorney's office examined the case and determined no criminal charges could be pursued because of a five-year statute of limitations.

The Rev. Kenneth Doyle, the diocese's chancellor for public information, said the diocese would reopen the investigation of Sawicki's allegations if there was "new evidence" developed. He said the diocese has not covered up for priests who engaged in sexual abuse of children.

"Since 2002 we've removed 24 priests and one deacon from clergy because reasonable ground were found to believe they sexually abused a minor," Doyle said. "I understand the environment of suspicion and doubt that's been created over the years with the church's handling of these matters. I think what we're trying to do now is to restore our credibility and to conduct full and comprehensive investigations."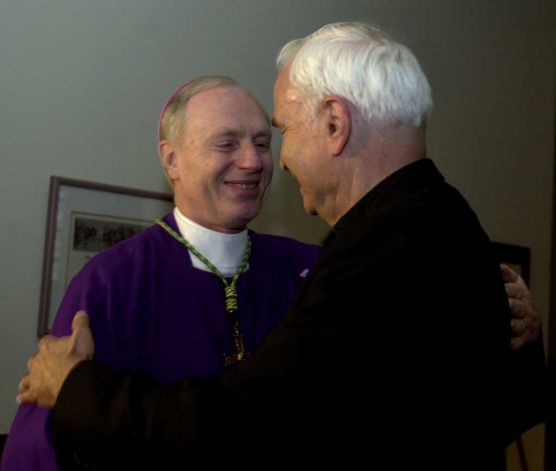 In March 2004, the Rev. Donald Ophals is welcomed by Bishop Howard Hubbard as he returned to his post at St. Francis Church in Troy and to his parish members. Ophals had been charged with conspiracy to commit stalking in another county. The charges were reviewed and considered to be unfounded. (Times Union / Luanne M. Ferris)



Timeliness is critical, Doyle said. "We encourage the victims to contact law enforcement and the diocese as soon as they can. With the passing of years memories fade."

Lyons can be reached at 454-5547 or by e-mail at blyons@timesunion.com

Statement of Mary DeSantis:

"Michael, along with my other two children, has been and always will be a precious gift from God. As his mother, I have had many long days and nights throughout these last nightmarish nine months to reflect on this son of mine. From the time he was a toddler he was full of laughter, quick to give that winning smile, bursting with high energy, fearless and so desiring to please. As he entered school he made friends quickly, was polite, caring, respectful and proud to be assigned tasks of a helpful nature. His greatest excitement was when he became an altar boy. He saw this as a way of being helpful, but more importantly, as a way to follow in his dad's footsteps. Sadly, not too long after, I began to see changes in Mike that caused me concern. Fading was my joyful little boy and emerging was an anxious, preoccupied, quiet, though still a people-pleasing boy. As he continued to grow so did my concerns. As a mother you just know when there is something weighing down your child and you pursue any and every path open to you to get to the root of the problem. Twenty-three years later the root of my son's pain has emerged. I will always have dreams for my 'wonderful son, Mike.' The ones connected to his childhood are long gone. But today I behold before me the courageous, strong young man of profound integrity and self-respect whom I love dearly and am so very proud to call my son."