Prosecution Requests Granted in Priests' Abuse Case

By Katharine Q. Seelye
New York Times
March 25, 2011

http://www.nytimes.com/2011/03/26/us/26philly.html

In a blistering courtroom session on Friday, the judge overseeing the case involving priests accused in the sexual abuse scandal in the Philadelphia Archdiocese granted the prosecution's request to bypass a preliminary hearing and scheduled arraignment for April 15.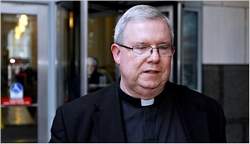 Msgr. William Lynn leaving court last week in Philadelphia. He is suspected of covering up rape by the priests and is charged with child endangerment.



At that time, the accused — two Roman Catholic priests, one former priest, a former parochial school teacher and a monsignor — are expected to plead not guilty. Given the city's backlog of cases, any trial would probably not begin for at least a year.

The judge, Renee Cardwell Hughes, also agreed to the district attorney's belated request to charge all five with conspiracy. The priests and the schoolteacher are already accused of rape; the monsignor, William Lynn, the highest-ranking official to be accused of a crime in the three-decade-long abuse scandal in the United States, is suspected of covering up rape by the priests and is charged with child endangerment.

At one point Friday, Judge Hughes, of the Court of Common Pleas, ordered Monsignor Lynn, 60, to stand and take an oath to tell the truth. She wanted to make sure he understood the consequences of having the archdiocese pay for his lawyers. In a riveting 20 minutes of questioning, she told him that this could jeopardize his ability to act in his own best interest, especially if he is implicating other church officials to help his defense, and would prevent him from claiming during any appeal that he was not properly represented. She even offered to get him a public defender, at taxpayer expense. He could face a maximum of 28 years in prison.

The monsignor, wearing a black suit and white priestly collar, said repeatedly that he understood the consequences and still wanted to keep the arrangement.

Judge Hughes is not likely to be the trial judge, to the relief of some of the defense lawyers, who have said she favors the prosecution and who engaged in shouting matches with her during Friday's two-hour session. The judge erupted in fury several times, accusing some of the defense lawyers of attacking her integrity and telling them to "shut up."

"Well, snapdoodle!" she said at one point to a defense lawyer who challenged her. At another point, Richard DeSipio, one of the defense lawyers, yelled out that the district attorney's office was "anti-Catholic" and had attacked him. "Attacked you?" Judge Hughes said. "You attacked me."

Judge Hughes imposed an order of silence on everyone involved in the case, including District Attorney Seth Williams, who was not present.

"I don't want tweets, I don't want Facebook, I don't want I.M.'s, I don't want any communication," she said through clenched teeth.