Pastor at Mary, Mother of the Redeemer in Montgomery Township Blasts Grand Jury's Report

By Bradley Schlegel
Montgomery Media
March 29, 2011

http://www.montgomerynews.com/articles/2011/03/29/north_penn_life/news/doc4d91e3f75460e277744930.txt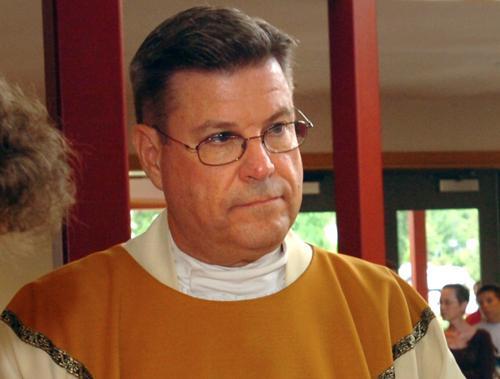 Rev. Msgr. John T. Conway



The Rev. Msgr. John T. Conway — pastor at Mary, Mother of the Redeemer Catholic Church in Montgomery Township — told a meeting of parishioners March 28 that his inclusion in a 2005 Philadelphia grand jury report regarding the investigation of sexual abuse by clergy made him "angry as hell."

Conway also said that the implication that he knew of one priest's "history of improper relationships with adolescent boys," is completely untrue.

"I feel completely duped," Conway said. "My heart is broken. I'm very angry. Please give me a few minutes to explain myself."

The pastor said he called the special meeting to explain the appearance of his name in the 2005 legal document — from the office of then-District Attorney Lynne Abraham — and set the record straight.

"I'm putting myself out there," Conway said during a discussion with the audience at the church, located at 1325 Upper State Road. "I'm here to answer your questions."

Conway's name is mentioned six times on two pages in the document, all in reference to the situation of Father David Sicoli from 1999.

The report states that Conway, then the regional vicar for south Philadelphia, was one of at least four members of the Priest Personnel Board who allegedly knew of Sicoli's history of improper relationships with adolescent boys.

Conway called the supposition that he knew of Sicoli's history inaccurate. He called it shoddy reporting.

"Why didn't anyone call me?" he asked.

The Priest Personnel Board — which included Msgr. William J. Lynn, the secretary for clergy for the Archdiocese of Philadelphia under Cardinal Anthony Bevilacqua — met in January of 1999 to discuss a new assignment for Sicoli, according to the report.

It states that in March, Lynn recommended to the board that Sicoli be appointed pastor at Holy Spirit Church in south Philadelphia because he "would probably be better off in a one-man parish."

Sicoli had trouble getting along with his pastoral assistants during his previous assignment at Our Lady of Hope Parish in north Philadelphia, according to Conway.

"He wouldn't delegate," Conway said. "I felt like we had done a pretty good thing. Then all hell broke loose."

An investigation by the Archdiocesan Review Board of Sicoli at Our Lady of the Holy Souls Church concluded unanimously in 2004 that there were "five victims of multiple substantiated allegations of sexual abuse and three victims of multiple substantiated allegations of sexual exploitation," according to the document.

As regional vicar, Conway said he never had access to personnel files.

"I never knew anything about Sicoli's history of sexual abuse with children," he said. "I had no idea that stuff was going on."

Conway said he would have willingly turned in Sicoli. He said he alerted his superiors to one colleague with a drinking problem and another who was having sex with a woman.

"I have a history of turning in priests," Conway said.

In 34 years as a priest, Conway said he has never seen children being abused sexually and vowed to the parishioners "to do everything in his power" to protect their children.

Conway was not mentioned in a similar report released last month by a Philadelphia grand jury.

However, authorities charged Monsignor Lynn — responsible for investigating reports that priests had sexually abused children and for recommending appropriate action to ensure that priests could not reoffend from 1992 to 2004 — with two counts of endangering the welfare of a child.