Lawyers Cancel Priest Abuse Press Conference

By James Mcginnis
Philly Burbs
March 30, 2011

http://www.phillyburbs.com/news/local/the_intelligencer_news/lawyers-cancel-priest-abuse-press-conference/article_4e87aae6-5ae8-11e0-b032-00127992bc8b.html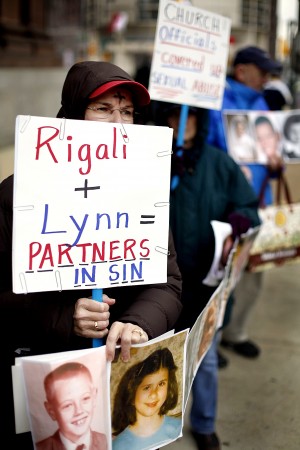 Theresa Coleman, of North Wales, Pa., protests along with others outside Cathedral Basilica of Saints Peter and Paul before an Ash Wednesday Mass in Philadelphia, Wednesday, March 9, 2011. The Philadelphia archdiocese suspended 21 Roman Catholic priests Tuesday, who were named as child molestation suspects in a scathing grand jury report released in February. The priests have been removed from ministry while their cases are reviewed, Cardinal Justin Rigali said.



Lawyers for the family of a man who committed suicide in 2009 have called off a Wednesday press conference to discuss allegations of repeated sexual abuse by a priest formerly assigned to St. Mark Catholic Church in Bristol.

A Philadelphia grand jury report released in February alleges that the man, identified as "Ben," had approached church investigators in 2007 with claims of repeated fondling and abuse by a priest at St. Mark during the 1970s. "Ben" had been an altar server at the church at the time.

According to the grand jury, "Ben" had provided the church with names of other former altar boys for St. Mark who could confirm his story. Investigators said that a second boy came forward with allegations of fondling by the same priest.

In 2008, church investigators notified "Ben" that his allegations could not be proven. Less than a year later, "Ben," at age 36, committed suicide, according to the grand jury report.

The priest, who was named in the grand jury report, has since retired. He has never been charged with a crime.

Copyright 2011 phillyBurbs.com . All rights reserved. This material may not be published, broadcast, rewritten or redistributed.