Supreme Court Rejects Woman's Lawsuit Claiming Satanic Abuse by Toledo Priest

By David Yonke
Columbus Dispatch
April 7, 2011

http://www.dispatch.com/live/content/local_news/stories/2011/04/07/ohio-supreme-court-toledo-priest-dismiss-satanic-abuse.html?sid=101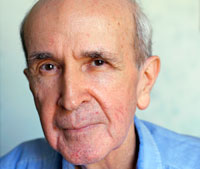 Gerald Robinson



The Ohio Supreme Court yesterday dismissed a woman's case against Toledo priest Gerald Robinson in which she claimed the Catholic cleric sexually abused her in satanic rituals when she was a child.

The 6-0 decision, with Justice Judith Ann Lanzinger abstaining, follows a series of rulings in Lucas County Common Pleas Court and the Ohio 6th District Court of Appeals that ultimately determined the lawsuit was filed too late.

The woman, who filed anonymously as Survivor Doe, said yesterday that she was taking the high court's ruling in stride.

"I'm disappointed in the way the law treats victims, but I'm not really upset that they turned it down. I'll get my day in court -- when I stand before God," she told The Blade.

She said she is considering writing a book about her ordeal.

Thomas Pletz, an attorney for the Toledo diocese, said he was "not surprised" by yesterday's ruling, which the court issued without comment. "The Supreme Court only reviews a small percentage of the cases that have already been thoroughly analyzed by the appellate courts below -- less than 10 percent of the cases in this category," he said.

The civil suit was filed April 20, 2005, less than a year after Robinson's arrest on charges that he murdered a nun in 1980. The priest, who turns 73 April 14, was convicted in May, 2006, of murdering Sister Margaret Ann Pahl and is serving a 15-years-to-life sentence at Hocking Correctional Facility in southern Ohio.

Survivor Doe, now 47, claimed she was abused starting in 1968 and that her perpetrators had worn disguises and used fake names during the satanic rituals. She said she had repressed the traumatic memories for decades, but they began returning during therapy in the mid-1990s.

Her lawsuit said it wasn't until she saw Robinson's "evil eyes" on television after his April 23, 2004, arrest on murder charges that Survivor Doe recognized the priest as one of the alleged perpetrators.

Mark Davis, attorney for Survivor Doe, contended the statutes of limitations should not have begun ticking until she was able to name her abusers.

Common Pleas Judge Ruth Ann Franks dismissed the suit in January, 2007, on statutes of limitations grounds, but nine months later the appeals court sent the case back to her. Judge Franks dismissed it a second time in January 2010, going into greater detail on Ohio statutes-of-limitation laws in her 27-page opinion.

The judge said Ohio law required Survivor Doe to have used "reasonable diligence" to try to identify her abusers before the statutes expired. She said the woman could have contacted law enforcement officials or sued the five alleged abusers whom she knew -- her mother, her older brother, and three of her mother's adult male friends.

Davis contended that his client was "scared to death" of her abusers, and it was fear that prevented her from contacting authorities.

The Ohio 6th District Appeals Court in December, 2010, upheld Judge Franks' ruling, saying it was not addressing whether Survivor Doe's allegations were true, only that the complaint was not filed in time.

"The courts never disputed the facts," Davis said yesterday. "The evidence seemed overwhelmingly in her favor. It's just the concept of filing too late. Just because the courts said she filed too late doesn't mean she wasn't harmed."

Gerald Mazuchowski, a retired Toledo Public Schools teacher and a lay Catholic leader who also was named in Survivor Doe's suit, died March 2 of congestive heart failure at age 59.

The lawsuit included descriptions of satanic abuse during Survivor Doe's childhood. She contended that Robinson, Mazuchowski, and others wore nuns' outfits when they cut her with a knife as a sacrifice to Satan, drew an upside-down cross on her abdomen, and forced her to drink the blood of sacrificed animals such as a rabbit.

The lawsuit contended that Survivor Doe was raped, molested, and forced to perform sexual acts on the perpetrators during the satanic cult sessions, which she said took place in the basement of St. Adalbert Catholic Church until 1972 and later in an undisclosed wooded area.

The suit said Robinson and Mazuchowski "had a close relationship with Survivor Doe's mother, who also participated in the ceremonies in the woods and was becoming a high priestess of Satan."

Lanzinger, who recused herself from yesterday's decision, had led a committee of the Toledo Catholic Diocese that in 1995 drafted policies on response to reports of sexual abuse. She was a Lucas County Common Pleas Court judge at the time.

In his filing with the supreme court, Pletz called Survivor Doe's allegations "irresponsible," "untrue," and "tall tales" based on "vague and vacuous sources."

Davis said yesterday that the Ohio Supreme Court's decision not to hear the case marks "the end of the road" for Survivor Doe's lawsuit. He said he represented Survivor Doe for no charge because "I believe in my client and I believe in her case."

He was philosophical about the high-court decision.

"You become a lawyer to try to serve the ends of justice and try to help people, and this person who, as all the evidence suggests is a true victim, doesn't get to have her day in court. That is very difficult to accept," he said, adding that "it's the way the courts work and that's the system we have and we have to respect it."