Priest Set to Return to Court

By David Yonke
Toledo Blade
April 12, 2011

http://toledoblade.com/Courts/2011/04/12/Priest-set-to-return-to-court-for-hearing.html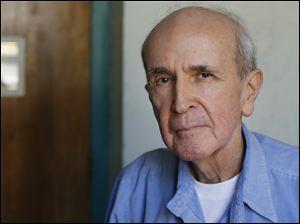 Toledo priest Gerald Robinson will return to the Lucas County Enlarge Courthouse for the first time since his 2006 conviction.



Toledo Catholic priest Gerald Robinson will appear in a Toledo court for a hearing later this month to determine if his constitutional rights were violated in the 2006 trial in which he was convicted of murdering a nun 26 years earlier.

Judge Gene Zmuda of Lucas County Common Pleas Court said in a ruling Monday that Robinson is entitled to a hearing on two points: to challenge the affidavits that his trial attorneys submitted after his conviction, and to consider the significance of police reports from 1980 that had been misfiled and were discovered late in 2009.

The priest, who turns 73 Thursday, is expected to appear at the hearing, which would mark his first visit to the Lucas County Courthouse since being led away in handcuffs after his conviction on May 6, 2006, following a nationally televised two-week trial.

"I'm delighted that he's been granted a hearing, and I think his claim to ineffective assistance of legal counsel is an important one," said Rick Kerger, one of Robinson's attorneys. "The only thing I'm sorry about is that John Donahue passed away before the hearing."

Mr. Donahue was a Perrysburg attorney who had represented Robinson in the appeals process and invested what he once estimated to be $500,000 of his own time in seeking to have the priest's conviction overturned. Mr. Donahue died of cancer April 3 at age 64. Mr. Kerger had been assisting him on the case for several years.

J. Christopher Anderson, an assistant Lucas County prosecutor, said yesterday that the April 29 hearing "could be something of a circus" if Robinson waives his right to client-attorney confidentiality and allows his trial attorneys, Alan Konop and John Thebes, to be questioned on their trial strategy.

Mr. Kerger said last night that he would do the courtroom questioning.

Mr. Konop, reached at home last night, said he had no comment. Mr. Thebes could not be reached.

The priest's trial attorneys had submitted affidavits in response to Robinson's petition for post-conviction relief, which was filed in January, 2008. The petition was put on hold pending the priest's direct appeals, and revived after the Ohio 6th District Court of Appeals upheld the conviction and the Ohio Supreme Court declined to hear the case.

The U.S. Supreme Court also declined to hear Robinson's case.

Mr. Donahue filed an amended petition for post-conviction relief in January, 2009, citing dozens of issues that he claimed violated Robinson's constitutional rights to a fair trial.

Robinson was found guilty by a jury of murdering Sister Margaret Ann Pahl on April 5, 1980 -- Holy Saturday -- in the sacristy of the former Mercy Hospital near downtown Toledo, where he lived and where he served as a chaplain. The 71-year-old nun, who belonged to the Sisters of Mercy religious order, was attacked from behind, choked nearly to death, then stabbed 31 times in the chest, neck, and face.

Among the points cited in Robinson's petition were failure of trial attorneys to call certain witnesses to the stand; failure to pursue the possibility that the Rev. Jerome Swiatecki, another Catholic chaplain at the former hospital who died in 1996, could have been the killer, and failure to adequately challenge the prosecutor's assertions that a sword-shaped letter opener was the murder weapon.

Judge Zmuda's 20-page ruling rejected all but two of the petition's claims. "The record demonstrated that the police ruled Swiatecki out as a suspect early in their investigation, based on witness statements placing him in the cafeteria at the time of the murder," Judge Zmuda said. "The record further reflected that Swiatecki believed petitioner [Robinson] committed the murder, and any statements by Swiatecki would advance the state's case, and not the petitioner's."

The judge also said the petition's challenge to the letter opener as the murder weapon "differs little from the challenge raised at trial and on appeal."

But the judge said discovery of the police reports, found after an extensive search of police records, merited a hearing. The 136 documents had been misfiled when paper copies were transferred to microfiche about 15 years ago, prosecutors said. When a 1980 police report previously unknown to prosecutors showed up in an unrelated court filing in 2009, the state ordered a thorough search of police records. The reports were discovered in the wrong section of microfiche, two cases apart from the Robinson section, prosecutors said.

The prosecutor's office gave the documents to Judge Zmuda shortly after they were discovered, and told the media that they contained nothing significant to the priest's case. Mr. Donahue and Mr. Kerger said the documents' significance was not a matter for the state to decide. The reports have been sealed by the court.

Robinson, who is serving a 15-years-to-life sentence at Hocking Correctional Facility in Nelsonville, Ohio, appeared by video hookup from prison for a hearing before Judge Zmuda in January, 2010. He remains a priest in the Toledo diocese although he has been barred from ministry.

Contact David Yonke at: dyonke@theblade.com or 419-724-6154.