Rev. Phil Derea Case Raises Questions of Anonymity in Civil Cases

By Joseph P. Owens
The Express-Times
April 20, 2011

http://www.lehighvalleylive.com/joe-owens/index.ssf/2011/04/rev_phil_derea_case_raises_que.html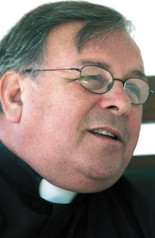 The Rev. Philip DeRea in 2004.



Something wasn't sitting right for me last week in looking at the case against the Rev. Phil DeRea, but I couldn't quite pinpoint it.

I came across it again today when something snapped into focus.

DeRea, a Roman Catholic priest who was raised in the Lehigh Valley and for years was chaplain to professional auto racing circuits, is accused in a federal lawsuit of sexually abusing a child for eight years in the 1980s.

DeRea, who was born in Roseto and raised in Nazareth, is accused by a now 40-year-old Maryland man identified in U.S. District Court in Illinois only as John Doe.

And that's where the problem begins.

I understand, appreciate and protect the notion of concealing the identity of an alleged victim of a sexual assault in criminal cases. Identifying sex assault victims can bring with it a stigma and have a chilling effect upon subsequent victims who may be reluctant to come forward.

That is understandable.

What is giving me trouble in this case is that there are no criminal charges. It's a civil action, allegations of one person against another.

The John Doe in this case gets to make a seriously damaging accusation against this priest while keeping his own name out of it.

I reached out to a Steaming Cup operative who also has a law degree. Is this fair? People can make just about any claim in a civil case.

"There was a time when you couldn't do that," said the Steaming legal source.

The federal rules of civil procedure have been revised, I'm told, although certain criteria must be met to keep the plaintiff of a civil case anonymous.

The legal beagle agreed that it raises issues of fairness.

"It goes to the whole issue of why do you have statute of limitations. In a case 30 years old, there may be no way to prove or disprove allegations. There's no good answer here. The church bears the brunt of the blame, but why should an individual priest be subjected to what could be false allegations?"

Our legal source says court procedures have changed over the years. Part of the reason for that is the church has been slow to respond, or completely inattentive, in cases where alleged victims have come forward.

"(The courts) made a policy decision that (naming a plaintiff) would have a chilling effect. There is a stigma attached and there shouldn't be. It's not the fault of the victim if it happened, but (anonymity) does allow for a crank (or baseless lawsuit)."

And that's where the potential unfairness creeps in.

What do you think? Should someone who files a civil lawsuit be allowed to keep their name out of it? Comment below.