Priest Pleads Guilty

By Liset Marquez
Daily Bulletin
April 25, 2011

http://www.dailybulletin.com/ci_17926038

RANCHO CUCAMONGA - Alejandro Castillo, the 58-year-old former pastor of Our Lady of Guadalupe Church in Ontario, pleaded guilty Monday afternoon to one count of committing a lewd act on a child.

His plea Monday at West Valley Superior Court is part of a plea agreement with prosecutors that carries a sentence of a year in county jail and requires that he register as a sex offender.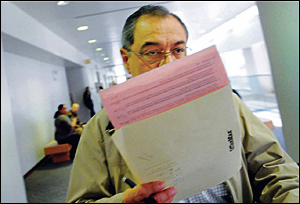 Alejandro Castillo, 58, the former pastor at Our Lady of Guadalupe Catholic Church in Ontario, attempts to shield his face from being photographed as he leaves West Valley Superior Court in Rancho Cucamonga after pleading guilty to one count of a lewd act with a minor Monday. Castillo will be sentenced June 16.

Castillo had been charged with eight felony counts of committing lewd or lascivious acts two years ago with a 12-year-old boy. Prosecutors dropped seven of the charges as part of the agreement.

The former pastor, who has also served as a priest in Rialto and San Bernardino, will be back in court June 16 for his sentencing. He is expected to begin serving his year-long jail sentence following his court appearance.

"When I talked to (the victim's) mother, all that she wanted was that Father Alex acknowledge his guilt and he register as a sex offender," said Karen Schmauss, San Bernardino County deputy district attorney.

Gary Smith, Castillo's defense attorney, did not comment.

Castillo had been scheduled to be in court on Thursday but the court date was moved up after his attorney requested a plea bargain, Schmauss said.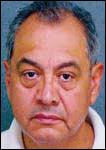 Castillo


While Castillo could have faced more than 20 years in jail if convicted on all charges, Schmauss said she considered the plea bargain "in the best interest for both sides."

"The victim does not to have to relive this in front of the public," she said. "The victim is 15 years old now, in high school. He wants to live his life."

Ted Campos, a longtime friend of Castillo who had helped organized efforts to exonerate the priest, was not aware when contacted that Castillo had been in court on Monday.

"Personally, I'm sad it's come to this point," he said.

The Coalition to Exonerate Father Alex, comprised of more than a dozen parishioners from Our Lady of Guadalupe, had posted Castillo's bail in November when the group raised $24,000.

Campos said he would be in contact with members of the coalition in the next couple of days to inform them of the plea.

Joelle Casteix, western regional director of Survivors Network of those Abused by Priests, commended the young victim for coming forward.

In most cases, sexual abuse victims take anywhere from 10 to 30 years to report a crime, she said.

"I hope this gives other survivors the courage to come forward and report their abuse," she said.

Casteix called Monday's guilty plea a victory not only for the victim but for anyone who has been a victim of a sexual crime.

The guilty plea shows, "it's far worse than we thought," she said.

Castillo is not allowed to have contact with his former parishioners. But Casteix is concerned there are more victims.

"No child molester has one victim. Usually there's various states of grooming (victims)," she said.

She encouraged any victims to report their abuse to the police.

Castillo was a priest at St. Catherine of Siena Parish in Rialto for three years before moving to Our Lady of Guadalupe in 2003. He also served as priest at St. George in Ontario from 2006 to 2008.

Castillo joined the San Bernardino Diocese in 1988, serving with St. Anthony Parish in San Bernardino. From 1991 through 1996, Castillo worked in the diocese's Pastoral Center in Ministry.

In 1996, he left the diocese to work for the Sacramento-based California Catholic Conference, a state organization that represents bishops.

Castillo was with the conference until 2000 when he returned to San Bernardino.

Police were first informed of the incidents involving the victim on June 25.

Castillo resigned from the Ontario church in November after he was released on bail.

Officials with the San Bernardino County Diocese did not return requests for comment.