Group Urges Grand Jury Inquiry into Priest Sex Crimes, Cover-Ups

By Michael Mansur and Judy L. Thomas
Kansas City Star
April 27, 2011

http://www.kansascity.com/2011/04/27/2831973/group-urges-county-prosecutor.html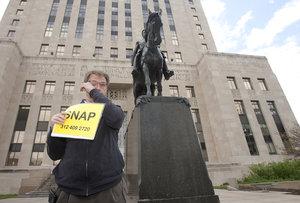 David Clohessy of The Survivors Network of those Abused by Priests wiped a tear from his eye during a news conference on the courthouse steps, where he urged the Jackson County prosecutor to launch a grand jury inquiry into priest sex crimes and cover-ups in the Kansas City- St. Joseph Diocese.



An activist group on Wednesday urged the Jackson County prosecutor to launch a grand jury investigation into what it called priest sex crimes and cover-ups in the Diocese of Kansas City-St. Joseph.

"Though 18 current and ex-priests are accused by 80 victims (in the diocese), no one has been prosecuted," said David Clohessy, executive director of the Survivors Network of those Abused by Priests, at a news conference in front of the Jackson County Courthouse in Kansas City. "Something must change if children are to be better protected."

The national group requested prosecution of the priest abuse cases and an investigation into church leaders' response to those complaints.

Ted Hunt, a chief trial attorney in the Jackson County prosecutor's office, said Wednesday that he was reviewing Clohessy's letter and would discuss it with him soon.

Reacting to the group's request for a grand jury, a spokeswoman for the diocese, Rebecca Summers, said it had stepped up its investigations of allegations made against priests, unless accusers refuse to cooperate. Some allegations also involve priests no longer in the diocese, Summers said.

Summers said Bishop Robert Finn, since assuming leadership of the diocese in 2005, has reaffirmed his commitment to protect children and involve the community in resolving complaints of abuse by priests.

The requests for prosecution came the same day another lawsuit was filed against a former priest in the diocese. The civil suit, filed in Jackson County Circuit Court, alleges that the Rev. Thomas Reardon repeatedly molested a then 9-year-old boy from Visitation parish in Kansas City from 1969 to 1972.

Reardon has been named in civil suits by more than 20 other alleged victims, all accusing him of sexual abuse. He could not be reached for comment on the latest lawsuit, but has declined to comment on earlier allegations. He left active ministry in 1989 and resigned from the priesthood in 1990. The diocese has yet to review the new lawsuit naming Reardon, Summers said.

Prosecutors in other jurisdictions recently have grown more aggressive and creative in pursuing sex crimes from years past. A recent grand jury investigation in Philadelphia found that 37 accused priests were still working around children in Catholic parishes.

The grand jury released its report in February, harshly criticizing the Archdiocese of Philadelphia for failing to fully investigate claims of misconduct against priests. The archdiocese since has suspended nearly 30 priests and ordered an investigation.

Earlier this month, charges were filed in Pennsylvania against four current or former priests and a former schoolteacher in the archdiocese in connection with the rapes of altar boys in the 1990s.

Clohessy accused Bishop Finn of "acting with similar recklessness, callousness and deceit."

The diocese, Clohessy said, is keeping the Rev. Michael Tierney on the job at Christ the King parish in Kansas City, despite two recent allegations against him.

Tierney was accused in a civil lawsuit last year of molesting a boy in 1971. And in a civil suit filed in February, Tierney was accused of making "lewd and inappropriate comments" to a boy who was allegedly being molested by another priest.

Tierney, who could not be reached for comment Wednesday, has denied any improper conduct and the diocese noted that no other allegations have been made against him. The diocese said its independent review board did not find any credible claim of sexual abuse involving Tierney, and he continues to serve as pastor of Christ the King parish.

In another case, Clohessy said, Finn failed to alert parishioners about allegations against the Rev. Mark Honhart. A lawsuit filed last month alleges that Honhart molested an 8- to 9-year-old boy at Holy Cross Parish in the 1980s. Honhart worked in six parishes in the Kansas City-St. Joseph Diocese from 1980 to 2001, and is now serving in the Diocese of Scranton in Pennsylvania.

The Diocese of Scranton said it had received an allegation of sexual misconduct against Honhart in February and immediately removed him from ministry, then notified the Diocese of Kansas City-St. Joseph and local authorities.

Honhart could not be reached for comment Wednesday.

"Even after one bishop ousted a former Kansas City priest (Honhart) due to credible clergy sex abuse allegations, Finn stayed silent, refusing to warn his flock about the cleric," Clohessy charged.

The Kansas City-St. Joseph Diocese said it has reached out to the individual making the complaint against Honhart with a special invitation to meet with the diocese's Response Team, but the invitation so far has been ignored.

Clohessy said Finn also has kept quiet about the Rev. John M. Fiala, a former Kansas City-area priest who faces charges in Texas that he tried to hire a hit man to kill a teenage boy who had accused Fiala of sexual improprieties.

Fiala lived with members of a religious order in Kansas City from 1998 to 2001, but had no parish or ministerial assignment, the diocese said.

Following his news conference, Clohessy delivered a letter to the prosecutor's office.

"We beg you to launch a grand jury investigation into clergy sex crimes and cover-ups in the Kansas City diocese soon," the letter stated. The letter noted that Missouri child sex abuse laws are "somewhat archaic" and that statute of limitations laws can make prosecution difficult or impossible.

"But we also know that, many times, in criminal matters, where there's a will, there's a way," the letter continued. "We have seen police and prosecutors across the U.S. becoming increasingly aggressive and creative about pursuing even older child sex crimes."

Clohessy said in Philadelphia prosecutors were able to pursue the old sex crime cases, despite statute of limitations, by employing an obscure law from the 1800s.

But Clohessy added that his group would be satisfied — if the alleged crimes are too old to legally pursue — with a full investigation of whether church officials acted properly in response to the abuse complaints.

In the lawsuit filed Wednesday, William Kopp accuses Reardon of molesting him while he was a parishioner and student at Visitation parish. The suit alleges that Reardon began fondling him when he was in third grade, sometimes during drives in Reardon's car.

The lawsuit said that the diocese "knowingly covered up and concealed the sexual abuse of their minor parishioners," transferring Reardon to multiple parishes and allowing him to be in contact with and supervise other children. Kopp suffered psychological distress as a result of the abuse, the lawsuit alleges, and only recently recovered the memories of what happened.

Kopp issued a statement indicating he filed the lawsuit "because of the continued abuse cases I read that happen around the country" and "the lack of any disciplinary measures to prevent it from happening again …."

"I want the Church to take this more seriously, initiate consequences, and not just shuffle priests from parish to parish, allowing them to remain a clergyman, when in fact, they are criminals and should face just punishment," Kopp's statement said.

To reach Judy L. Thomas, call 816-234-4334 or send email to jthomas@kcstar.com. To reach Michael Mansur, call 816-234-4433 or send email to mmansur@kcstar.com.