Juan Ramon O'farrill, Popular Anti-castro Priest, Accused of Sexually Abusing Boy in "80s

By Michael Miller
Miami New Times
April 27, 2011

http://blogs.miaminewtimes.com/riptide/2011/04/juan_ramon_ofarrill_popular_an.php



NE Second Street between First and Second Avenues is named after Father O'Farrill



Padre Juan Ramon O'Farrill's sermons against Fidel Castro and the communism that had taken root in his native Cuba were so passionate that when he died, a stretch of NE Second Street was renamed in his honor. But a lawsuit to be unveiled this afternoon paints a much different picture of the freedom fighter: child molester.

According to the suit, then-16-year-old immigrant Alejandro Mora went to O'Farrill for counseling after he had been abused in Nicaragua, only to be handed orange juice laced with liquor and then sexually assaulted by the priest.

If true, it wouldn't be the first controversy involving O'Farrill, who died in 1994 shortly after he was accused of trading a false court testimony for sex with a robber.

According to Jeffrey Herman, Mora's lawyer, the boy was first abused in Nicaragua when he was 15. He came to Miami a year later and sought help from Father O'Farrill at St. Michael the Archangel Church in west Little Havana.

But instead of helping Mora, O'Farrill took him to the rectory, gave him OJ mixed with booze, and performed oral sex on the boy, according to the lawsuit.

"This is a very sad case where this boy alleges that he turned to the church for help and received further abuse," Herman says. "He is very brave for coming forward and using his name and empowering himself to stand up to the Church and a very powerful priest."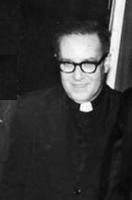 Fr. Juan Ramon O'Farrill



This isn't the first controversy surrounding O'Farrill, however. He was arrested in 1993 shortly after giving a sermon and charged with lying under oath to protect a robber who promised sex in exchange for an alibi.

But O'Farrill died shortly thereafter. Some of his last words were, "Pray for Cuba," the Miami Herald reported at the time.

Herman and Mora -- who no longer lives in Miami -- will appear at a news conference this afternoon at the corner of NE Second Street and First Avenue, the stretch of road named for Father O'Farrill.

The lawsuit against the Archdiocese of Miami seeks more than $5 million in damages.