Roman Catholic Bishop Raymond Lahey Pleads Guilty to Child-porn Charge

Canadian Press
May 4, 2011

http://www.google.com/hostednews/canadianpress/article/ALeqM5hxAG5f25LDTWM3w0wFVG2DBi7eRQ?docId=6750634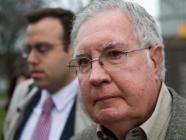 Bishop Raymond Lahey, right, arrives to the Ottawa Court House in Ottawa on Wednesday, May 4, 2011. Lahey is on trial for possession of child pornography. THE CANADIAN PRESS/Sean Kilpatrick



The wall that shielded Bishop Raymond Lahey's secret life of depravity collapsed in an instant after a simple question from an airport customs agent: do you have a laptop?

Lahey had just arrived in Ottawa on a flight from London on Sept. 15, 2009, bearing a passport that contained stamps for Thailand, Indonesia and Malaysia — notorious child-sex tourism destinations.

He hadn't aroused suspicion until that point, but his relaxed tone changed noticeably and he grew anxious when the specific question was asked — three times. He hesitated again, and finally answered: "Yes."

That utterance sparked a chain of events that culminated Wednesday with Lahey, 70, pleading guilty in an Ottawa courtroom to importing child pornography.

Court heard that he had 588 images of child pornography involving boys on his laptop and a handheld device. The laptop also contained videos and text stories of child pornography.

The former head of the diocese in Antigonish, N.S., stunned the courtroom by waiving his bail and asking to begin serving time immediately, even before a formal sentence. He was taken into custody.

"He's giving up his right to bail," defence lawyer Michael Edelson told court. "He wants to be in jail as of today's date."

Edelson also told court his client feels profound remorse for his crime.

Lahey pleaded guilty to a single child pornography charge, "possession for the purposes of importation." A second charge of simple possession remains, but it is expected to be formally withdrawn as part of Lahey's plea deal when he's sentenced. He is to return to court May 26 to set a sentencing date.

Edelson said Lahey wanted to start serving time now in order to get credit after sentencing. The lawyer also told court Lahey was not guilty of possession of child pornography for the purpose of distribution.

The grey-haired, stocky cleric spoke only once during the proceedings, uttering the words "Guilty, your honour," when he was arraigned on the amended charge.

Lahey sat impassively next to his lawyers as the details of the violent pornographic images found in his possession were read out in a crammed courtroom from an agreed statement of facts.

According to that statement, the border agent sent Lahey for secondary luggage screening, where his laptop, handheld computer and personal sex toys were discovered. After giving border agents his computer password, they found graphic images of young boys involved in sexual acts.

Ottawa police detectives were summoned to the airport and dug deeper into Lahey's hard drive and directory of websites, where they uncovered the hundreds of examples of child pornography.

The subjects in the images were classified as "borderline pre-pubescent."

In an interview with police detectives and border agency agents, Lahey denied he was attracted to young boys. He said he was attracted to "younger males" ranging in age from 21 to 30.

Detectives also uncovered several pornographic text stories. One was titled "Master Justin Goes on Vacation," and another, "Days on the Beach."

The exhibits were ordered sealed by Justice Jack Kirkland, but an agreed statement of facts categorized the themes of the images that depicted young boys in sex acts.

The five categories were "mastery and slavery," humiliation of young boys, torture of young boys, sex acts between boys, and degradation of young boys. Several graphic examples of what that entailed were read out in court to provide an evidentiary basis to support the guilty plea.

Edelson and prosecutor David Elhadad also reviewed some of the images privately on a police detective's laptop in the witness box with Kirkland, who peered down from the bench.

Lahey was formally charged in October 2009, and was freed on $9,000 bail.

Several weeks earlier, Lahey had been actively involved in the settlement of a $15-million class-action lawsuit brought by former child sexual abuse victims in Antigonish diocese. He apologized to the victims and said they were entitled to protection from priests.

Lahey was not implicated in the allegations, but was a bishop in Antigonish for six years.

The Canadian Conference of Catholic Bishops issued a three-paragraph statement after Lahey's guilty plea in which it reiterated, "the Catholic Church's long-standing condemnation of the possession, distribution and use of child pornographic images in all forms."

The conference said it recognized the "confusion and anger that this case has engendered among many of the faithful … in a special way our thoughts and prayers are with the people of the Diocese of Antigonish and all the Atlantic region."

The Vatican also issued a statement in Rome, saying it condemns "sexual exploitation in all its forms, especially when perpetrated against minors."

It did not specify what punishment Lahey will face, but said: "The Holy See will continue to follow the canonical procedures in effect for such cases, which will result in the imposition of the appropriate disciplinary or penal measures."