Priest in Chile Accused of Sexually Abusing Minors

AFP
May 13, 2011

http://www.google.com/hostednews/afp/article/ALeqM5j2ZkUs63OlY3XFk1kdL5NW3owPFw?docId=CNG.df1eb6fae932d5dcc99a27e528667e85.921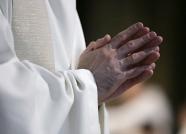 Audin Araya allegedly abused three minors at a Catholic school in the city of Concepcion (AFP/File, Francois Guillot)



A Chilean priest was arrested Friday on charges he sexually abused three minors, amid other high-profile cases that have shocked this predominantly Roman Catholic country.

Audin Araya allegedly abused three minors at a Catholic school in the city of Concepcion, located 500 kilometers (310 miles) south of Santiago.

The Concepcion court ordered Araya's arrest after a hearing to formalize charges of sexual abuse of students aged between 15 and 17 that allegedly took place in 2008, when Araya was rector of a local high school.

Araya will undergo a psychiatric examination, prosecutor Carlos Palma said.

Araya's attorney, Marcelo Torres, said the allegations "are not clear" and are "contradictory."

The case comes at a difficult time for the Chilean Catholic Church, which on April 8 issued a public apology for sexual abuse by pedophile priests, taking the blame for a lack of diligence in investigating victim complaints.

Two influential Catholic figures already are under investigation: priest Fernando Karadina, among the most influential priests in the country; and Sister Paula (Isabel Margarita Lagos), the former mother superior of the Ursulinas sisterhood.

Karadina, 80, is suspected of abusing minors over a period of 20 years when he was in charge of an upscale Santiago parish.

The Vatican earlier this year found him guilty of sexually abusing children and "sentenced" him to a life of prayer and penitence, but Chile reopened a case against him.

An inquiry was launched last year after allegations by five adults who were members of the Chilean church set up by Karadina.

Judges decided not to pursue the case, but an appeals court last month found that the initial inquiry had not been properly investigated.

Karadina remains held at a parish house, according to the Vatican, but Sister Paula traveled to Germany before allegations against her became public.

The Catholic Church carries great influence in Chile, where 70 percent of the country's 17 million people are Roman Catholic.