Priest Accused of Exposure Emigrated from Poland

By Kim Hackett
The Herald-Tribune
June 9, 2011

http://www.heraldtribune.com/article/20110609/ARTICLE/110609542/2055/NEWS?Title=Priest-accused-of-exposure-emigrated-from-Poland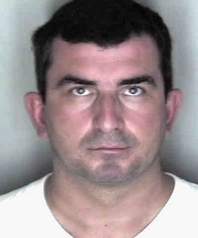 Bernard Chojnacki, 36, a Catholic priest, is accused of exposing himself to an undercover Sarasota County sheriff's detective at Caspersen Beach on Tuesday.



VENICE - A Port Charlotte Catholic priest accused of exposing himself to a sheriff's detective at Caspersen Beach is a native of Poland whom the Venice Diocese brought to the U.S. to become a priest.

And though Bernard Chojnacki worked at a diocese school, he worked with adults and not children, the church said.

A Sarasota County Sheriff's detective arrested Chojnacki, 36, on charges of indecent exposure and battery Tuesday, after Chojnacki reportedly exposed his genitals and grabbed the detective's genitals on a wooded path near the beach, an area long known for illicit sexual activity.

Chojnacki, a vicar at St. Charles Borromeo Church since December 2009, was released from jail on $1,250 bail. A diocese spokesman said Chojnacki is on administrative leave and is staying at another rectory but declined to say where it is located.

Chojnacki emigrated from Poland a few years ago on a religious visa to attend a seminary in Orchard Lake, Mich. He was ordained in October 2009 and the diocese assigned him to St. Charles Borromeo about two months later.

"It is not unusual" for the diocese to bring men from Poland to the U.S. to become priests, said Billy Atwell, a diocese spokesman. "The area has a large Polish population."

Chojnacki assisted a priest with adult education at St. Charles, working to educate people who are interested in the Catholic faith. The parish has a K-8 school, but Chojnacki did not teach children, the diocese said.

"He did not have an official position with the school," Atwell said.

Atwell said he did not know any more about how Chojnacki became acquainted with the diocese.

He called it a "sad time for both the parish and the diocese."

Sarasota Sheriff Tom Knight said the priest was arrested as part of an ongoing undercover investigation of criminal sexual activity at the South County beach, a 3-mile stretch of natural beach and wooded trails that lead south to Manasota Key.

"This is not nude sunbathing," said Knight.

Knight said complaints from beachgoers who see sexual activity and heavy "foot traffic in the woods" spotted by the agency's helicopter patrols lead to crackdowns, such as the one that led to Chojnacki's arrest.

"We monitor it and make arrests," Knight said.

Chojnacki's arrest is the second sexual scandal involving local Catholic priests this year.

A 53-year-old friar was accused of sexually molesting a 14-year-old Nokomis boy in February.

William Wert, who was living in a Carmelite religious order house in Venice, remains in the Sarasota County jail on $190,000 bail for 11 charges of sexual abuse against the boy.

He is scheduled for a jury trial in October. The boy's father has sued the Carmelites, claiming they were aware of Wert's past conviction for touching a 14-year-old boy on the inner thigh when they allowed him to move to the Carmelite home in Venice while on a leave of absence. The Carmelite order is not directly associated with the Diocese of Venice.