Parma Residents React to St. Charles" Decision to Remove Monaghan's Name from Church Hall

Cleveland.com
June 25, 2011

http://blog.cleveland.com/parmasunpost/2011/06/parma_residents_express_o.html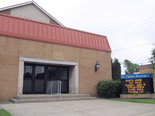 The former Monaghan Hall next to St. Charles Borromeo Church on Ridge Road in Parma.



Residents expressed various opinions last week regarding the decision by St. Charles Borromeo Church to remove Monsignor Nicholas Monaghan's name from its church hall.

St. Charles acted after several women told a local newspaper that the late Monaghan kissed and fondled them decades ago when they were pupils at St. Charles Borromeo Catholic School.

The church also removed a plaque with Monaghan's likeness from the church lobby.

Susan Kalnicki, a parishioner at St. Anthony of Padua in Parma, commended St. Charles for its decision.

"I work with somebody who actually went to school at St. Charles at that time," Kalnicki said. "She said the girls all stepped back when he (Monaghan) walked into the room."

Kalnicki did not believe that St. Charles will suffer a permanent black eye from the scandal. She said St. Charles is not the only Catholic parish where priests reportedly had sexually abused or improperly touched children.

"We had an incident at St. Anthony years back," Kalnicki said. "People didn't forget but they forgave and moved on. And I think they (St. Charles) will move on."

"I'll pray for all the people who are involved," Kalnicki said.

Pete Niemiec, a St. Charles parishioner, said he was "a little bit shocked" when he heard about Monaghan and what happened at St. Charles.

"It's a good parish," Niemiec said. "It's hard to believe. But I didn't know Father Monaghan. I joined the parish after he was gone."

Niemiec had no opinion regarding how St. Charles handled the situation.

Initially, the church did not take Monaghan's name off the church hall because only one woman said that Monaghan had abused her. After more women came forward, the church took action.

"The only thing I'm surprised at is that it came out now and the priest (Monaghan) is not around to defend himself," Niemiec said. "I don't know if you can dispute it."

A.J. Grove — who attends Holy Family Church in Parma but sometimes goes to Mass at St. Charles — said he was surprised to hear about Monaghan.

"It's too close to home, I guess," Grove said.

Grove said St. Charles and the Catholic Diocese of Cleveland waited too long to take action. He said one of the victims told the diocese three years ago that Monaghan had abused her.

At that time, the diocese agreed to pay for the victim's psychological counseling but refused her requests to remove Monaghan's name from the church hall and his plaque from the church lobby.

"It's a little late, but better late than never, though," Grove said.

Grove said sex scandals in the Catholic church are not tied to one parish. He said Pope Benedict XVI should again address the issue because it is still hurting Catholicism.

"People are turning away from the church a lot," Grove said. "Masses are really empty, not just at St. Charles but at Holy Family and all the Catholic churches."

Grove added that he was surprised that the women who said they were abused by Monaghan waited so long to come forward.

"It amazes me," Grove said. "Don't the parents notice anything with their kids? I would have caught it, if my kid was starting to act a little strange."

Marion Vyrsta also wondered why the women waited years before reporting Monaghan.

Vyrsta, who said he is Catholic but is not a St. Charles parishioner, said it is unfair because the late Monaghan cannot defend himself.

However, Vyrsta said it was up to St. Charles parishioners whether to remove Monaghan's name from the church hall.

Vyrsta agreed with Grove that sex-abuse scandals have been a problem not just at one parish but throughout the Catholic church.

"Something like this should not be covered up," Vyrsta said. "It's the job of the bishop and the hierarchy to take care of it."

Jean Kozak, president of the senior group at St. Charles, said she supports the decision and actions of the church and its pastor, the Rev. John T. Carlin.

"He's a fantastic pastor and I know these are difficult times for him," Kozak said.

Kozak said she was not at the church when Monaghan was alive but she understood he did a lot of good for the parish. She did not believe the church will suffer any long-term negative effects.

"We have a great group of people at St. Charles," Kozak said.

Parma City Council President Sean Brennan is an active member of St. Charles. He has been a parishioner for more than 20 years and his children attend school there.

"St. Charles is not just a parish, but a family," Brennan said. "I am positive that my fellow parishioners and I will remain as committed to our faith in God and our parish."

Brennan said St. Charles leadership acted properly in investigating the women's allegations and taking the steps that it did.

"In my years as a member of the St. Charles community . . . Carlin has been very proactive in inviting parishioners to come forward if they felt they have been victimized," Brennan said.

"In fact, he has done this from the pulpit on many occasions," Brennan said.

Brennan said Carlin has advocated training for adults working with children at St. Charles. The purpose is to prevent and detect sexual abuse.

Brennan said he will pray for the parish and the women who said they were victimized by Monaghan.