Suit Alleges Abuse by Priest

By Tony Brown
Maryville Daily Forum
June 27, 2011

http://www.maryvilledailyforum.com/news/x2069925737/Suit-alleges-abuse-by-priest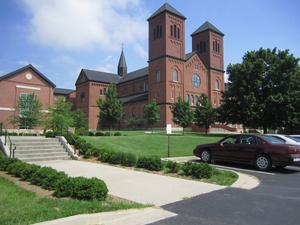 Conception Abbey east of Maryville has been sued by a man, identified only as John Doe 181, who claims he was sexually abused by a monk there during a summer choir camp in 1987.



Maryville, Mo. - A Missouri man filed a lawsuit against Conception Abbey last week, alleging that officials there covered up sexual abuse by a monk in the 1980s.

The lawsuit, filed in Nodaway County Circuit Court, claims the plaintiff, then a minor, was molested by Bede Parry, 69, a former monk and ordained Catholic priest.

The alleged incident happened in 1987 while the plaintiff was attending a summer choir camp at the abbey, which comprises a Benedictine monastery and seminary college.

The abbey is located on HIghway 136 sixteen miles east of Maryville.

Filing suit under the name John Doe 181, the plaintiff alleges the abbey knew the monk had previously sexually abused other young people but kept it quiet. The monk, who later became an Episcopal priest in Las Vegas, is not named as a defendant.

"The whole thing is terrible," Parry was quoted as saying in a story filed Friday by the Associated Press. "I feel so terrible. I'm just praying for everybody, and I ask for prayers."

Conception Abbey spokeswoman Jenny Huard told the AP she was aware of Parry's comments but the abbey had no comment beyond, "we are praying for all involved."

Jeff Anderson, a Minnesota attorney who represents the plaintiff, said the monk "wasn't able to control himself, but it was the abbot and the top officials who knew that and made the choice to protect themselves at the peril of many kids and young adults."

Abbot Gregory Polan, the current head of Conception Abbey, said he had been directed by lawyers not to comment. Jon Haden, a Kansas City attorney for the abbey, said he would not comment until he could review the lawsuit.

The abbot in charge of Conception Abbey at the time of the alleged molestation was Fr. Jerome Hanus, who later served as bishop of Saint Cloud, Minn., and is currently archbishop of Dubuque, Iowa.

Conception Abbey is home to Conception Seminary College, one of the nation's largest Roman Catholic college seminaries. The college is run by the monks of the abbey, and it's primary mission is to educate men who believe they have been called to the priesthood.

According to the lawsuit, Parry lived at the abbey from 1973 through 1979, then spent three years at a school of theology in Minnesota. He returned to Conception Abbey in 1982, where he served as secretary to the abbot, taught classes and directed the choir.

The lawsuit alleges the monk had sexual contact with the plaintiff in the summer of 1987 during an abbey-hosted camp during which Parry served as choir director. The plaintiff says he told his parents by phone about the unwanted sexual contact the following day.

Confronted by the alleged victim's parents, Hanus, according to the lawsuit, told them Parry had suffered a "mental breakdown" for which he would receive treatment. In fact, the suit alleges, Parry confessed to his superior that he had been involved in three previous inappropriate sexual relationships.

In addition, the suit claims that in 1981, while studying at St. John's School of Theology in Collegeville, Minn., Parry had another sexual encounter with a student. Documents filed in Circuit Court do not indicate if the student involved was a minor.

The suit claims that Parry admitted this encounter to the late Br. Jerome Theisen, who was abbot at St. John's, two other monks at the Minnesota school and to Hanus.

Court papers state abbey officials were aware that Parry was a "known serial child predator who had sexually abused numerous students before Fr. Parry sexually abused the plaintiff."

The lawsuit says that Parry was sent to a Catholic treatment center, Servants of the Paraclete, in Jemez Springs, N.M., for three months following the plaintiff's 1987 report of abuse. He was later employed at several churches in the Southwest before becoming an Episcopal clergyman.

In 1990, according to the lawsuit, Parry he was told by Abbot James Jones, who had replaced Hanus, that "it would not be wise" for him to return to Conception Abbey.

It is further alleged that Parry underwent psychological testing in 2000 prior while seeking work as a minister, and was diagnosed as "a sexual abuser who had the proclivity to reoffend with minors."

According to court documents, Parry had served since 2000 as priest of All Saints' Episcopal Church in Las Vegas, Nev. According to news reports he most recently held the positions of organist, choir master and assisting priest. He resigned Thursday and has reportedly asked to be removed from the priesthood.

Bishop Dan Edwards, of the Episcopal Diocese of Nevada confirmed that Parry had resigned from All Saints. Edwards said Parry did not have contact with children or youth in his ministry at the church.