Group Speaks out against Priest Convicted of Child Molestation

KTLA
June 29, 2011

http://www.ktla.com/news/landing/ktla-snap-priest-abuse,0,1213259.story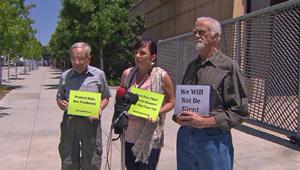 SNAP is speaking out against the appointment of priest convicted of sex assault to a post in L.A.



LOS ANGELES (KTLA) -- Clergy abuse victims are speaking out against a priest convicted of molesting children in his ministry and the man who brought him to Los Angeles, retired Cardinal Roger Mahoney.

The Survivors Network of those Abused by Priests (SNAP) is demanding answers after a new report about one priest, Reverend Fernado Lopez Lopez.

The report reveals that, even though the Archdiocese of Los Angeles knew about his past conviction for sexual abuse of minors during a tenure in Italy, he was allegedly left on the job for more than six months at St. Thomas the Apostle in Koreatown.

"The Archdiocese of Los Angeles didn't care," SNAP's Joelle Casteix said. "They stuck him in a parish where the children speak primarily Spanish and are unlikely to report that bad things are happening."

SNAP is also calling out the archdiocese for denying that they had previously known about Lopez Lopez's past.

In 2000, he pleaded guilty to repeated sexual violence with a minor during his post in Italy.

Lopez Lopez was asked to leave his position in Italy in 2001 and subsequently came to Southern California.

He was denied tenure in the San Bernardino diocese. The archbishop there apparently found it odd that Lopez Lopez was arriving unannounced with no letter from his bishop.

Lopez Lopez was then assigned to St. Thomas the Apostle in Koreatown without any questions.

SNAP claims that, after the Archdiocese of Los Angeles found out about the allegations against Lopez Lopez, it took more than six months for them to remove him from his post.

"In those six months is when the victims said the worst abuse occurred," Casteix said.

Lopez Lopez was arrested in 2004 and deported to Columbia in 2008.

He has since been defrocked, but reports say he may be acting as a priest in his native Columbia.

SNAP is asking for any additional victims to come forward.

A lawsuit has been filed against Lopez Lopez, Cardinal Roger Mahoney and the archdiocese. That case will be heard in October.