Catholic Priest Indicted on Seven Sodomy Charges

By Peter Smith
The Courier-Journal
June 30, 2011

http://www.courier-journal.com/article/20110630/NEWS01/306300045/Catholic-priest-indicted-seven-sodomy-charges?odyssey=nav|head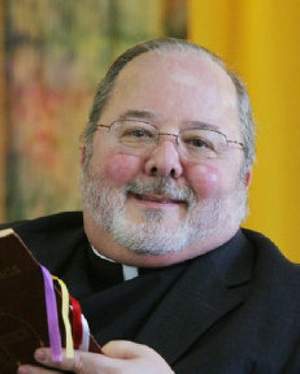 File photo of Rev. James Schook, pastor, St. Ignatius Martyr Church at 1816 Rangeland Road, at the church. (By Michael Hayman, The Courier-Journal)_April 15, 2008 / cj



A Jefferson County grand jury indicted a Roman Catholic priest Thursday on seven felony charges of sodomy, alleging he sexually abused two boys in their early teens in the 1970s.

The Rev. James R. Schook, 63 — whom the Archdiocese of Louisville removed from ministry last year — faces three counts of sodomy in the second degree and four counts of sodomy in the third degree.

Six of the charges involve one boy and incidents alleged between 1971 and 1974. The seventh charge involves a second boy with an incident alleged between 1974 and 1975.

The difference in degree reflects the age of the boys. Second-degree sodomy involves "deviate sexual intercourse" with a child who is 12 or 13, while third-degree counts involve victims who are 14 or 15, according to Kentucky Revised Statutes.

Assistant Commonwealth's Attorney Jon Heck said a grand jury has been investigating Schook for several months. Louisville Metro Police first investigated Schook in 2009.

Schook is scheduled to be arraigned Tuesday at 9:30 a.m. in Jefferson Circuit Court.

Archbishop Joseph E. Kurtz temporarily removed Schook from ministry in July 2009 — when he was serving as pastor of St. Ignatius Martyr Church on Rangeland Road — after the archdiocese received the first in a series of complaints alleging that Schook had committed sexual abuse in the 1970s and 1980s.

The Archdiocese of Louisville announced in March 2010 that Schook's suspension from ministry became permanent after its Sexual Abuse Review Board concluded that claims against him were valid. He remains a priest but has been forbidden to do public ministry or present himself as a priest.

The archdiocese issued a statement Thursday saying it has cooperated with the criminal investigation.

"The archdiocese will continue to work with law enforcement in efforts to address childhood sexual abuse," it said. "We have full confidence in the ability of the criminal justice system to address this crime."

While the case is decades old, Heck said that is "much more common than you might think" because it takes a long time for victims to come to terms with sexual abuse.

"We are fortunate in the state of Kentucky there is no statute of limitations for felony offenses," said Heck, who heads the Commonwealth's Attorney's sexual-abuse investigative unit.

Schook is the sixth current or former priest in the Archdiocese of Louisville to face criminal charges related to sexual abuse. All five of the previous cases led to convictions.

"It's good to see the wheels of justice running their course," said Jeff Koenig, a member of the Louisville chapter of the victims' advocacy group, Survivors Network of Those Abused by Priests.

Schook was also at the center of a recently dismissed lawsuit against the archdiocese. Former St. Therese Church bookkeeper Margie Weiter and her husband Gary Weiter Sr. alleged she was fired for objecting after Schook began residing at the Germantown parish in late 2009 and early 2010, while the archdiocese's internal investigation was pending.

The archdiocese says it moved Schook out of the parish once it confirmed the allegations and said that Weiter lost her job due to a budget cut, not because of retaliation.

Jefferson Circuit Judge Mitch Perry dismissed the lawsuit in May, saying the court could not interfere with how religious organizations do internal discipline and also saying state employment laws wouldn't have governed the type of claim Margie Weiter made.

The Weiters are appealing to the Kentucky Court of Appeals.

SNAP member Cal Pfeiffer issued a statement Thursday criticizing the archdiocese for allowing Schook to live at St. Therese while its internal investigation was pending.

Schook, who was ordained in 1975, had assignments at St. Thomas More, St. Raphael, Ascension, St. Lawrence, St. Polycarp and Our Lady of Consolation parishes in Louisville.

He also worked in the Catholic Deaf Community Ministry, St. Mary Magdalene of Pazzi Church in Payneville, Ky., and St. Theresa Church in Rhodelia, Ky., according to the archdiocese.

The Archdiocese of Louisville has paid nearly $30 million in settlements and other costs to victims of sexual abuse since 2002.

The figure includes $25.7 million paid in a 2003 settlement with 243 victims, claiming sexual abuse. Individual payouts were not revealed, but what they received in the settlement fell into three categories, based on the abuse suffered. In one group, six plaintiffs averaged $26,666; in the second group, 160 averaged $82,622; and in the third group, 77 averaged $153,510.

Among previous abuse cases involving the archdiocese's priests:

* Louis A. Miller is serving a 30-year prison sentence after pleading guilty in 2003 to sexually abusing 29 children in Jefferson and Oldham counties between the 1950s and 1980s.

* Daniel C. Clark was sentenced to probation after his conviction in 2008 for sexually abusing two Bullitt County boys between 1999 and 2002.

The Vatican removed Miller and Clark from the priesthood.

* The Rev. Edwin Scherzer received a five-year sentence of house arrest in 2005 following his conviction for sexually abusing four boys decades earlier in Jefferson County.

* The Rev. James Hargadon died in 2005, a year into an eight-year sentence for sexually abusing three boys in the 1970s in Grayson and Jefferson counties.

* Former priest Bruce Ewing is serving a five-year probation term after being convicted in 2007 in Jefferson Circuit Court of third-degree rape in the 1970s. Ewing left the ministry in 1977 and got married, after the alleged offense and long before the criminal investigation.

Reporter Peter Smith can be reached at (502) 582-4469.