Changes, Protests Rattle Members of Berkeley Parish

By Michele Jurich
Catholic Voice
July 1, 2011

http://www.catholicvoiceoakland.org/2011/07-05/frontpage1.htm

St. Joseph the Worker Parish in Berkeley, as old as Berkeley itself, has a long tradition of service in its community. Now, discontent over the future direction of the parish has spilled onto the street. Besides fear of the church closing, some parishioners question a former pastor's move to Richmond and parish operations under a new pastor.

A group whose number ranges from 50 to 200 has been gathering Tuesday evenings at a community center a few blocks from the church to express dissatisfaction, in both Spanish and English, and create a plan of action. The diocese has issued a statement on its website,.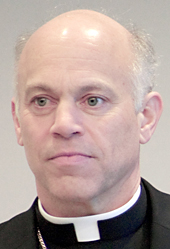 Bishop Salvatore J. Cordileone



A parish visit by Bishop Salvatore Cordileone provided an opportunity for protest that was at some times quiet, other times prayerful, and, for a few critical minutes on a June 19 between Masses, chaotic. The visitation included Confirmation on June 18, which was not disturbed.

Protesters gathered outside the church, beginning before the 8 a.m. June 19 Mass. A box of white T-shirts printed with an image of Our Lady of Guadalupe appeared by 9 a.m., and protesters, many already clad in white, pulled them on and carried handmade signs in English and Spanish, with slogans such as "This is our church." The crowd grew to about 150 at the conclusion of the 11 a.m. Spanish-language Mass.

Had they had been at Mass, they would have heard these words: "Mend your ways. Encourage one another, live in peace and the God of love and peace will be with you."

Bishop Cordileone recalled St. Paul's words, from the Second Reading for the Feast of the Most Holy Trinity, in an interview with The Catholic Voice four days after his visit to St. Joseph the Worker Church.

"This has to be the standard we live by. We can't resolve our differences like people who don't have faith," the bishop said. "People have a legitimate right to bring their concerns to their pastors. We pastors have an obligation to listen to our people's concerns. As I told them, I had met with some, and I would be willing to meet again, in the right circumstances."

The Bishop met from 8 to 9 p.m. June 18 with four people who represent factions that have expressed some dissatisfaction. The four included Aurora Meerjans, former president of the pastoral council, who said she has left the parish; Mercedes Baca, president of Consejo Latino, a group formed by former pastor Father Stephan Kappler to organize events for the Latino community; Javier Torres, member of the recently appointed pastoral council; and Mario Ibarra, a parishioner and an organizer of the group seeking redress, who asked to join the talks.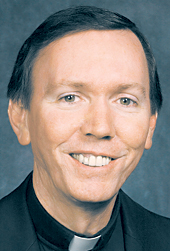 Father John E. Direen



Torres said he asked that Father John Direen rescind his decision to ask Father George Crespin, pastor emeritus, to move from the rectory, where he has lived for 30 years.

Father Direen came into a parish that is almost $1 million in debt, mostly from the earthquake retrofit of the parish school, which closed in 2007. The school is leased to California College Preparatory Academy, a charter school. He turned a conference room into a gift shop as a way of raising revenue for the parish.

Some parishioners are worried Father Direen had been sent to close the parish. "That was never even in the universe of consideration," the bishop said in an interview June 23. "The thought of that had never crossed my mind when I assigned him there."

Father Direen was pastor of St. Andrew-St. Joseph Parish when it merged to become part of the Cathedral Parish of Christ the Light. Plans to merge the parish had been underway before Father Direen's arrival there, the bishop said.

For the two years he has been in the parish, Father Direen has been discerning how the parish needs to develop to be even more comprehensive in serving its parishioners and the community beyond.

"My current and most immediate vision for the parish is to work on issues of integrity with regards to our Catholic faith," Father Direen said in an interview. "I want to make sure our liturgies, our religious education program and our Catholic social outreach programs are guided by the actual social teaching of the Catholic Church, because I think that's what grounds us. We need to be grounded in our ministries. We need to have a strong foundation and a good understanding of why we're doing the ministries we're doing. If there's any real conflict, especially with the church's teaching, I find there's lack of credibility and it's not an effective witness, not a true witness of our faith."

Among the Catholic Social Outreach ministries the parish is building up is participation in the Gabriel Project, a ministry to women in crisis pregnancies; working with Mother Teresa's Missionaries of Charity in their ministry to day laborers; and offering assistance to undocumented immigrants, including those in their own parish.

"St. Joseph the Worker has this stature in the Berkeley community of being a leader of social justice," the bishop said. "I certainly hope that continues. But if there's ever anything going on contrary to Church teaching, then we're undermining true justice. The Church's social teaching and moral teaching are complementary. If we're going to have a truly just society, we need both."

Meanwhile, the group of discontented parishioners continues to work on its plan, which is likely to include a request to meet with the bishop. The bishop is open to hearing from them.

Online exclusive

Unusual for a pastor to stay in former parish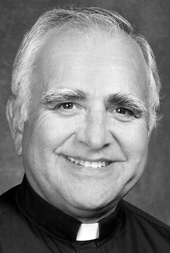 Father George Crespin



Father George Crespin took some time from unpacking moving boxes at his new residence at St. Cornelius Parish in Richmond to talk about his departure from St. Joseph the Worker Parish, where he had lived for 30 years.

"I know it's unusual for a previous pastor to stay on once he retires," said Father Crespin, who retired as pastor of St. Joseph the Worker in 2005. "Once I retired, I assumed I would leave."

But two succeeding pastors asked him to stay and help. "When Father Kappler left," Crespin recalled, "he brought John Direen in to meet me. The first thing John said was, 'I want you to stay. You're welcome here.'"

Father Direen, the pastor at St. Joseph the Worker, said he welcomed him to stay.

"Contrary to the impression that I'm a pastor who has been there so long that I am unable and unwilling to let go, the contrary is true: I offered to leave on several occasions," Father Crespin said. "But the pastor at the time, whatever time it was, did not want me to leave."

On June 2, Father Direen asked Father Crespin to move out of the rectory.

"It's very difficult for a former pastor, especially someone who's been here so many years, to see a new pastor come in and make changes that he disagrees with," said Father Direen. "He verbally disagrees with my changes and the direction I'm taking the parish. In his homilies, he talks about that disagreement. When it comes to that point, even though he does not want to leave on his own, clearly it's a decision that has to be made by me, for the sake of singular leadership."

The Diocese of Oakland has posted a statement on its website regarding the situation at St. Joseph the Worker. Father Crespin refutes many of its remarks.

According to the diocesan statement, "Father Direen experienced lack of cooperation from Fr. Crespin, which caused many pastoral difficulties. Some of these difficulties include: failure to observe the necessary steps to insure the valid and licit celebration of the sacraments (especially marriage)."

Father Crespin said, "Every marriage that I performed at the parish is valid."

Many people in the activist community have shared stories of the difference Father Crespin has made in their lives. Lucia Hammond, a social worker and parishioner at the church, wrote in a letter: "When my godson was killed, Father Crespin reached out to his mother, not a Catholic then. He supported her spiritually, with compassion and faith. My friend has faith now and prays, thanks to such loving help. When an estranged family member of mine needed help, Father Crespin went all the way to his place of work, attempting to bring this person back to his family."

"The departure of Father Crespin leaves the Berkeley community without one of its more visible advocates for education," said Beatriz Leyva-Cutler, president of the Berkeley School Board, whose children received First Communion at St. Joseph the Worker. "We're losing someone very familiar with our community and with Latino families. We're losing a gem who is a foundation for many."

On June 22, the school board passed a resolution commending Father Crespin for his work with Berkeley students and families.