Louisville Priest Pleads Not Guilty in Teen Sex Abuse Case

By Jason Riley
The Courier-Journal
July 5, 2011

http://www.courier-journal.com/article/20110705/NEWS01/307050048/Priest-pleads-not-guilty-sodomy-charges?odyssey=nav|head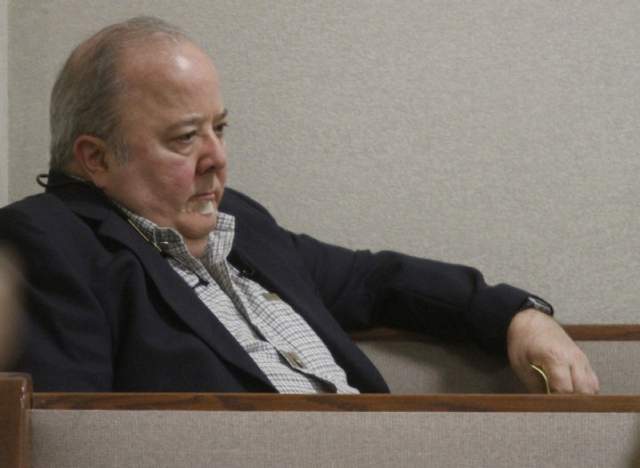 The Rev. James R. Schook sits in court after his arraignment. (By Michael Hayman, The Courier-Journal) July 5, 2011 / CJ



A Roman Catholic priest pleaded not guilty Tuesday to seven felony charges of sodomy stemming from allegations that he sexually abused two boys in their early teens in the 1970s.

The Rev. James R. Schook, 63, was arraigned in Jefferson Circuit Court on three counts of second-degree sodomy and four counts of third-degree sodomy. The Archdiocese of Louisville removed him from ministry last year.

Schook did not speak during his arraignment as his attorney, David Lambertus, entered the plea and asked for 24 hours to post bond, which the judge set at 10 percent of $10,000.

Judge Mitch Perry ordered that Schook be booked but given a day to post bond. He set the next court hearing for Aug. 22.

Lambertus declined to comment after the brief hearing.

Six of the charges involve one boy, with the incidents alleged to have occurred from 1971 to 1974. The seventh charge involves a second boy with an incident alleged from 1974 to 1975.

The difference in degree reflects the ages of the boys. Second-degree sodomy involves "deviate sexual intercourse" with a child who is 12 or 13, while third-degree counts involve victims who are 14 or 15.

Assistant Commonwealth's Attorney Jon Heck said a grand jury has been investigating Schook for several months. Louisville Metro Police first investigated him in 2009.

Heck, who is leaving the commonwealth's attorney's office at the end of July to go into private practice, said evidence in the case will be filed before the next court hearing.

Archbishop Joseph E. Kurtz temporarily removed Schook from ministry in July 2009 — when he was serving as pastor of St. Ignatius Martyr Church on Rangeland Road — after the archdiocese received the first in a series of complaints alleging that he had committed sexual abuse in the 1970s and 1980s.

The archdiocese announced in March 2010 that Schook's suspension from ministry became permanent after its Sexual Abuse Review Board concluded that allegations against him were valid.

He remains a priest but has been forbidden to do public ministry or present himself as a priest.

Schook was also at the center of a recently dismissed lawsuit against the archdiocese. Former St. Therese Church bookkeeper Margie Weiter and her husband, Gary Weiter Sr., alleged that she was fired for objecting after Schook began living in the Germantown parish in late 2009 and early 2010 while the archdiocese's internal investigation was pending.

The archdiocese said it moved Schook out of the parish once it confirmed the allegations and that Weiter lost her job because of a budget cut, not because of retaliation.

Perry dismissed the lawsuit in May, saying that the court could not interfere with how religious organizations handle internal discipline and that state employment laws wouldn't have governed the type of claim made.

The Weiters are appealing to the Kentucky Court of Appeals.

Reporter Jason Riley can be reached at (502) 584-2197.