Chaput Has Acted Swiftly on Clergy Sex Abuse

By Jeremy Roebuck
Philadelphia Inquirer
July 19, 2011

http://www.philly.com/philly/news/pennsylvania/125793323.html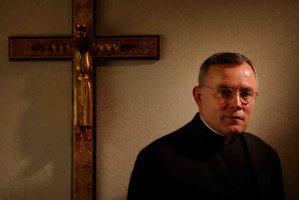 Archbishop Charles J. Chaput went to seminary in western Pa.



When allegations of decades-old sexual abuse surfaced last year against a Denver-area priest, Archbishop Charles J. Chaput acted swiftly and abruptly.

Chaput suspended the priest the same day the accusation was made. He identified him in a public statement, and turned the matter over to police - all before an internal investigation into the claim could be completed.

"Prompt action is painful for the whole Church," the archbishop later wrote in an April 2010 column for the Denver Catholic Register defending his decision. "But it's a necessary course to protect people's trust in their parish and in the archdiocese."

Chaput, 66, who was named this morning as successor to Cardinal Justin Rigali, archbishop of Philadelphia, who will retire from his post under a cloud of criticism for his own handling of clergy abuse.

The two prelates' tactics in dealing with the ongoing scandal often stand in stark contrast, according to prosecutors and victims' rights activists familiar with both church leaders.

Last year's episode, involving a popular Centennial, Colo., priest, the Rev. Melvin F. Thompson, has come to define Chaput's overall record of tough talk and swift action.

Yet at times he, too, has shown signs of the "circle-the-wagons" mentality that plagued Rigali's administration - most notably in refusal to discuss the inner workings of lay sex-abuse panels in Denver. Chaput also has been a strong opponent of bills that would make it easier for victims to sue the church for years-old abuse cases.

But even critics concede he's never been one to ignore the issue.

While Rigali often seemed slow to react and opaque in his decision-making, Chaput has moved rapidly and has frequently taken time to explain his decisions, both in print and from the pulpit.

He personally sat in on mediation sessions in 2006 that resulted in $5.5 million in settlement money being distributed to defendants in 18 cases who had lodged abuse complaints against Denver-area priests. Both mediators and victims acknowledged the church's cooperation.

Where Rigali's lay panel for investigating sex-abuse claims criticized church leaders for hindering its probes, Chaput has never acted against the recommendations of his nonclerical clergy-abuse advisers.

"I trust the response team . . . to give me objective advice," he said in an interview earlier this month with the National Catholic Register.

And where the Archdiocese of Philadelphia has been accused of operating at loggerheads with law enforcement, its counterpart in Denver has enjoyed a cooperative relationship with authorities.

Former Denver District Attorney Bill Ritter worked side-by-side with Chaput in 2005 during an audit of the archdiocese's sex-abuse policies. At the time, the clerical rules on reporting and investigating allegations went beyond those of the state.

When Ritter went on to become governor in 2007, Chaput cooperated with legislative attempts to make reporting abuse allegations to police mandatory for all clergy.

"He's always been forthcoming about how he and the archdiocese handle these cases," said Ritter. "They were always willing to deal with the hard issues."

The Denver archbishop, however, has at times waged an aggressive counteroffensive to defend the church against victims in court and at the Colorado statehouse.

In 2006, in response to a bill that would have extended Colorado's civil statute of limitations on sex-abuse cases, Chaput launched a media blitz - including sermons, the hiring of a lobbying firm, letters to the governor, and full-page newspaper ads - outlining his opposition stance.

He called the bill a "bad law" that would lead to the "pillaging" of church coffers.

Then, in a case last year involving a woman who said she had been raped by a lay minister, the archdiocese defended itself with the peculiar argument that sexual abuse lay outside the scope of a minister's duties. Thus, the church hierarchy could not be held financially liable, it argued in court filings.

"His lawyers put on a face that made it appear initially that they want to do the right thing, but when it comes down to it he really has never demonstrated anything in support of survivors," said Jeff Anderson, a Minnesota-based attorney who has represented several plaintiffs in suits against the Denver archdiocese.

Nowhere is Chaput's record - both good and bad - more evident than in his handling of the Thompson case last year, supporters and critics said.

In April 2010, the Denver archdiocese received a complaint from a man who alleged he had been sexually abused by the priest in the 1970s. Thompson was placed on leave and reported to police that day.

But when Chaput announced in late December that a church panel had found no evidence of the alleged assault and offered to reinstate Thompson, he also declined to answer any questions about the internal investigation, including whether the panelists had spoken to the accuser.

In Philadelphia, Chaput will enter an archdiocese in crisis at a level he has never dealt with before.

Two priests, a Catholic schoolteacher, and a priest administrator stand indicted on charges of either sexually abusing children or endangering them by shuffling accused priests to different posts.

Twenty-one clergy members accused of sexual abuse were suspended in March as part of the most sweeping action in the clergy sex-abuse scandal in the United States.

And cracks within the church community have begun to show, with some parishioners openly criticizing Rigali's handling of the scandal.

Chaput, when asked about Philadelphia's ongoing sex-abuse cases by the National Catholic Register last week, said clergy here - like those in Denver - are doing the best they can to respond.

"Part of the difficulty is the Church is learning to do this. It takes time to know what to do," he said. "It's not realistic to expect perfection."