Former Priest Doesn't Lack for Nerve: James Gill

By James Gill
The Times-Picayune
July 27, 2011

http://www.nola.com/opinions/index.ssf/2011/07/former_priest_doesnt_lack_for.html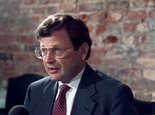 Dino Cinel talks to reporters in 1991, after a cache of commercial child pornography and videotapes of him having sex with young men was found in his room in the rectory of St. Rita Catholic Church.



Such calls seldom come from archbishops, however. In Cinel's case it was Philip Hannan, then head of the Catholic church in New Orleans, on the other end of the line. Cinel, vacationing in Italy, was told to stay there because he had been in the habit of picking up young men for videotaped sex in the rectory at St. Rita's Church where he was a priest. That came out when a colleague happened upon his large collection of pornography, much of it featuring under-aged subjects.

Now, some 20 years later, Cinel is miffed at the Vatican's treatment of pedophile priests' victims. "The protection of the church is the exclusive interest, protection to be understood as denial of the facts, no accountability, and no help of any kind," he declares. Few can speak on that subject with greater authority than Cinel. But he risks appearing an ingrate.

He is evidently not racked by guilt and compassion. He is back in Italy seeking recompense from the Vatican for the abuse he claims to have suffered himself as a child. It is by no means clear what he wants the Vatican to do, or whether such odd behavior can be attributed to the traumas of long ago. Perhaps they cost him any sense of irony.

Cinel addressed his complaint about the church's indifference to the Survivors Network of those Abused by Priests. If he was preaching to the converted, he was also wanting to have his cake and eat it too, so SNAP was not impressed. SNAP figures that there is no point in lobbying the church anyway and that justice will only come from the secular authorities.

Cinel's experience, however, does not encourage faith in the secular authorities. Indeed, the distinction between church and state was somewhat blurred in his case since then-DA Harry Connick was a St. Rita's parishioner. You could see a travesty coming a mile off.

Connick let archdiocesan attorneys sit on Cinel's sordid cache for a couple of months. When they did relinquish it, they made it clear they were not recommending prosecution. Connick was keen to let the case drop anyway, declaring the evidence was too weak. When some of that evidence, leaked to the media, proved pretty strong, however, Connick was forced to file charges, admitting he had been keen to protect the church. Cinel had decided not to stay on the lam and was now back in New Orleans, albeit no longer as a member of the priesthood.

Even then Connick was reluctant to come down hard on Cinel, who went on trial only for possession of child pornography. The case was assigned to Judge Frank Marullo, an old friend of Cinel's attorney, Buddy Lemann. Marullo twice threw out the charges, first because the DA had promised not to prosecute and later because the criminal statute was unconstitutionally vague. But he was reversed by the state Supreme Court, and Cinel finally went on trial four years after his porno stash had been discovered.

Jury selection produced the most astonishing coincidence ever seen at Tulane and Broad. The foreman turned out to be Joseph Rome, who, as yet another St. Rita's parishioner, knew Cinel well. Rome was also a former client of Lemann's and said he was surprised to be picked for the jury but could handle the case fairly. Rome, charged with felony theft, had had his bond drastically cut by Marullo, and the indictment was later dismissed.

A defendant could hardly wish for more sympathetic ears and Cinel duly walked. The only penalty for his depredations came a couple of months earlier in a civil suit filed by one of his erstwhile teenaged boyfriends aggrieved because Cinel had sent pictures of him to a Danish pornographic magazine. Archdiocesan attorneys settled for an undisclosed sum.

That Cinel should now be dredging up these sordid memories in a quixotic tilt at the Vatican suggests that he is a stranger to shame. The victims of perverted priests typically report the opposite.