Victim Alleges Fifth Catholic Priest Abused Him in Child Sex Case

By Brendan J. Lyons
Albany Times Union
August 13, 2011

http://www.timesunion.com/local/article/Victim-alleges-fifth-Catholic-priest-abused-him-1935128.php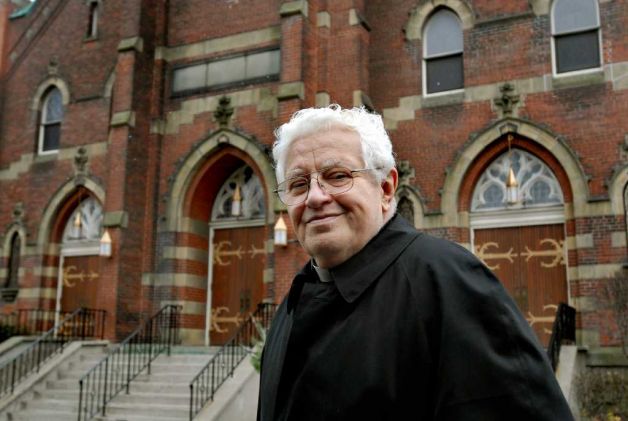 Father Carl Urban talks about the changes in the Mont Pleasant neighborhood at the Church of St. Adalbert on Tuesday, Dec. 1, 2009, in Schenectady, N.Y. Urban has been accused of sexual abuse of a minor for the second time since 2004. (Cindy Schultz / Times Union)



A fifth priest attached to the Albany Roman Catholic Diocese has been accused of abuse by a man who grew up in Colonie and had previously alleged four area priests sexually molested him as a young boy.

The Rev. Carl Urban, 71, who is listed as retired but was a longtime pastor at the Church of St. Adalbert in Schenectady, has been accused of sexual abuse by Michael DeSantis, 34, now a resident of Saratoga County, according to letters from the diocese's attorney to Albany County prosecutors obtained by the Times Union.

Last fall, DeSantis filed a complaint with the Albany diocese in which he said four priests -- Alan Jupin, 73; Louis Douglas, 82; Donald Ophals, 77; and John Bertolucci, 73 -- had abused him in separate incidents at Jupin's former apartment in Colonie or at Our Lady of Mercy church in Colonie.

DeSantis said Jupin, Douglas and Ophals took turns abusing him at Jupin's apartment. He said Bertolucci abused him at Our Lady of Mercy, which was his family's church and where DeSantis' mother had worked for years as an outreach associate.

Reached by telephone late Friday Urban declined comment on the allegations.

"I think you had best call my attorney and I better not respond at this moment," Urban said. When pressed on whether the allegations are false, Urban said: "Nothing. I'm not going to answer anything." Then he hung up.

Urban has been placed on administrative leave while the diocese investigates the allegations, said the Rev. Kenneth Doyle, the diocese's chancellor for public information. Parishioners at St. Adalbert's will be told of the action during services this weekend, he said.

"It is my understanding that Father Urban strongly denies the allegations," Doyle said in a statement issued late Friday.

Doyle said the diocese took the administrative action earlier this week. Records show an attorney for the diocese had confirmed Aug. 3 that the district attorney's office could not pursue the allegations because they relate to a period beyond the statute of limitations. The complaint against Urban was filed in early July.

"My whole thing is justice," said DeSantis, who does not have an attorney and has not pursued any civil action in the case. Under New York law DeSantis cannot sue the diocese for the alleged abuse because it occurred beyond a civil statute of limitations set by the legislature and governor.

A personal journal kept by DeSantis, who is in counseling, indicates that early last month he recalled alleged sexual encounters and connected them with Urban. Previously, DeSantis said, he had recalled a fifth priest abusing him as a boy but could not pinpoint the person's identity.

"I was watching some news footage and recognized a voice that sounded all too familiar," DeSantis wrote in a journal that has been turned over to the diocese and prosecutors. "I kept my head down because I wanted to hear the voice as I knew it was the fifth man. Then when I was ready I looked up ... His name was father Carl Urban. ... At the second I saw his face I immediately started to have anxiety followed by a panic attack."

It's the second time Urban's name has surfaced in an abuse allegation. In 2004, John Aretakis, who has represented alleged victims of pastoral abuse, publicly accused Urban of a sexual incident with a boy in a public restroom 15 years earlier. Aretakis also claimed Urban had received treatment at a pedophilia treatment center for priests in Maryland.

Urban denied the allegations and filed a complaint with a state committee that investigates attorney misconduct. Urban said the allegations by Aretakis were libelous.

DeSantis is not affiliated with Aretakis, who was suspended from practicing law in 2008.

In an earlier interview DeSantis said the abuse began when he was about age 9 and unfolded over a period of several years. He said that he recalled riding his skateboard to Jupin's former apartment in Colonie Towers on Sand Creek Road. He previously could not identify all of the priests that he said abused him there but now says Urban was involved.

The Albany County District Attorney's Office has informed the diocese it cannot pursue criminal charges in any of the cases because the allegations took place too long ago.

DeSantis's allegations against Jupin, Douglas and Ophals are at least the second time since 2003 they have been accused of sexual molestation. Bertolucci was removed from the ministry in 2003 by Albany Bishop Howard Hubbard when unrelated sexual abuse allegations against him were sustained by the church. None of the priests were pursued criminally for the allegations, which in some instances stretch back to at least the 1970s.

Jupin and Ophals are close friends. Douglas died in a nursing home in Delaware earlier this year and had been suffering dementia. He had also faced sexual abuse allegations in Delaware. An investigation by the Albany diocese cleared the three priests of unrelated abuse allegations in 2004. They were returned to ministry on a decision by Hubbard.

Now, an internal investigation by the diocese remains ongoing into the allegations made by DeSantis against Jupin, Douglas, Ophals and Bertolucci.

Jupin, 73, was a popular priest at Our Lady of Mercy and known to host alcohol-fueled parties at his apartment for young men and boys, according to two people who attended them.

DeSantis has said he believes Jupin had "groomed" him over a period of years. He said it started with touching and kisses before the abuse grew more serious and he remembers occasions at Jupin's apartment where Douglas and Ophals were present and allegedly took part in the abuse.

Timothy Sawicki, 51, filed the 2003 complaint against Jupin, Ophals and Douglas that was later dismissed by the diocese. Sawicki said he learned from reading a newspaper in 2004 that the priests had been cleared and reinstated to ministry.