Supporters of Priest-abuse Suit at Fresno Church

Fresno Bee
August 16, 2011

http://www.fresnobee.com/2011/08/16/2501511/supporters-of-priest-abuse-suit.html

A group criticizing the Roman Catholic Diocese of Fresno's handling of alleged sexual abuse by a priest in the 1960s handed out leaflets to worshippers Tuesday at St. John's Cathedral's midday Mass.

"We're here because we want accountability and transparency," said Joelle Casteix, western regional director of Survivors Network of those Abused by Priests (SNAP). "I don't think the diocese is addressing the abuse and doing anything to protect kids."

Casteix and two others passed out informational leaflets at the downtown Fresno cathedral on a suit filed last week alleging the abuse.

The Fresno diocese is named in a suit filed Aug. 9 by a man who alleges he was abused by a priest who served as chaplain at San Joaquin Memorial High School in the 1960s.

The suit alleges that the Rev. Don Flickinger, whose career started in 1964 at the Cathedral of St. John the Baptist in Fresno, engaged in "sexually motivated misconduct that was recognized by numerous boys at [San Joaquin Memorial] as inappropriate," and that school and church officials did not stop him.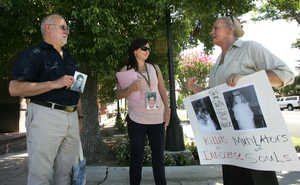 From left to right, Tim Lennon of San Francisco, Joelle Casteix of Newport Beach and Julie Klieg of Fresno protest in front of St. John's Cathedral in downtown Fresno. They are holding various photos of themselves at the ages they were abused.



That constituted negligence, deception and concealment that led to the sexual assault of Matthew Frazer in San Jose in 2001, the suit alleges.

From Fresno, Flickinger went on to serve at St. Frances Cabrini Church in San Jose, where the suit says Frazer, now 23, was abused.

Flickinger is in retirement and living in the diocese, officials have said.

Salvador De La Torre, a deacon at St. John's Cathedral, said Tuesday that Bishop John Steinbock, who died in December of lung cancer, preached that the diocese show love and sympathy for the victims and help abusive priests seek counseling for their problems.

Priests who commit sexual abuse are still "sons of God," De La Torre said.

"We pray for the victims and we pray for the priests," he said.

Tim Lennon, the leader of SNAP in San Francisco, said the group wants survivors to step forward and parents to report suspected abuse. He also wants the church to renounce those priests who are "credibly accused."

Lennon and Casteix said they were sexually abused as teens.

Lennon, 64, said he was abused by a priest in Iowa when he was about 13, but never filed suit.

Casteix, 40, said she was abused by a lay teacher as a teenager at a Catholic church in Orange County. She said she received $1.6 million in a settlement in 2005.