Ken Bear Chief Reaches out to Boarding-school Survivors

By Stephanie Woodard
Indian Country Today Media Network
August 19, 2011

http://indiancountrytodaymedianetwork.com/2011/08/ken-bear-chief-reaches-out-to-boarding-school-survivors/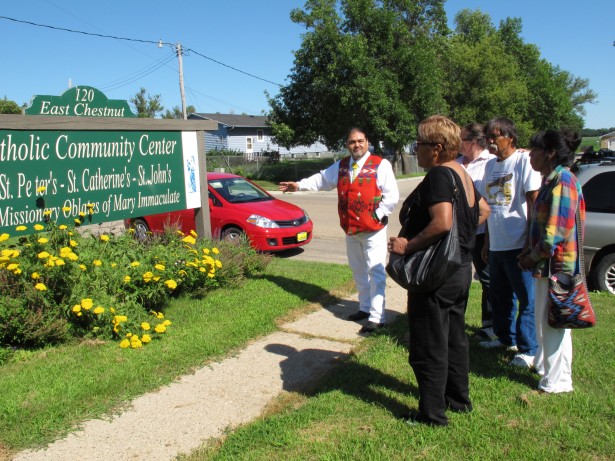 Ken Bear Chief escorts Sisseton Wahpeton Oyate plaintiffs to the Sisseton, South Dakota office of the religious order that ran the local Catholic-run Tekakwitha Orphanage, to which they were confined as children. While there, the plaintiffs obtained records of their stays at Tekakwitha, which is now demolished.



Ken Bear Chief's voice shakes with fury as he recounts testimony he's taken as Tamaki Law Firm's liaison to Native Americans who've sued the Catholic Church for childhood sexual abuse. Five hundred of the firm's Native plaintiffs recently participated in a historic $166-million-dollar payment from the Jesuit order. In cooperation with the law firms of Gregory Yates and Manly and Stewart, Tamaki is now handling dozens more cases in South Dakota and elsewhere.

"I've interviewed hundreds of survivors," said Bear Chief (Gros Ventre/Nez Perce/Nooksak) in a conversation at Sisseton Wahpeton Oyate's Lake Traverse Reservation, which straddles North and South Dakota. "I've heard of girls used as concubines from early childhood, of terrified little children hung over a church-belfry railing then raped by Father John Morse at St. Ignatius Mission, in St. Ignatius, Montana.

"I spoke to a man who described defecating in his bed as a child at Villa Ursula (another residential school in St. Ignatius, run by Ursuline nuns); he desperately wanted to make himself repulsive to Mother Loyola, now deceased, who'd go from bed to bed at night, choosing boys to perform oral sex on her and suckle her breasts.

"When Brother Charley (the late Rene Gallant) began repeatedly raping one girl at St. Ignatius, nuns targeted her for beatings and eventually ran her arm through a washing-machine mangle, crippling her, according to the affidavit of another of our clients."

The damage is a lasting burden for the victims, says Bear Chief, who's 59. "I met with a woman who told me of being invited to Father Morris's 'movie nights,' which featured little girls pulled onto his lap for digital penetration. At just age six, she tried to warn other girls not to go and was then beaten as well as abused, for years. Listening to her story and seeing her pain — it was so visceral. I had my daughter with me. A block or two after we drove away from the house, I had to pull over to the side of the road, and we just cried."

Bear Chief's spiritual traditions sustain him in his emotionally exhausting work: "I sweat, and I pray." A descendant on his father's side of the Gros Ventre's 19th-century leader Chief Bear and a relative on his mother's side of the Nez Perce's Chief Joseph, Bear Chief sees his work as an investigator and paralegal as part of the warrior tradition. "I'm caring for the people, just as they did," he says.

His work with Native American boarding-school survivors started in the Northwest in 2008 and has expanded across the Northern Plains. However, the scope of the problem is national, he says: "Isolated groups of vulnerable children, plus religious people in charge, equals abuse. It's just a fact. I have not found a residential institution for Indian children where it didn't happen, no matter the location or the denomination."

His job has also unearthed his family's secrets: "My relatives came forward to describe abuse. My own mother was victimized. Thinking back about my father, I wonder if he was, too."

A business-school graduate who helped run his family's businesses, including a forestry-services firm, Bear Chief cut his teeth on human-rights issues during the 1990s when he worked to resolve housing and labor disputes on the Yakima Reservation. An essay he wrote is included in the volume, The Book No Pope Would Want You to Read (EWorld, 2010). "I want to stand up for justice, to tell people on reservations that I'm here because of what they suffered as children," he says.

When visiting reservations that had mission schools, Bear Chief observes abuse-related dysfunctions permeating entire communities. "Alcoholism, divorce, child and spousal abuse all derive from the trauma experienced at the schools," he says. "This was not an isolated historical phenomenon. Its effects live in today's communities."

The most important step for each individual and community, and for Indian country as a whole, is healing, says Bear Chief: "Many I interview have never engaged in a healing process. Because of their abuse, they experience fear, anger, and depression. Then coming forward to make a legal claim reopens the wound, and they start having unwanted dreams and flashbacks and may even feel suicidal."

To assist them, he is collaborating with Survivors Network of Those Abused by Priests (SNAP), a national group, to set up chapters on reservations, with two underway already, for the Colville and Salish-Kootenai communities.

Survivors need healing that's targeted to sexual abuse, he says. "Not one person I interviewed had already brought out their abuse, not even after decades of traditional ceremonies or years of counseling." The pain buried so deep, it requires SNAP's specialized, victim-oriented way of helping people find peace, he says.

Justice is the beginning, Bear Chief says, but healing is the goal.