Pope Meets Abuse Victims during German Trip

By Philip Pullella and Sarah Marsh
swissinfo
September 24, 2011

http://www.swissinfo.ch/eng/news/international/Pope_meets_sexual_abuse_victims,_expresses_regret.html?cid=31206712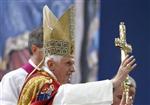 Benedict XVI blesses the faithful as he celebrates a Marian vesper ceremony in Etzelsbach (reuters_tickers)



Pope Benedict held a surprise meeting on Friday with victims of clerical sexual abuse and expressed his deep regret for their suffering, saying the church was committed to the protection of children, the Vatican said.

The private meeting came on the second day of Benedict's four-day trip to Germany, where record numbers of Catholics have officially left the faith in protest at clerical abuse, and where the Church faces some 600 requests for compensation.

The Pope was "moved and deeply shaken" and assured victims the Church was "committed to the promotion of effective measures to protect children," the Vatican said in a statement.

The meeting took place in a seminary in Erfurt, in eastern Germany, and was similar to those held by Benedict on other recent trips. The wording of the statement also mirrored those issued after previous meetings.

Victims' associations have said the Vatican has not done enough to bring the perpetrators to justice, a view echoed by German victims who joined 8,000 protesters on a march through Berlin, where the Pope began his visit.

Earlier on Friday the Pope visited the monastery where Martin Luther lived before launching the Reformation, and warned his Lutheran hosts that "a new form of Christianity" posed challenges to mainline Protestants and Catholics alike.

While not naming them, it was clear he was referring to the evangelical and Pentecostal churches which have spread rapidly, especially in developing countries, by attracting converts from more established churches.

He appealed for unity between Roman Catholics and Protestants, who began their split from the Catholic Church when Luther, who had lived in Erfurt as a Catholic monk, posted his 95 theses on a church door in 1517.

Few people turned out to see the pope in Erfurt, a Protestant city under tight security for the visit, but about 90,000 Catholics -- 40,000 more than expected -- flooded the nearby Catholic town of Etzelsbach for a vespers service.

Benedict told the Lutherans: "Faced with a new form of Christianity, which is spreading with overpowering missionary dynamism, sometimes in frightening ways, the mainstream Christian denominations often seem at a loss.

"This is a form of Christianity with little institutional depth, little rationality and even less dogmatic content, and with little stability. This worldwide phenomenon poses a question to us all: what is this new form of Christianity saying to us, for better and for worse?"

Geoff Tunnicliffe, Vancouver-based secretary general of the World Evangelical Alliance, told Reuters his organisation had recently issued a code of conduct for responsible missionary work with the Vatican and World Council of Churches.

"I don't see this as a blanket statement on evangelicals, which includes Pentecostals," he said. The three groups that signed the pioneering code of conduct in June, after five years' work, claim to represent over 90 percent of Christianity.

POPE DEFLECTS REFORM CALLS

While stressing Christian unity, Benedict deflected recent public appeals from Protestants for a relaxation of rules barring them from participating in Catholic communion.

He said it was a "political misunderstanding" to think he would come with an "ecumenical gift" such as permission for Protestants to receive the Catholic eucharist.

Germany's top Protestant bishop urged the pontiff to take "real steps for reconciliation" before the 500th anniversary of the Reformation in 2017, which the Protestants would like to mark with Catholic participation.

Luther is "as a hinge between our two churches, because he belongs to both," said Lutheran Bishop Nikolaus Schneider, head of the Evangelical Church in Germany. "It is time to heal the memories of the mutual injuries in the Reformation period and the subsequent history of our Churches."

Chancellor Angela Merkel, daughter of a Lutheran pastor, attended the service highlighted by interludes of sacred organ music by Johann Sebastian Bach and other German composers.

Erfurt, where atheism is also widespread after four decades of communism, gave the pope a cool reception. There were few posters or banners announcing his presence.

In a shop near the cathedral, atheist Dagmar Schneidert said: "I don't know anyone who is enthusiastic about the visit, only 7 percent of people in Erfurt are Catholic anyway. It's wasted money that could be used for something more meaningful."

The pope is due to hold an open-air mass in central Erfurt on Saturday at which Church officials expect 85,000 Catholics.

CATHOLICS AND MUSLIMS

At Etzelsbach, in the Eichsfeld region near the former Iron Curtain between East and West Germany, Benedict praised Catholics for keeping the faith despite pressure from "two godless dictatorships" -- Nazism and Communism.

"Eichsfeld is a very religious place," said Holungen Wiebert, 67. "We're very proud to have a German pope again, for the first time in 500 years."

Polish, Croatian and Bavarian flags in the crowd indicated some pilgrims had come long distances to see the pope.

Before leaving Berlin, Benedict met leaders of Germany's four million Muslims and promised cooperation with them as long as they respect Germany's constitution and the limits it sets on pluralism. Merkel warned Muslims last year that sharia, Islamic law, had no place in Germany.

Muslim leaders praised the pope for confirming through the meeting that Islam was now a part of German society, but said their loyalty to the constitution was never in question.

"As Muslims in Germany, we have always said that we see the German constitution as a good basis for peaceful life together," said Bekir Alboga, head of interreligious dialogue for the Turkish mosque association DITIB.

He said the pope's short address also represented a change from his controversial 2006 speech in Regensburg, where his use of a Byzantine emperor's quote about Islam being violent and irrational provoked protests across the Muslim world.

"The pope has now chosen a new approach in his meeting with Muslims," Alboga said. "I think one must look to the future and see where the possibilities for good cooperation are."