Teenage Boy Levels Abuse Claim against Longtime Brooklyn Monsignor

CBS New York
October 14, 2011

http://newyork.cbslocal.com/2011/10/14/2-teenage-boys-level-abuse-claims-against-brooklyn-monsignor/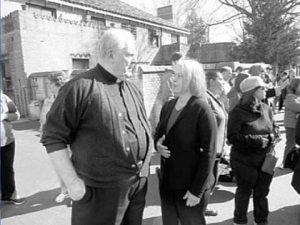 Sources tell CBS 2 News two teenage boys have leveled abuse claims against Brooklyn Monsignor Thomas Brady, left. (Photo/Courtesy: Good Shepherd Catholic Church))



A Brooklyn monsignor was arrested Friday and accused of having sexual contact with a 13-year-old boy.

"I'm shocked," one Marine Park resident told CBS 2's Lou Young. "Somewhere along the way I think it's erroneous."

Monsignor Thomas Brady's family tried to shield him from view on the way into court Friday night, but there is no hiding from the reality of the criminal charges he faces stemming from an alleged encounter with a teen boy.

There was disbelief at the news the longtime former pastor of Good Shepherd Catholic Church had been arrested.

"This is ridiculous. It's a crazy story. Who started it?" parishioner John Sweeney said, adding when asked if Brady is a good man, "absolutely. There's no better. The kids hug him all the time."

Brady is now 77, retired and is suffering from a series of health problem, but the Brooklyn diocese confirmed that two minors have leveled abuse claims against him, though he has been formally changed for his alleged involvement with just one.

Brady's nephew, Dave Konig, told Young the old priest, who was released Friday night on $1,000 bail, has succumbed to dementia brought by his many illnesses.

"He's had two strokes. He's going through lung cancer now. He's going through chemotherapy, is affecting and has a lot of trouble thinking straight. All I know is the man is having some difficulty upstairs because of all the illnesses," Konig said.

The accusations are inconceivable to those who know the man.

"It's definitely inconceivable that anything like this could happen at all," parishioner Richard Pagnotta said, adding when asked if he believes the charges, " no, not at all."

"I started crying when when I first found out. It can't be true," Allison Perry added.

"I wish I was with Monsignor right now to tell him that the community, especially us young ones, our hearts are breaking. We know it's not true," Jamielyn LoBello said.

The arraignment took place in Brooklyn court, but District Attorney Charles Hynes has asked for a special prosecutor because he knows Brady personally and said his office cannot impartially handle the case.

The Brooklyn diocese has placed Brady on administrative leave during the investigation. Bishop Nicholas DiMarzo offered prayers Friday for the victims of misconduct as well as for Monsignor Brady.