Grand Jury Indicts Bishop Finn, Diocese

By Judy L. Thomas, Mark Morris and Glenn E. Rice
Kansas City Star
October 15, 2011

http://www.kansascity.com/2011/10/14/3208377/grand-jury-indicts-bishop-finn.html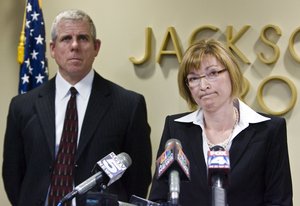 ALLISON LONG | Kansas City Star



Bishop Robert Finn on Friday became the highest-ranking Catholic official in the nation to face criminal prosecution in the decades-old child sexual abuse scandal — an action that stunned many inside and outside the church.

A Jackson County grand jury on Oct. 6 secretly indicted both Finn and the Catholic Diocese of Kansas City-St. Joseph on misdemeanor charges of failure to report child abuse in a case involving a priest facing child pornography charges.

As Finn and the diocese denied wrongdoing Friday after appearing in court, news of the charges roiled the nation and the Catholic world.

"This is historic," said the Rev. Thomas J. Reese, author of "Inside the Vatican: The Politics and Organization of the Catholic Church."

"In terms of the Catholic Church, this is an extraordinary move which is going to signal that the times have changed," said Reese, a senior fellow at the Woodstock Theological Center at Georgetown University. "Neither people nor government are going to put up with any kind of activity that looks like a coverup."

The charges were announced Friday at a news conference by Jackson County Prosecutor Jean Peters Baker.

"This is a significant charge," Baker said. "To my knowledge, a charge like this has not been leveled before."

Finn as a member of the clergy and the diocese as the operator of schools are required under Missouri law to report reasonable suspicions of child abuse. But they did not do that for five months in the case of the Rev. Shawn Ratigan, the indictment alleges. Ratigan faces child pornography charges in Clay County and federal court.

In a statement, the diocese said its lawyers entered a plea of not guilty for the diocese. According to Gerald Handley and J.R. Hobbs, Finn's lawyers, the bishop also pleaded not guilty.

"Bishop Finn denies any criminal wrongdoing and has cooperated at all stages with law enforcement, the grand jury, the prosecutor's office and the Graves Commission," Handley said. "We will continue our efforts to resolve this matter."

In the diocese's statement, Finn said, "We will meet these announcements with a steady resolve and a vigorous defense."

Finn also emphasized that he has cooperated with authorities and initiated changes to strengthen the church's efforts to protect children.

"We have carried this out faithfully," Finn said.

The charge against Finn carries a maximum penalty of one year in jail and a $1,000 fine. The diocese faces a fine of up to $5,000. The prosecutors did not ask for bond. The next court appearance for Finn and the diocese is at 2 p.m. Dec. 15.

Swift reaction

Word of the charges quickly rippled among those who have worked on the issue of clergy abuse.

"This is monumental, there's no question about it," said A.W. Richard Sipe, a former priest and mental health counselor in California who has studied priest sexual abuse issues for decades.

"This is a huge step that breaks the barrier of bishops being protected. This shows that bishops no longer are above the law."

Although sex abuse controversies have plagued the Roman Catholic Church for more than two decades, Finn is the highest-ranking cleric to face criminal charges.

In some other cities, diocesan leaders have entered into diversion programs to avoid criminal prosecution. In a much-publicized case in the Archdiocese of Boston, Cardinal Bernard Law resigned in 2002 over his repeated failure to remove abusive priests from ministry.

As a result of scandals, U.S. bishops responded in June 2002 by adopting the "Charter for the Protection of Children and Young People," requiring bishops to report all child abuse accusations to civil authorities.

Rebecca Randles, an attorney who has represented plaintiffs in civil lawsuits against Ratigan and the diocese, said Friday's charges could lead to positive changes.

"External accountability, we believe, will lead to internal transparency, and that is the step that is necessary to keep children safe," Randles said.

In 2008, the diocese settled a $10 million lawsuit with dozens of Randles' clients, promising to take aggressive steps to root out child sex abuse in the church.

David Clohessy, executive director of Survivors Network of those Abused by Priests, said he was neither surprised nor shocked by the charges.

"I guess I am relieved," said Clohessy, whose group has been relentless and vocal in its criticism of Finn. "But honestly, given how egregious and clear Finn's wrongdoing is, how could a prosecutor not indict him?"

But some local parishioners were saddened and troubled by news of the Friday's charges.

"The man may have been guilty of incompetence and negligence, but I do not see him as a criminal," said Matthew Copple of Gladstone, whose child attends St. Patrick School, where Ratigan once served as pastor. "That seems wrong to me. Let's punish the people who committed the deed. I don't see the need for the bishop to have a criminal record or be guilty of a crime."

Mike Murtha, who has attended St. John Francis Regis Catholic Church for 19 years, said he would continue to support Finn.

"It is sad that it has come to that," Murtha said. "He has admitted to his failings, and we will continue to pray for him."

Grand jury

Baker emphasized that the pursuit of the case was the result of a grand jury investigation.

"I've done my best to make sure that this was a fair process," she said. "This has nothing — nothing — to do with the Catholic faith. This is about the facts of the case, nothing more. This is about protecting children."

The Jackson County grand jury began meeting after federal authorities filed child pornography charges against Ratigan this year.

Baker said the grand jury issued a sealed indictment on Oct. 6, but Finn was out of the country and did not return until late Thursday. He and lawyers representing the diocese appeared in court shortly before the news conference and entered their pleas, Baker said.

Finn and the diocese had reasonable cause to believe that the Ratigan may have abused a child but did not report it to authorities between Dec. 16, 2010, and May 11, 2011, the indictment alleged. The indictment said previous suspicions about Ratigan's behavior around children and the discovery in December 2010 of hundreds of photos of children on Ratigan's laptop were evidence of that concern.

Those photos included images of a child's naked vagina and upskirt pictures focusing on the child's crotch.

Finn and the diocese also must have had concerns about Ratigan's conduct because they had restricted him from being around children after the laptop images were discovered, according to the charges.

A diocesan official reported Ratigan to police on May 11.

State law includes clergy among those who are required to report child abuse when they suspect it.

The grand jury did not charge Monsignor Robert Murphy, Finn's vicar general and second in command, who handled much of the diocese's response to the Ratigan case as it developed in the winter and the spring.

Baker declined to comment on Murphy's role in the case. Like Finn, Murphy has cooperated with authorities investigating the case and appeared at least twice before local grand juries. Jackson County court records also list him as the highest-ranking cleric available to testify for prosecutors.

Finn appeared before the Jackson County grand jury Sept. 16. At least five top diocesan administrators or advisers were called to testify before the panel, with Finn being the highest church official to appear.

Afterwards, Finn told The Kansas City Star that "we're doing the best we can to cooperate with law enforcement."

Among those testifying before the Jackson County panel was Murphy, diocesan spokeswoman Rebecca Summers and a Kansas City police captain whose opinion diocesan officials sought on a photo that Ratigan allegedly took. The captain also serves on the diocese's review board.

Rising concerns

Diocesan officials came under sharp criticism for failing to take immediate action when concerns were raised about Ratigan's behavior.

In May 2010, the principal of a Catholic school complained to the diocese about what she described as Ratigan's inappropriate actions around children. Other than counseling Ratigan to moderate his conduct, however, his church supervisors took little substantive action.

In December, diocesan officials found what prosecutors later alleged was child pornography on Ratigan's computer. The diocese said it contacted a police officer and described "one of the more disturbing images" from Ratigan's computer, asking whether it constituted child porn, and the officer said it did not. Police later confirmed that the officer was Capt. Richard Smith, but said that he was told only about one photo and was not made aware that other, more graphic images were stored on Ratigan's computer.

The church relieved Ratigan of his duties as pastor of St. Patrick Catholic Church in the Northland and assigned him to live at an Independence mission house. While there, according to a federal indictment, he allegedly attempted to take pornographic photos of a 12-year-old girl.

On May 11, church officials notified police about the troubling images on Ratigan's computer.

Ratigan was charged in Clay County in May with three counts of possession of child pornography. Federal grand jurors later indicted him on 13 counts of production, attempted production and possession of child porn.

After Ratigan's arrest, Finn publicly apologized for his handling of the case.

Last month, a diocese-commissioned investigation led by former U.S. Attorney Todd Graves found that diocesan leaders failed to follow their own policies and procedures in responding to reports of child sexual abuse.

The investigation found that "individuals in positions of authority reacted to events in ways that could have jeopardized the safety of children in diocesan parishes, schools and families."

Graves said that the investigation "identified shortcomings, inaction and confusing procedures, but we believe Bishop Finn and the leadership of the diocese understand the gravity of the issues and take these recommendations seriously."

The diocese released the findings in a 141-page report compiled by Graves' law firm. Finn called the recommendations "comprehensive, thoughtful and detailed."

"We understand their importance and are focusing on them so we establish clear, strong and unequivocal procedures for all diocesan personnel and volunteers that ensure the safety of our children today and into the future," the bishop said in a statement at the time.