Charity Group Hands out Flyers at Church of Alleged Clergy Sexual Abuse

CBS New York
October 23, 2011

http://newyork.cbslocal.com/2011/10/23/charity-group-hands-out-flyers-at-church-of-alleged-clergy-sexual-abuse-scandal/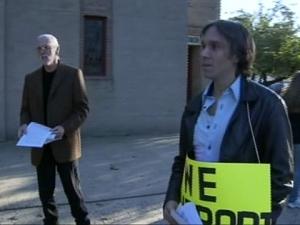 Road to Recovery will be at Good Shepherd Church in Marine Park, Brooklyn, to pass out flyers about clergy sexual abuse.



NEW YORK (CBS 2) – Members of a charity that helps victims of clergy sexual abuse will be back outside a Brooklyn church on Sunday morning to show support for two alleged victims.

The group, Road to Recovery, stood outside Good Shepherd Church in Marine Park on Saturday to hang out flyers to parishioners as they arrived for mass.



The church's former priest, Monsignor Thomas Brady, is accused of inappropriately touching two 13-year-old boys.

The 78-year-old is said to suffer from dementia brought on by a series of illnesses, but the charity group said the acts must still be questioned.

"People with strokes and dementia don't abuse children necessarily so what we want to do is we want to try and ask the parishioners to support these young boys," Rev. Bob Hoatson said.

Some members of the congregation said they plan to stand by their priest.